CRG163 & Crosville Memories
Dave Wilder remembers.
Like you I first became fascinated by buses and coaches before I can even remember. In the 50s it was quite rare for anyone to have a car and we certainly didn't fall into that category. I loved all the bus and coach trips that we took. It was usually Reliance or Thames Valley vehicles and, when we went on holiday to the Isle of Wight, Southern Vectis.
The senior driver at Southern Vectis Newport depot used to often take us on tours from Cowes. He was a true enthusiast and recognised me as one. He told us lots about the Southern Vectis fleet but also first mentioned the training vacancies that the big bus companies ran. He must have told the coaching manager at Cowes of my interest as when Mum and I went in a couple of days later to make another booking he told us all about it. I was sold on the idea and when the time came applied to Crosville as they had such a huge operating area and seemed to do lots of every sort of bus and coach operation and had a wonderful reputation.
I was granted an interview at Crane Wharf a few days into January and travelled up on CRG 29 with the then senior London service driver, Les Scott or "Scott of London" as he was known, a soon to retire Edge Lane legend. I had a B and B booked in Chester and after a hugely enjoyable journey up in various levels of snow and blizzard I was hooked on CRGs for life! The interview took place with Ken Hannis, who was ATM East at the time, and after over an hour of what felt like a friendly chat about buses and my journey up he told me that I had the job and that he would give me a starting date after I had taken my A levels and finished the school term. I was absolutely over the moon and returned home after exploring Chester in the snow on CRG 39 on the overnight service to Oxford. The driver was Brian Ford, who was the Union Chairman at Edge Lane when I moved there, at which time CRG 38 and 39 were still in front line service. Brian only passed away recently.
My journey up to Chester to start work was on CRG 38 and was an amazing run which I always remember when the old arguments about CRGs lacking power or speed comes up. We covered the entire route and took full scheduled refreshment breaks but it was a fully laden dupe on a peak summer Sunday so our driver put in an incredible turn and knocked an hour off the running time. It later transpired that he was Bob Rylands, the Edge Lane driving instructor at the time, who later taught me to drive on DLG 794. Bob had little patience with any complaints and none whatsoever with anybody complaining about vehicle performance. I knew better than most why after that trip in CRG 38! My trip up to my new digs was in DFB 130 on a Hoole Circular C41.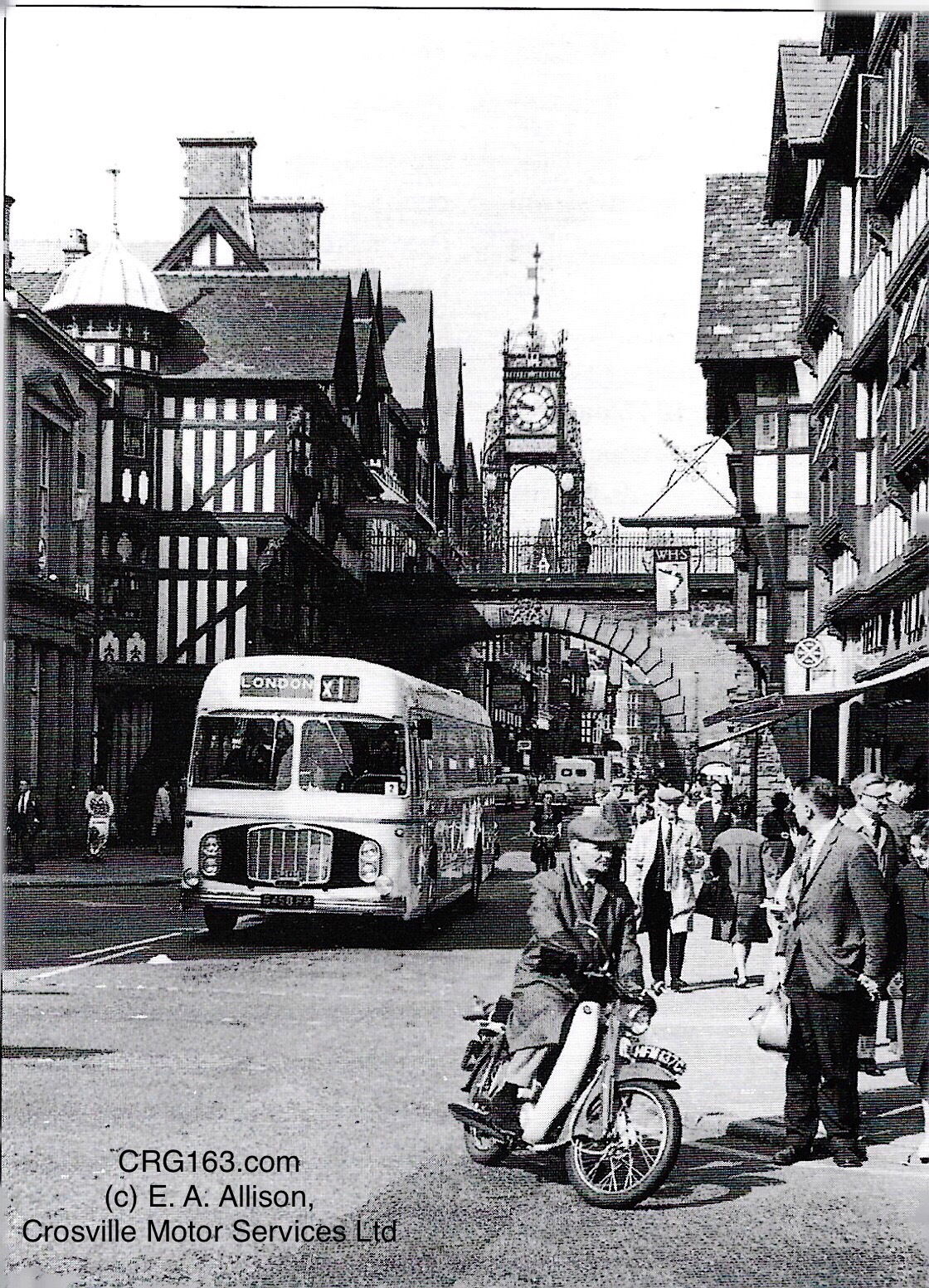 Photo: CRG496 (5458FM) of 1963 vintage sweeping through Chester's Eastgate en route to London on the X1 service. Photo by E. A. Allison, Crosville Motor Services Ltd
I used to travel home on the X1 about every three weeks, normally down on a Friday night and back on the Sunday day or night service depending on what my duties involved on the Monday. In this way I got to ride on all the current Edge Lane CRGs and quite a few CRGs that had been cascaded from Edge Lane. I even made a couple of trips on CMGs in the first year, which was different to say the least. Throughout my time at Chester CRG 111 was based there and was initially the newest on the fleet. It occasionally operated a dupe to London but was mostly classed as a standby vehicle for any overloads or changeovers on the Londons. It regularly worked a morning peak dupe on the C40 Upton service and an afternoon excursion plus any VIP Crane Wharf related work, so that generally it was always about when the Londons were passing through the Chester area, should it be needed in either direction. We also had CRG 495 on strength and that did plenty of London dupes plus, usually, CRG 574 or 579 on a complex L1 Coastliner diagram.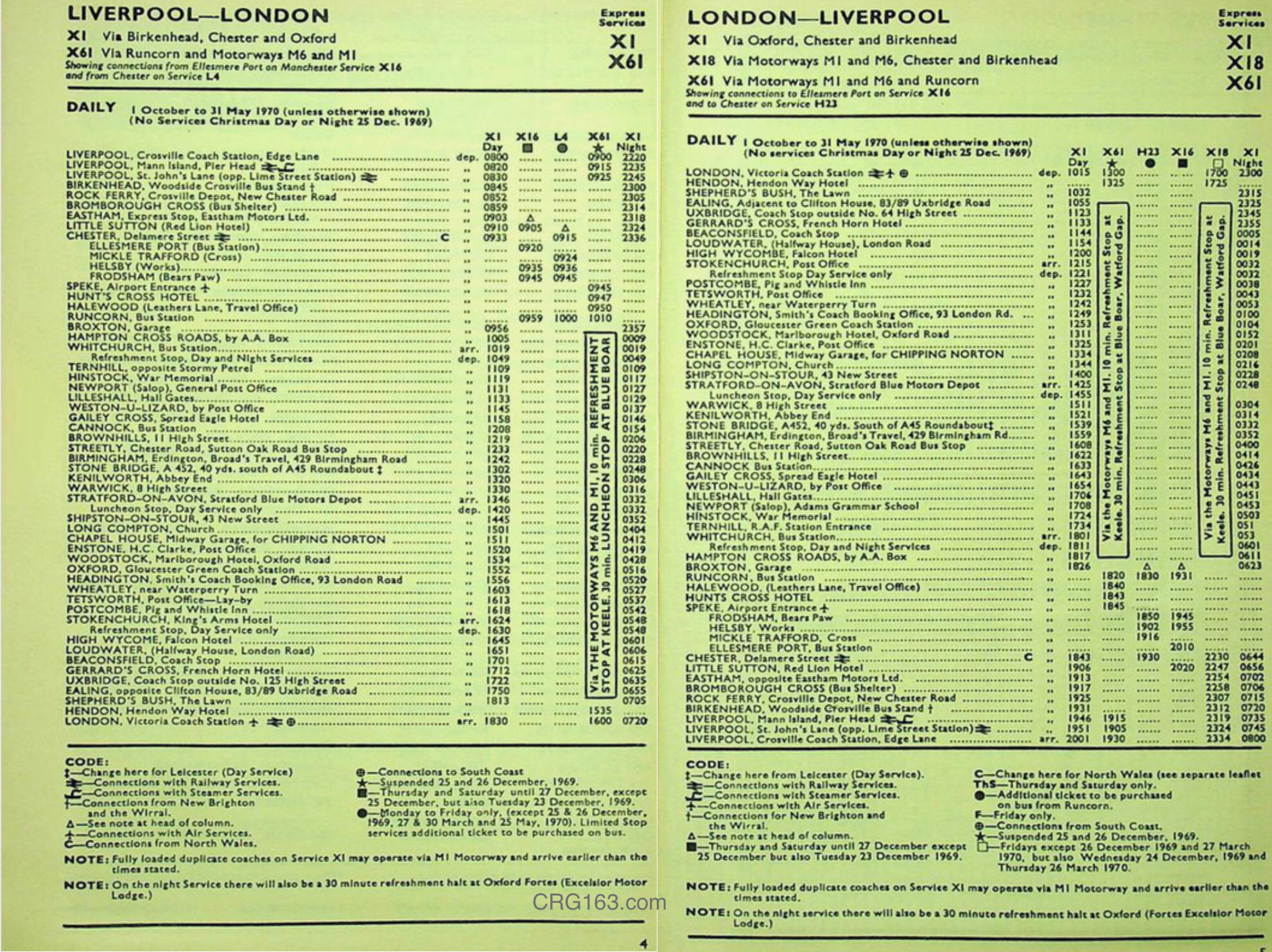 Photo: Service X1, X18 and X61 timetables operated between Liverpool and London between 01 October 1969 and 31 May, 1970.

I spent a lot of my training time either at Chester or Mold or at Wrexham and towards the end acted as relief Superintendent at Corwen, Machynlleth and Dolgellau. I loved all of them for different reasons. Star Coach at Wrexham was CRG 573 which was there primarily for the marathon Wrexham - Bridlington service which used to leave Wrexham at 0630hrs, was due in Bridlington at 1400hrs, out again at 1430hrs and back in Wrexham at 2230hrs. It used to run so late, due to traffic mainly, that by the time it arrived at Scarborough, Filey and Butlins Camp it was often past departure time for the return so the passengers would get a free run into Bridlington and back out again, if there was room! 573 was really put through her paces on that and apart from boiling once in the same place every week on the Pennines and being topped up with water she would never miss a beat!
I joined the company straight from completing my A levels a week after the end of the school term in July 1969. I did a three year Traffic Trainee course which involved time spent in all departments first learning then actually performing the role. There was a tradition that once a department had been "signed off" the trainee would be expected to go back and fulfil the role, or assist with it in times of need anywhere in the company. At the end of the training period we had to act as a relief Depot Superintendent to cover sickness or holidays and this took me to Corwen, Machynlleth and Dolgellau all of which I thoroughly enjoyed.
I also spent a few days at Johnstown as emergency cover, long before I finished training and I wouldn't have missed it for the world. Johnstown depot still had tram tracks running into it and the telephone was one of those very early ones with the phone and dial screwed to the wall and the receiver on a long flex so that you could move it away from the unit but not far enough to sit down which made writing anything down or reading from, say, a timetable challenging for the uninitiated. The phone number was Rhos 9, which was another lovely period feature. Most of my time was spent at Chester depot and Wrexham depot although I did several stints at Crane Wharf and a couple of stints at Mold.
One of these was with Clive Myers when he was Depot Superintendent and I would never underestimate the value of what I learned from Clive. Typically he had transformed the depot from being in a pretty low state to running like clockwork and despite this was hugely popular with the staff there as well as being highly admired and respected. His crowning glory was to completely revise his duties and several of the services there himself rather than the Divisional Schedules Office who were busy with Chester revisions and the absorption of North Western's Macclesfield Northwich and Biddulph cross boundary routes. I went to Mold after several training visits to help write up the new duties, bus schedules and graphs which had all been agreed but were rapidly approaching implementation date. The period included my 21st Birthday through which I wrote lots of duties from about 0730hrs for 14 hours before enjoying a celebratory roast beef sandwich from Mold's excellent canteen, courtesy of Clive, before catching the last B15 back to Chester with a similar day lined up next day.
After training was completed I was seconded to Crane Wharf to work with Company Schedules Officer Stan Sterlini who was inundated with work connected with all the new cross boundary and wholly within Merseyside and SELNEC PTE areas so there was much schedules analysis to be completed. It was a very pressurised time but a great experience. Stan was not only an immensely talented scheduler and negotiator but one of the nicest people I have ever worked with. The ultimate zany, eccentric professor type but with a heart of gold.
After that in 1973, I was appointed Assistant District Traffic Superintendent at Liverpool, which was a wonderful experience and a job that I absolutely loved. Les Brereton was my boss and rightfully considered to be a living legend. Again, I learned so much from him. He was having health problems by then after years of the stress of running Edge Lane at its peak but he never took his eye off the ball and was never too busy to help or advise any member of staff who needed it. There were two of us ADTSs there in that era and John Valente was my counterpart. It was basically a Traffic role for John and an Admin role for me but we would both interchange on most duties. John was another hugely able and highly likeable character who had started as a conductor and been a driver, London dupe driver and Garage Foreman so he knew Edge Lane and the people working there inside out and back to front.
The coaching manager there at the time was another of the same calibre who went from express conductor to assistant manager to manager. You might well have heard of Snowy Allen as he was a real legend and so knowledgeable. Part of my duties were assisting Snowy if he was very busy and standing in for him when he was on holiday or illl. Nobody could fill those shoes but he always left it so tidy and with so many scribbled notes of advice and reminders that he couldn't have made it any easier. And that is partly how I became so well acquainted with CRG 163. The Plaxton CRLs 293-302 were all brand new when I arrived and the second batch of ECW CRLs 303-11 all entered service during my time there. I moved to NTSE at Victoria in mid 1974.
Our front line coach fleet at the time consisted of CRG 577/8, 37-9, 108-10, 160-4. CRL 263/7, 293-302 and 303-11. We also had some CMGs and coach spec DFBs but they were normally to be found on the North Wales services and would be allocated by the Garage Foreman. A couple of CMGs would normally be kept tidy for 39 seater private hire work. The CRGs were all very capable of any of the London services but the fast motorway journeys were normally allocated to CRLs.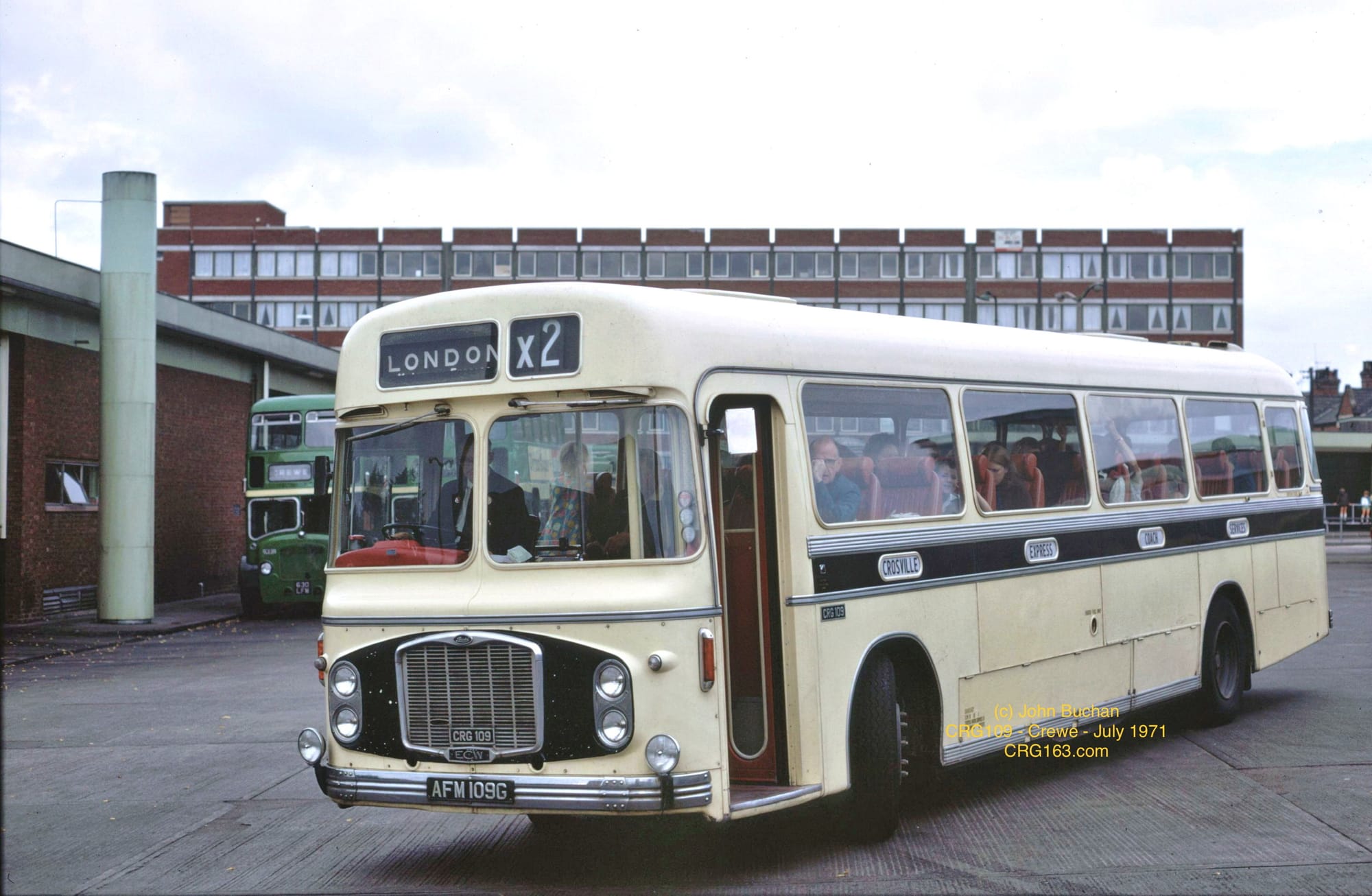 Photo: CRG109 at Crewe en route for London on service X2.
The union wouldn't normally allow the manual CRGs 577/8 on Londons although occasionally a service driver would request one in particularly inclement weather on the night service and they would go. CRG 38, 163/4, as I explained, were my particular favourites and I did have a tendency to use them very heavily, purely because they were popular and ultra reliable. 108/9 tended to be heavily used on the Cardiff service X71/871 and I don't remember any problems with either. 109 always seemed a particularly smooth vehicle and 108/10 always seemed to have had a hard life, although both were reliable and quite fast, having done roughly the same mileage as 109. 103 must be the lowest mileage after 111 as it was off the road for months when only a few months old and became heavily cannibalised to keep the rest going when spare parts were unobtainable. Despite this it was one of the earliest to get cascaded, to Heswall initially, having not been back on the road for long.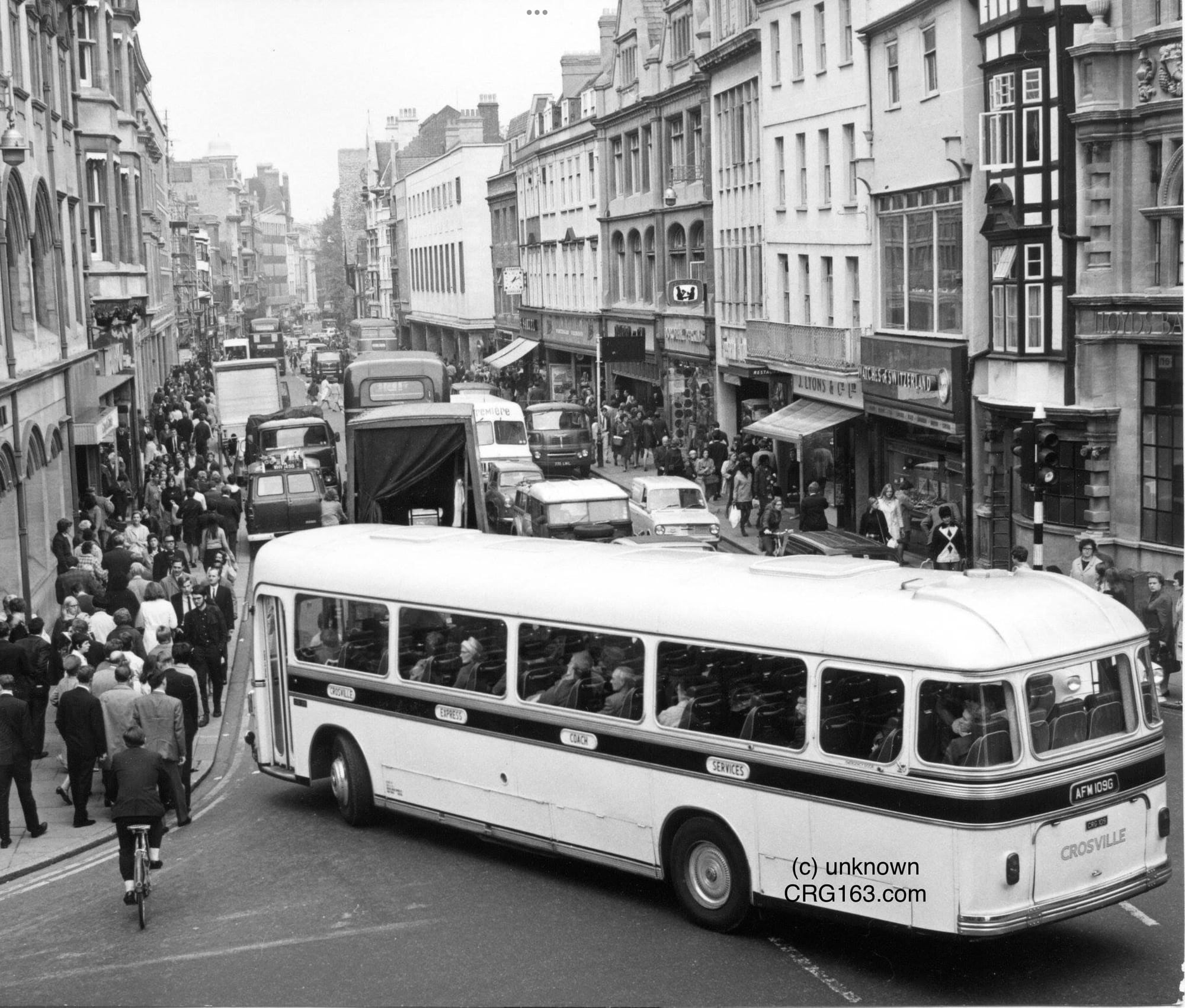 Dave comments: One piece of information regarding the beautiful photo of CRG 109 and if you have already heard it, apologies for repeating it. The fact that it is turning right into the City Centre means that it must be London bound and the level of traffic indicates that it is operating the day service, so it will have been taken at about 1550hrs, after calling at Gloucester Green. Had it been taken heading north it would have turned left at that junction and neither of the night services would have encountered that level of traffic, even if it had been in mid summer when the darkness might have cleared.

I got to know quite a few of the old Crosville characters during my brief time with the company, including a number of the legendary London drivers who were famously fond of CRG 163.
I particularly loved CRG 160-4 and actually saw them all lined up at Sealand Road, a couple of them still "clicking" from cooling down after their delivery run. The CRLs were spectacular, and I always found the Plaxtons beautiful, but none of them quite so much as 160-4.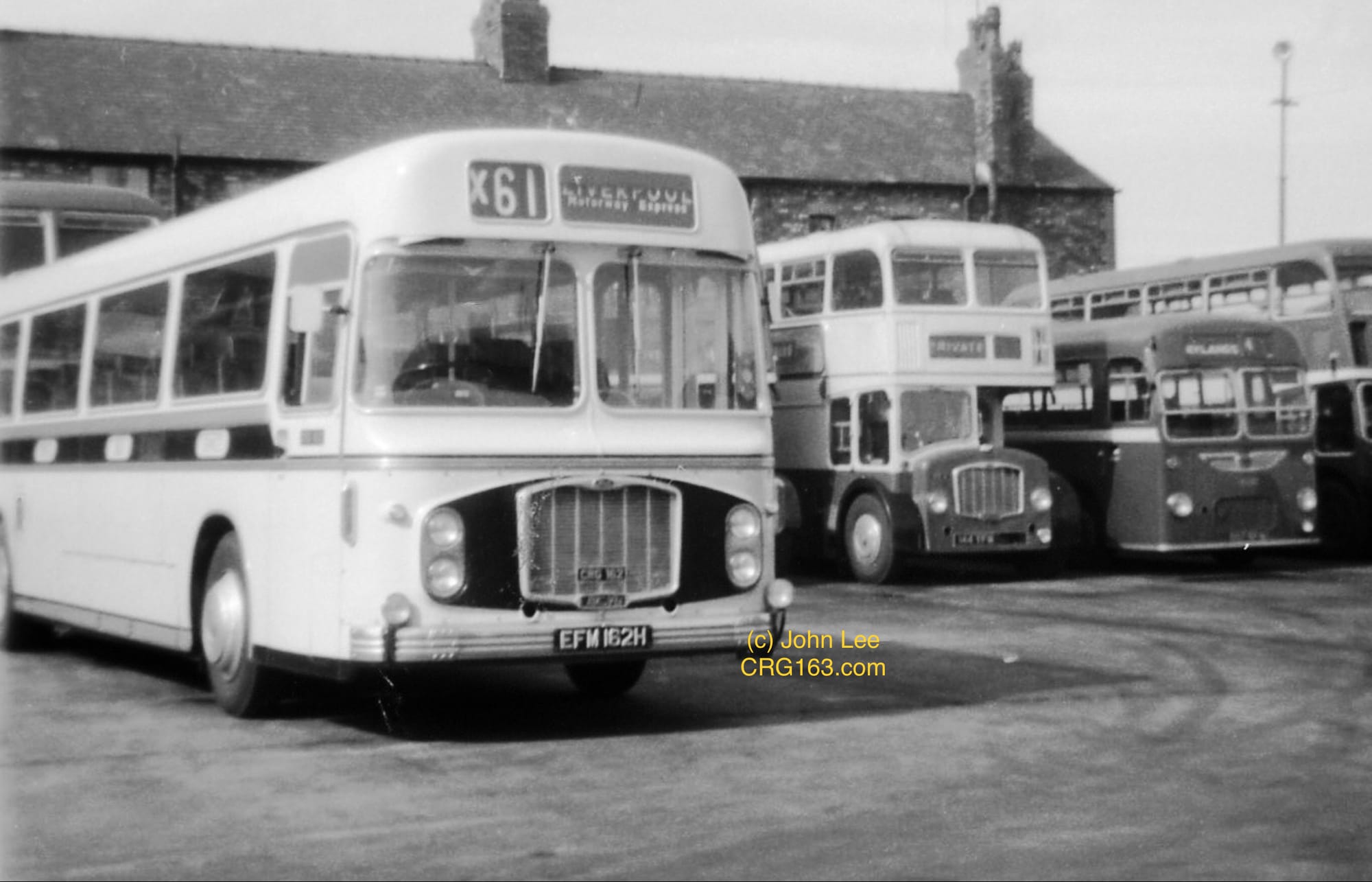 CRG162 in it's cream and black coaching livery parked up at Crosville's Edge Lane depot on 23 May 1970. Photo kindly supplied with thanks from Mr John Lee.
My last job with Crosville, which should never have been carved up and asset stripped in my humble opinion, was as Assistant District Traffic Superintendent at Liverpool and part of my duties there was to stand in for the Coaching Manager (Snowy Allen back then) if he was ever off sick or on holiday, and to sometimes help him out if he was under exceptional pressure. We used to allocate the coaches and the Duty Foreman allocated the drivers (and conductors for the North Wales services) although naturally we would liaise regularly with the Duty Foreman, calling in other depots to help if necessary or even getting in sub-hires. Anything from London that we needed help with would be handled by Samuelsons soon to become National Travel South East Ltd. where my next career move was to take me less than a year later.
My reason for leaving Crosville was that things were changing and I didn't like the direction of change. The PTE were basically turning our local services in Liverpool into a contract operation and National Express clearly had similar ideas for the coaches. Clive offered me a very tempting job with NTNW at Manchester but much as I loved working with Clive and I knew he would make a success of the operation I had other things on my mind which drew me towards London. My dad had died recently and my mum was far from well. We were expecting our first son and I wasn't keen on bringing him up in Manchester at that time. The NTSE job sounded great, and could have been had not we made too much money in the first couple of years and been strangled by NBC bureaucracy thereafter! In the end it became a nightmare but that's another story which, in 1977 led me to eight very happy years with Continental Pioneer at Richmond.
One little comment that might further explain my feelings about Crosville, Edge Lane and CRG 163 surround a Saturday evening early in 1974 which I am unlikely ever to forget. Fortunately my wife and I were at home when a Policeman called to inform me that my dad had died suddenly that afternoon. Naturally I needed to get home as quickly as possible so I phoned Edge Lane and asked the Garage Foreman to let the boss know and to arrange for my wife and I to travel down to Oxford that night on the 854. We made it to the Pier Head in time and yes, you've guessed it, CRG 163's front nearside seats had been reserved for us. The driver was senior dupe driver Bob Chapman, who just could not have been more kind or understanding in his usual friendly, understated manner and he gave me a typically kind message from Les Brereton telling me how sorry he was and to take as long as it took. I can't tell you how supported I felt on that wintery drive south and still remember fully understanding the real meaning of the old and, back then, much mentioned "Crosville Family."
On the subject of Edge Lane's pair of manual CRGs during my time there, I actually do have a couple of particularly strong recollections of memorable journeys involving the pair. My first involves a journey south, long before I went to work at Edge Lane. In the middle of a very wintery spell, probably in early 1971, I was booked to go home for the weekend on the Friday night X1. As the day progressed it became worse and worse and by midday everybody was being advised not to set out on any unnecessary journeys and to avoid long journeys. I was well aware that it would be highly unusual for Edge Lane to cancel the X1 but inevitably nagging doubts began to play on my mind. I looked out for the northbound service and saw CRG 110 followed by CRG 108 come through covered in snow with a minor drift on each roof, but only a few minutes late at Chester. That raised my spirits but by all accounts it was getting worse and spreading south. I was one of only about five passengers waiting at Delamere Street in Chester and the Traffic Inspector, Ron Gillham, greeted us with the happy news that he had phoned Rock Ferry depot where the Garage Foreman confirmed that it had called in there on the dot of time and so shouldn't be long.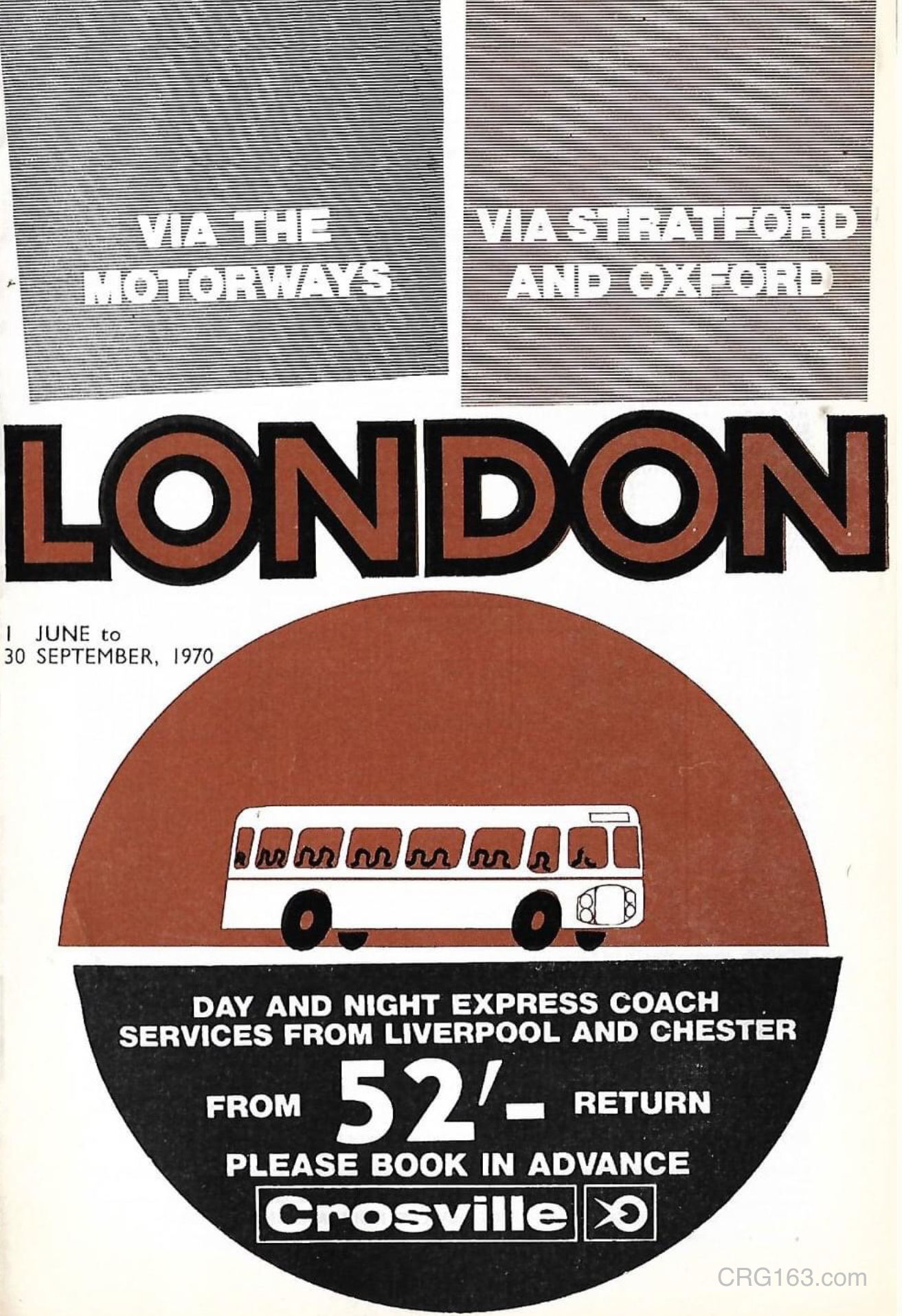 Minutes later the glorious sound and sight of a CRG swinging into Delamere Street greeted us its lights glowing and the warmth of the interior tangible before the door was thrown open by the ever affable Ernie Heckingbottom who jokingly asked why everybody was looking so worried and assured a couple of nervous ladies that we would get through and on time. It was unheard of to have a manual CRG on Londons driven by an Edge Lane driver but Ernie told me that he had "received special dispensation from the Pope due to the weather" and the added control that the manual box would give him when the going got rough. CRG 578 was the chosen vehicle. His use of the word "when" rather than "if'' did give me a little food for thought but I never really had any doubt that we would make it and we did, on time as promised! There were blizzards on the way down and virtually no other traffic, anywhere, but we just kept going and with plenty of slipping and sliding in places forward progress was always made.
At Erdington, where one passenger needed to catch the Birmingham Corporation bus, as if by almost magic the bus was there waiting for the connection and although it couldn't have been there long it looked as though it was parked in a snowdrift! The weather forecast of the heavy snow spreading south was correct and Stratford upon Avon looked like an exaggerated Christmas card while in places the 40 mile switchback to Oxford that was the A34 simply seemed to disappear in places as we bumped over little mounds of snow and 578 slithered into the rapidly disappearing snowplough tracks that Ernie constantly fought to encourage it to follow. We stopped at Oxford Pear Tree services before going into the city centre where I would reluctantly alight and looking back at the coach did rather underline what we had driven through as it was covered in snow and ice, inches deep in places. Ernie's suggestion that he would take boarding passengers' luggage onto the coach made perfect sense now, as the boot and locker doors would certainly be frozen solid. It was always sad to see the coach leaving Gloucester Green in Oxford, never more so than on that morning as I listened to the most reassuring tune from 578's manual gearbox disappear into that silent, freezing city and beyond. I did get picked up and we made it across that lonely, cold, snow filled B road over the Berkshire Downs home, but that is another story which is more Ford Capri related than Crosville.
Ernie was one of those larger than life characters typical of so many senior and not quite so senior drivers at Edge Lane in that era. For some years after my time there I was responsible for a great many extended tour drivers and driver couriers on a wide range of touring activities, ranging from round Britain operations for Americans to weekend shopping trips for French operators to pop groups of varying levels of wealth, charm and experience knocking up hundreds of miles a night between gigs in Britain, Western and Eastern Europe and beyond and even Scandinavia, sometimes for months on end. We were incredibly well blessed with excellent drivers from all over but I couldn't help feeling that a number of my former colleagues from Crosville would have truly excelled at this type of work. Shortly before I moved on we were surprised to receive a highly complimentary letter about Ernie's customer care skills whilst operating the 852, the former X2. Surprised not by his well known customer care skills but by the fact that he gave up his lunch break in Lichfield to undertake a little "optional" guided tour of the cathedral, which the lady described as one of the best of its kind that she had ever enjoyed!
My experience of CRG 577 was a very different type of journey, on a bright sunny day when my mother came up for a few days and we took her for a trip through North Wales to Caernarfon on the 864. It was a wonderful trip and she enjoyed the whole experience hugely, as indeed did my wife and I. We had the pleasure of being driven by Les Stanton on that occasion and all the good things that I had heard about Les were proved correct. Although still a fairly young man he had that presence which immediately inspired confidence and set passengers at ease. Nobody seemed to be even remotely surprised to see his somewhat idiosyncratic "uniform" of a purple suit which appeared to be made of velvet complete with a white ruffle shirt and a purple bow tie. He did have his driver's badge properly displayed though and looked immaculate! Les did some after hours DJing and was also a member of an Orange marching band, but I suspect that this was part of the former calling, either a late running commitment from the night before or perhaps an afternoon engagement in the Caernarfon area or even a tightly scheduled evening gig locally that Sunday. There was something uniquely Edge Lane about Les' attire, the beautifully driven and presented CRG and a fully laden coach in each direction with a very happy group of passengers taking in some outstanding scenery and a steady stream of entertaining if unofficial commentary.
Les went on to be a very successful driving instructor and had things turned out differently for Crosville, it would never have surprised me to learn that he had become a valuable member of the management team.
Afternoons in Caernarfon takes me back to one of the countless entertaining stories told to me by John Valente, who was a master raconteur and would have made a most popular speaker at Transport Groups, I'm sure. It was not unusual for a small group of Crosville drivers and conductors to hire a boat and to do a little fishing before returning to Liverpool and on one such occasion a good catch had been divided up between them and stored at the back of each boot. Unfortunately one of the coaches developed a problem on the way back and was changed over at Flint. Some time elapsed before the defective vehicle was towed back to Liverpool and then it was parked up in Edge Lane Coach Station, awaiting its turn in the workshop. Eventually the coach was repaired, road tested, handed back to Traffic and scheduled for a clean up and service. Fortunately the clean up included the boot floor and when the boot was opened the stench of rotten fish was such that the whole area almost had to be evacuated and a large volume of disinfectant applied before it could be closed down again!
John was an extremely confident and able driver and quite rightly took great pride in his abilities, especially his failsafe technique for achieving racing changes on the most difficult of crash gearboxes, which must have been a tremendous aid to driving in the fast and furious days of Liverpool in the late 1940s, 50s and early 60s. This talent certainly came in handy when there was talk of banning our last pair of DLBs due to their alleged sluggishness. John took DLB 904 on a very heavily laden, peak hour journey to Prescot in the presence of a couple of our TGWU committee members, one of whom acted as conductor, and despite an ever changing standing load for most of the way, had no difficulty in keeping time and even had to wait a couple of minutes at two timing points. I have to say that I have never known a DLB handled better and John, who had rarely driven a bus for years, certainly never broke into a sweat or even appeared to be trying particularly hard. He told me once that he took one of the SL class Bedford OBs on an X1 dupe to London when things had gone wrong and nothing else was available and although he wouldn't have wanted to do it regularly it wasn't too bad at all! John was a great fan of the CRGs and could talk at length about the CLBs, CUGs, CUBs and all the variants of the CMGs and judged them all to be well up to the job. We never had a CVT or CVF on the strength at Edge Lane but I have no doubt that he would have taken them out and enjoyed putting them through their paces had one turned up, almost certainly finding the experience to be a positive one.
I finally retired from Newbury and District aged 68, shortly after Reading Buses bought the company. Reading Buses, at the time and still at the time of writing were running a pair of former Lloyd's ADL Enviro 400s which saw service at Newbury Buses in their early days and, at the time of writing are on the eastern fringes of the Reading Buses network liveried for Green Line services. So not only do we have that connection with Lloyd's but as I mentioned before, I used to love filling in at Machynlleth as relief Superintendent in 1971/2 at the now Lloyd's depot. Crosville used to have company digs everywhere back then and the digs in Machynlleth were second to none. A lovely elderly widow lady who lived with her son, who was a local postman there, in the estate at the other side of town. Fantastic people!
I was delighted to see the photo of your beautiful fleet number plate from CRG 28. It moved out of Liverpool before I worked there but Mike Lambden has lots of memories of it and I certainly used to see it quite regularly. That first batch of semi automatics were always very special and, lovely though the manuals were, the semis were in a league of their own and continued to be throughout their working lives. That, coupled with their build quality, undoubtedly explains why we are all so fortunate in still being able to enjoy so many of them, thanks to the foresight and dedication of people like you who have saved them.



Photo: Original CRG28 fleet plate within Richard Jones's collection.
I remember Mike telling me that the brakes were a little exciting on CRG 26-29 but of course those who knew them from new or drove them regularly automatically compensated for them and never gave them a second thought. "They were modified on 37-41 and subsequent deliveries. I always thought the brakes on Leopards up to the mid 70s were terrifying but the Ribble and North Western drivers loved them and rarely seemed to hit anything despite their ton up runs on the motorway!
The black and white photo of CRG 163 on the website in its original cream and black livery complete with waist lights is when the vehicle was brand new on the X1.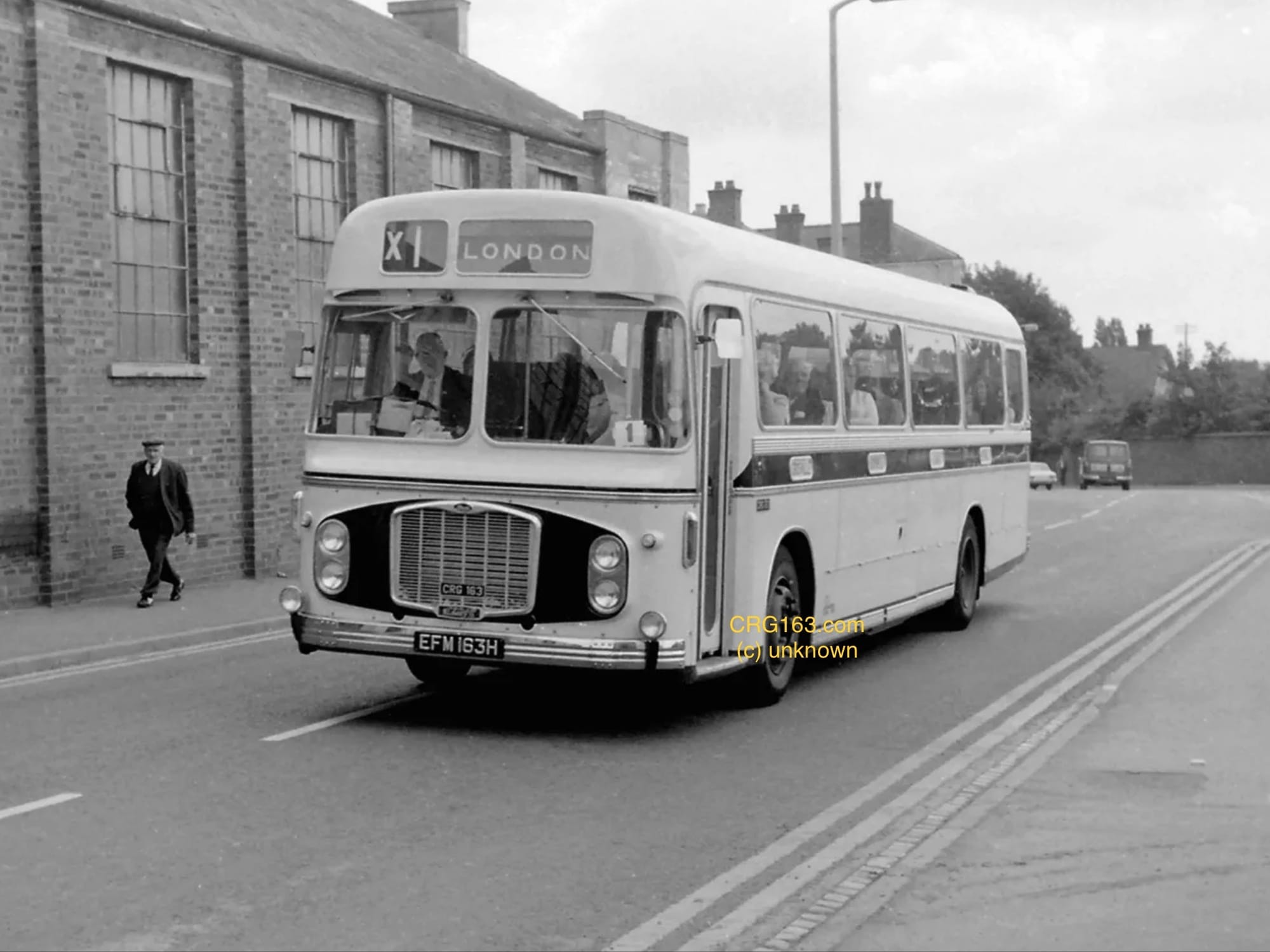 Photo: CRG163, brand new in 1970 in her original cream and black livery en route to London on the prestigious X1 service from Liverpool.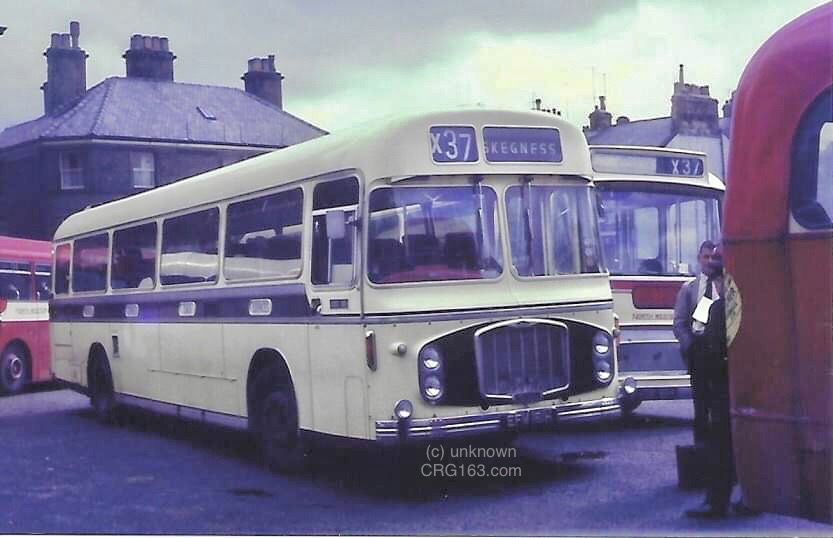 Photo: This photo is of CRG 161 en route to Skegness on the X71 service with driver "Tug" Wilson in view, who was an experienced London dupe driver for years and would have driven CRG 163 tens of thousands of miles. A North Western Y type is also in attendance.
It is interesting to see the image of CRG 163 on the website in what appears to be a second variant of it's cream and black coaching livery. There must be a very interesting story there and the fact that it is showing X1 rather than 853 or 854 must indicate that it was pre 1973. The one thing that I cannot get my head around is why this would have been done in 1971 and how I could have been unaware of it at the time when I was at the centre of the action, as it were, working for Crosville and using the X1 every few weeks.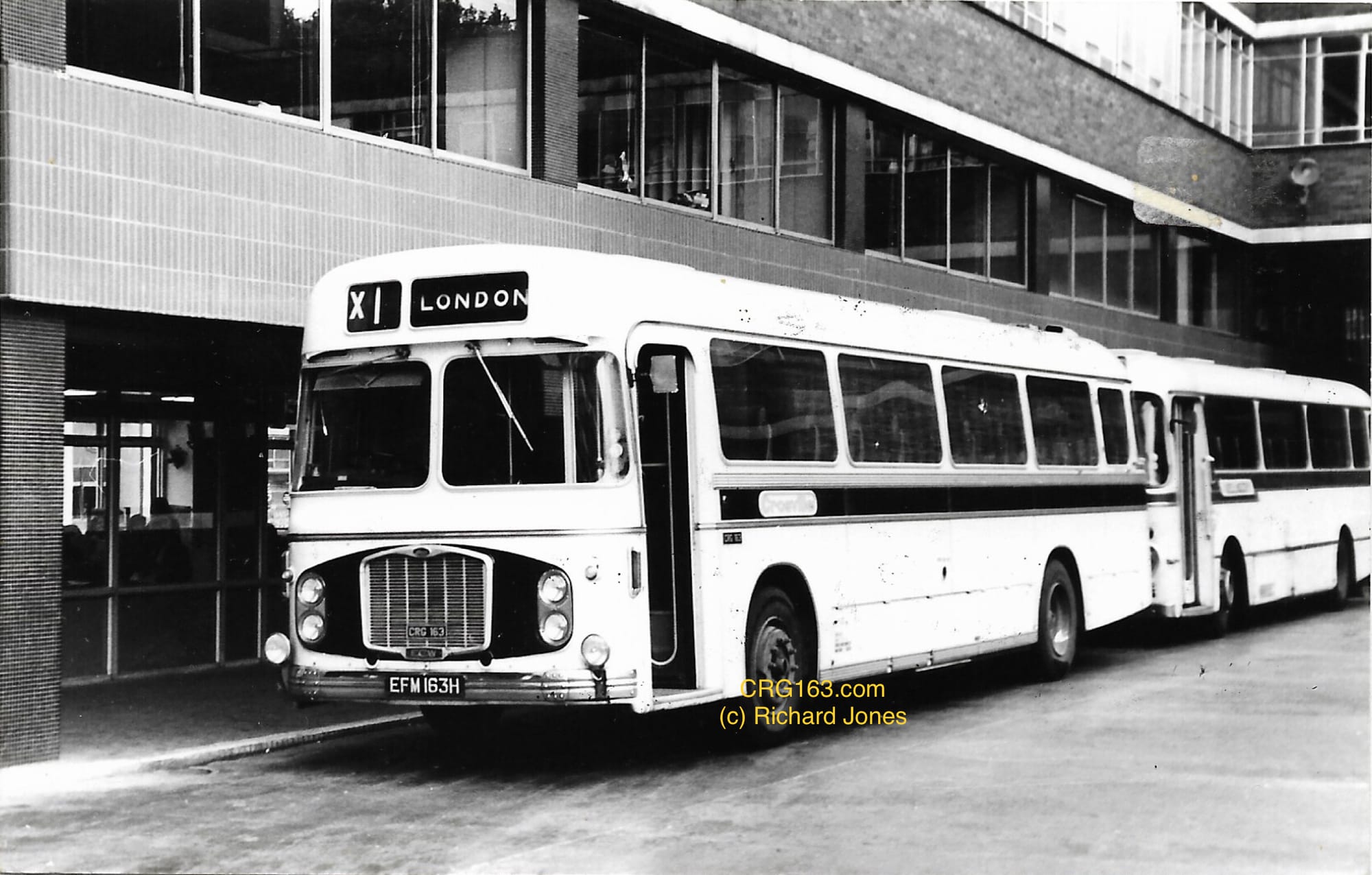 Photo: CRG163 parked up at Victoria Coach Station, London in the second variant of the cream and black coaching livery.
Congratulations on the new tyres. They certainly don't come cheap do they! I'm sure you will know that during CRG 163's days at Edge Lane she will have been on Michelins as all bar a couple of Crosville depots were. The odd ones out were West Kirby and one other depot which ran on Goodyears due to Crosville's dual sourcing policy and while the Goodyears were okay on most types they were dreadful on REs. You would get to about 50 and the steering would vibrate like you were holding a pneumatic drill through to about 60 when it would be fine again! It felt as though the front wheels were falling off and was quite disconcerting for the driver and the passengers. Anyway, I was pleased to see that Dunlop came up trumps for you as between jobs in transport I worked for Bayer UK in their Newbury Head Office and not only did I find them a great firm to work for but also found out much about the range of their activities, one of which being their exclusive supply of man made rubber to Dunlop for their tyre manufacture. It's a small world!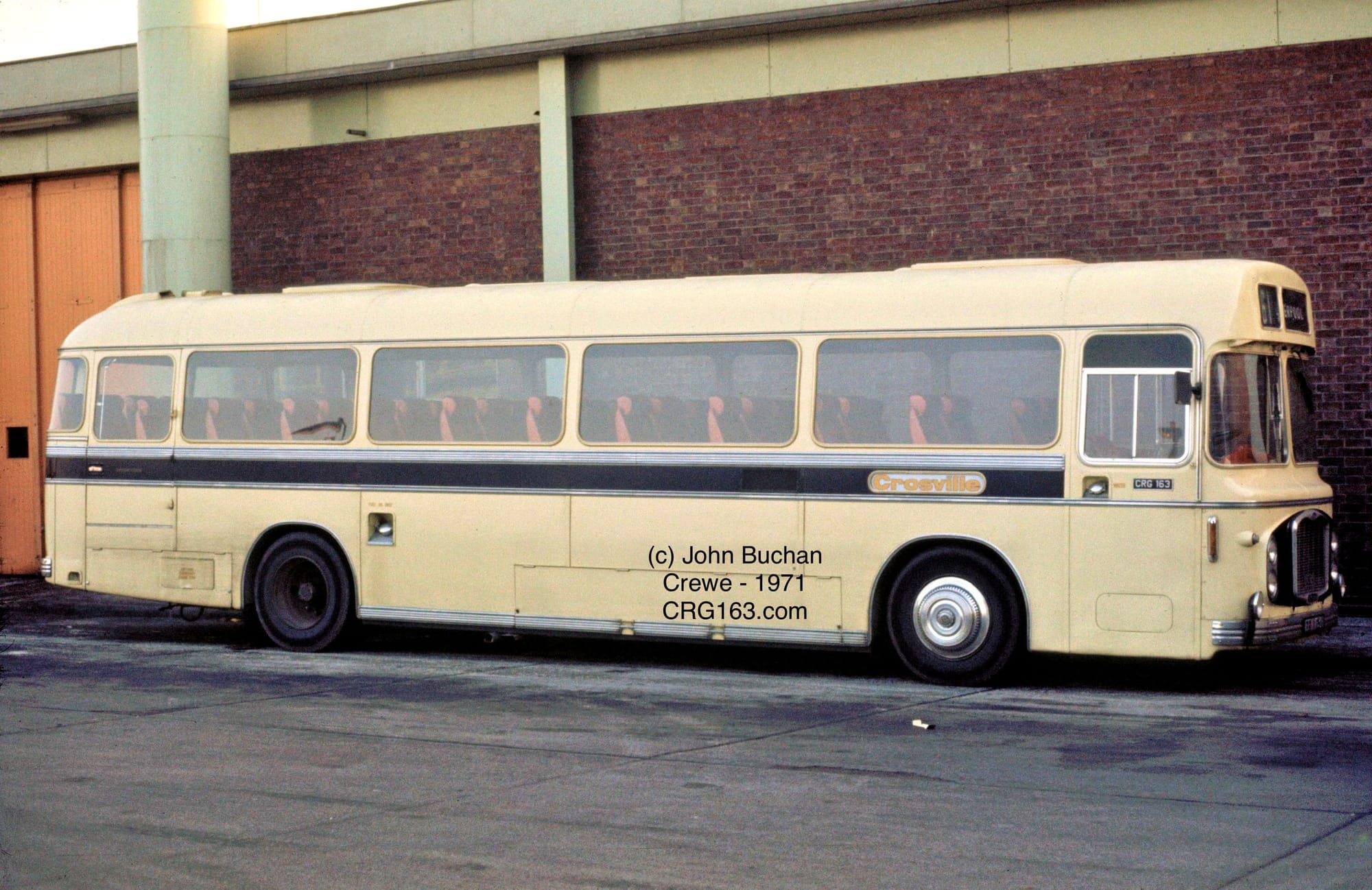 Photo: CRG163 parked at Crewe in it's second variant if the cream and black coaching livery- 1971. With grateful thanks to John Buchan for use of the photograph.
I very much like the way in which CRG 163 has been kept in National livery as that is how most younger colleagues will remember her and how she spent most of her time in front line service. As you so rightly say, CRG 106 is the perfect reminder of the fully restored livery and 530, 103 and 111 all make lovely reminders. 163 records a vitally important era for the CRGs and the longevity of 163 and 164 on front line Londons says more than anything about the regard in which they were held at Edge Lane. The TGWU would have had them "blacked" off Londons quickly enough if there were any significant grumbles about them, like there was with the CMGs and manual CRGs when the newest were only about three years old! They would have had an excellent excuse from the time that the first CRLs were cascaded to other depots, who often used them to dupe Londons upon which the service driver had a CRG, not infrequently 163!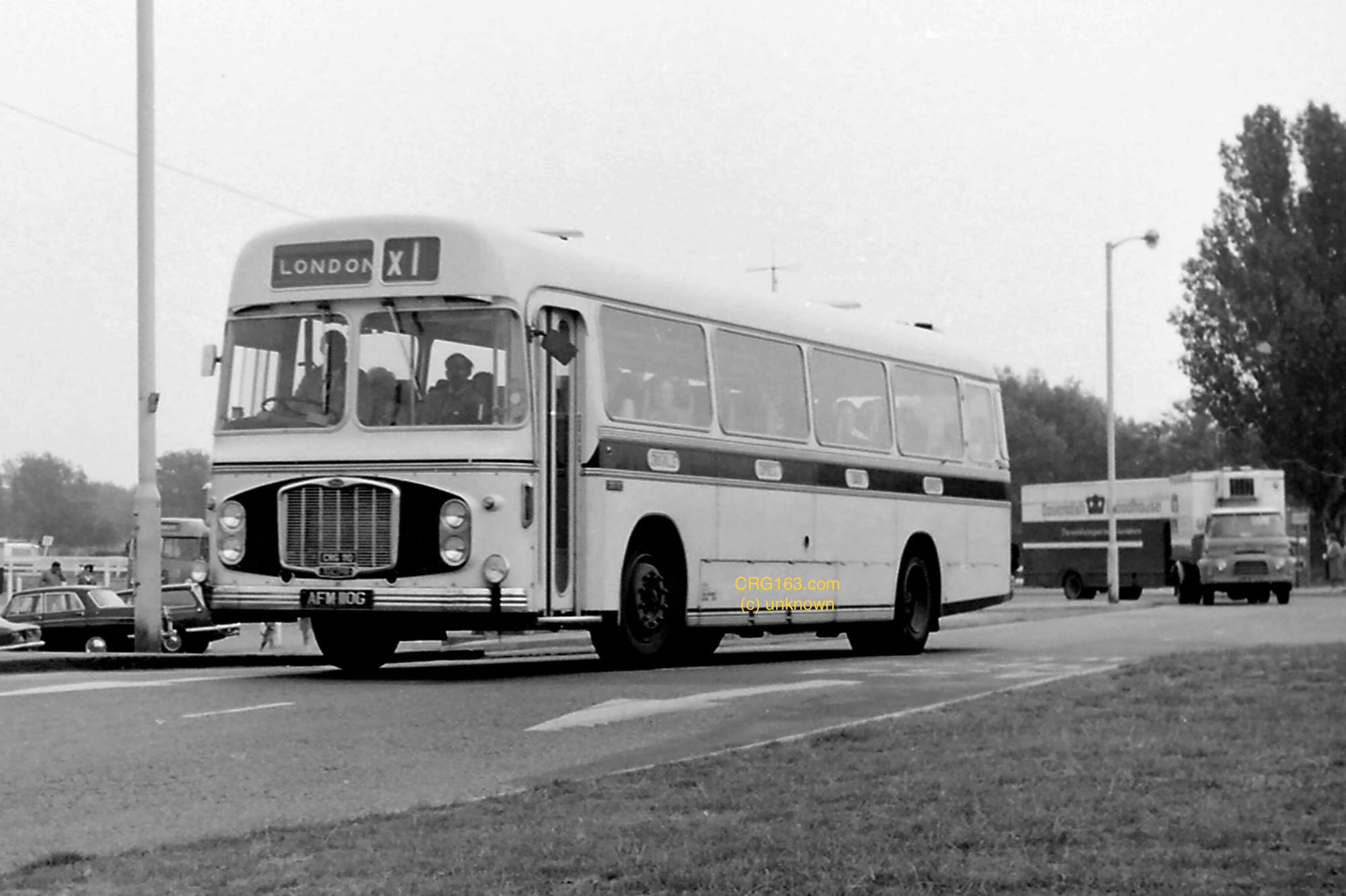 CRG110 London bound on prestigious X1 service between Liverpool and London in the cream and black coaching livery which included the illuminated waste band lights displaying: CROSVILLE - EXPRESS - COACH - SERVICES.
As you so rightly observe, those waistband lights were an immense source of company pride and really did look quite magical, especially in bad light when they were turned on and particularly in the dark. I have wonderful memories of being in a small convoy of CRGs on the overnight X1 going through the smaller towns and cities served en route and hearing the exhaust reverberating off the shops and the reflection in the shop windows from those waistband lights with the more subdued reflection of the cherry red interior with the dim night lights on. A wonderful experience! The upset that was caused when CRG 108 was the first to be repainted into white and had all those waistband lights removed had to be experienced to be understood and the idea that CRG 163 might have had its removed even before this, when it was still virtually new, would have led to burning barricades at Edge Lane, I'm sure!
I'll bet Jack Cowap loved being reunited with preserved CRG163 in 2004. Jack was a senior London service driver during my training and during my time at Edge Lane. He has a couple of claims to fame other than that. He famously kept the old X1 running through the height of that terrible 1962/3 winter, taking several days on the southbound journey, with a handful of passengers, by making his way part of the journey at a time and then overnighting in bus garages along the way where he and the passengers could get a little warmth and refreshments in the canteens, I am told that the Chairman and Managing Director gave him a very big thank you for that as it made the national media news when he finally rolled into Victoria.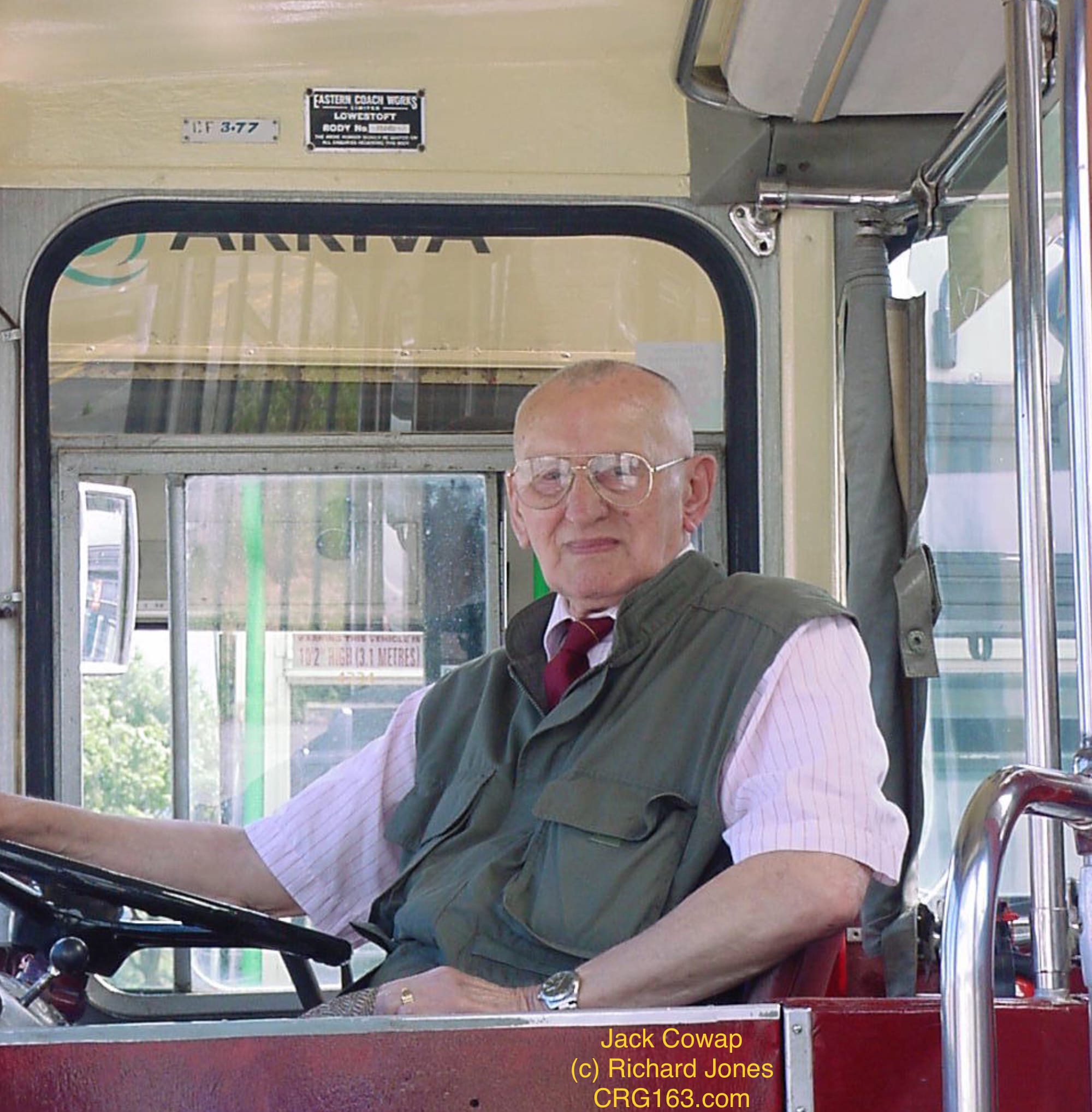 Mr Jack Cowap again behind the wheel of preserved CRG163, approximately 34 years on.
On the very first ever National Express timetable, the cover photo is a very heavily pixelated view of Jack driving a then brand new CRL 300 (BFM 300L) complete with his then ever present pipe! This nearly caused world war 3 when, shortly afterwards, Jack again featured in national news footage when there were demonstrations all over London and he was filmed driving CRL 298 through Parliament Square, which at the time was packed with protesters and policemen fighting. Unfortunately Sir Freddie Wood, the chairman of NBC saw it and noticed firstly that Jack was puffing away on his pipe, which had recently been forbidden by NBC and following enquiries realised that Jack was off route, no doubt avoiding the worst of the hold ups around Park Lane, The message that came down from NBC HQ to Crane Wharf was not a happy one, but I understand that the Traffic Manager quickly suggested that the coach had been diverted by the police on the day and made assurances that Jack would be dealt with most severely regarding the pipe. By the time it rippled down to Jack at Edge Lane it had turned into something along the lines that if asked just say that you were on a police diversion and for God's sake keep your pipe out of sight if you are in central London or if you see a TV camera pointing towards you!
The one era that I can never work up any enthusiasm for is the early years of deregulation, when everybody took to van conversion minibuses by the hundred, but I know a lot of younger enthusiasts who only joined us, initially, because they were so fond of them and because nobody made them feel silly because they liked them.
Before closing of course, a little story that somehow never has been circulated, to the best of my knowledge. I remember walking round Sealand Road Works one day, before 160-4 were delivered and seeing 102 in the body shop looking a little sorry for itself. Closer inspection revealed unusual mud and grass marks along its nearside. No windows were broken but they were scraped and muddy. I eventually found out that it had been going out on a private hire to pick a group up at Morecambe when it was forced off the M6, ending up in the drainage ditch on its side. George Garston and the heavy breakdown crew went up and recovered it under cover of a lane closure and darkness and it was front lifted back to Sealand Road, where it was very thoroughly checked over, mechanically and bodily, cleaned up and returned to Edge Lane a few days later. Not a single window was broken or even popped out, just showing how well built those bodies were. It got cascaded to West Kirby at the same time as 103 went to Heswall and 104 to Runcorn, before I went there, but it never showed any signs of its little mishap, I am reliably informed, I think 105-7 might have gone to Rock Ferry even earlier, possibly when 160-4 arrived. As you so rightly say, a "Golden Age" indeed and one that I am so pleased I experienced.
I hope these memories will be of some interest but please do remember that I have described the Crosville that I remember somewhere between 45 and 50 years ago. There will be much that I have left out, including references to many people to whom I will always be grateful for what they taught me and for the friendship they showed me and some continue to do so. My apologies to them and also to anybody who I have included but remembered their name wrong or mis-spelt. Some of the stories are as told to me at that time and which I have repeated in good faith but might have been told, or remembered, incorrectly. It was a pleasure to have been there and a pleasure to retell a few tales of that era. I hope it will be a pleasant read and a small insight into a long gone times, when CRG 163 was very much in her prime.
Dave Wilder, Assistant District Traffic Superintendent at Crosville's Edge Lane depot Liverpool, retired