Memories of Crosville Caernarfon

I first visited North Wales in July 1963. I naturally fell in love with both the scenery and the Crosville buses. I was particularly impressed by CMG 467-92, at that time Crosville's newest coaches.

Three further visits with my parents followed, and in 1969 and 1970 I had two unforgettable holidays with my friend Keith, using the then new Crosville explorer ticket (7 days travel for £2.48) to get to know Crosville's operations in North Wales, getting as far south as Machynlleth.

I entered the bus industry in June 1975 as a conductor, and later driver, at Greater Manchester PTE's Rochdale Depot. In 1977 my dream came true when I started work at Crosville's Caernarfon Depot. After my training, my first duty was a contract journey to Llanberis, at the wheel of CRG 529. This coach, with the manual gearbox, was very different from 163, but still very enjoyable to drive. During the next couple of years I drove 529 quite a few times on school journeys, and also spent a week helping out on the Caernarfon - Liverpool service, with CRG 529 and 531.

At that time Caernarfon Depot had CRG 529 and CRG 104; their registration numbers were AFM 104B and AFM 104G! They were usually parked side by side when not in use. 104 was not usually used for school work, but on one occasion SMG 461 developed a fuel leak when I was taking the workers to the Marchlyn Dam construction site. CRG 104 was brought out to replace it, and I had a lovely trip on the scenic Dinorwic service at the helm of this superb coach.

For two years I had the time of my life driving MWs in the beautiful Welsh countryside, but when our last survivor, SMG 538 was withdrawn in 1979, we were left with LHs and Nationals, together with two Seddons. We were the only Welsh depot with no REs for stage services.This was very frustrating, as Bangor Depot, only nine miles away, had thirteen SRGs. Perhaps as a result of this, I grew very fond of the Seddons, the nearest I could to get to driving REs!

Occasionally buses from other depots would visit Caernarfon for repair work, and our friendly Garage Foremen, Edwin and Emyr, would often allow me to take visiting REs out on service for a couple of hours before they returned home.

In addition, a coach from Liverpool (from service 865) spent a few hours in Caernarfon every afternoon and this was occasionally borrowed for a trip at school time. This gave me my one opportunity to drive CRG 163, which I used for the 1510 Nant Peris service. This was a superb experience. Being a front line coach, 163 wasn't fitted for one man operation at that time, but this wasn't a problem, with very few passengers boarding after departure from Castle Square, apart from school kids with free passes at Llanrug. After Llanberis, there were no passengers on board, so I took the opportunity to stop for a photo, reproduced below.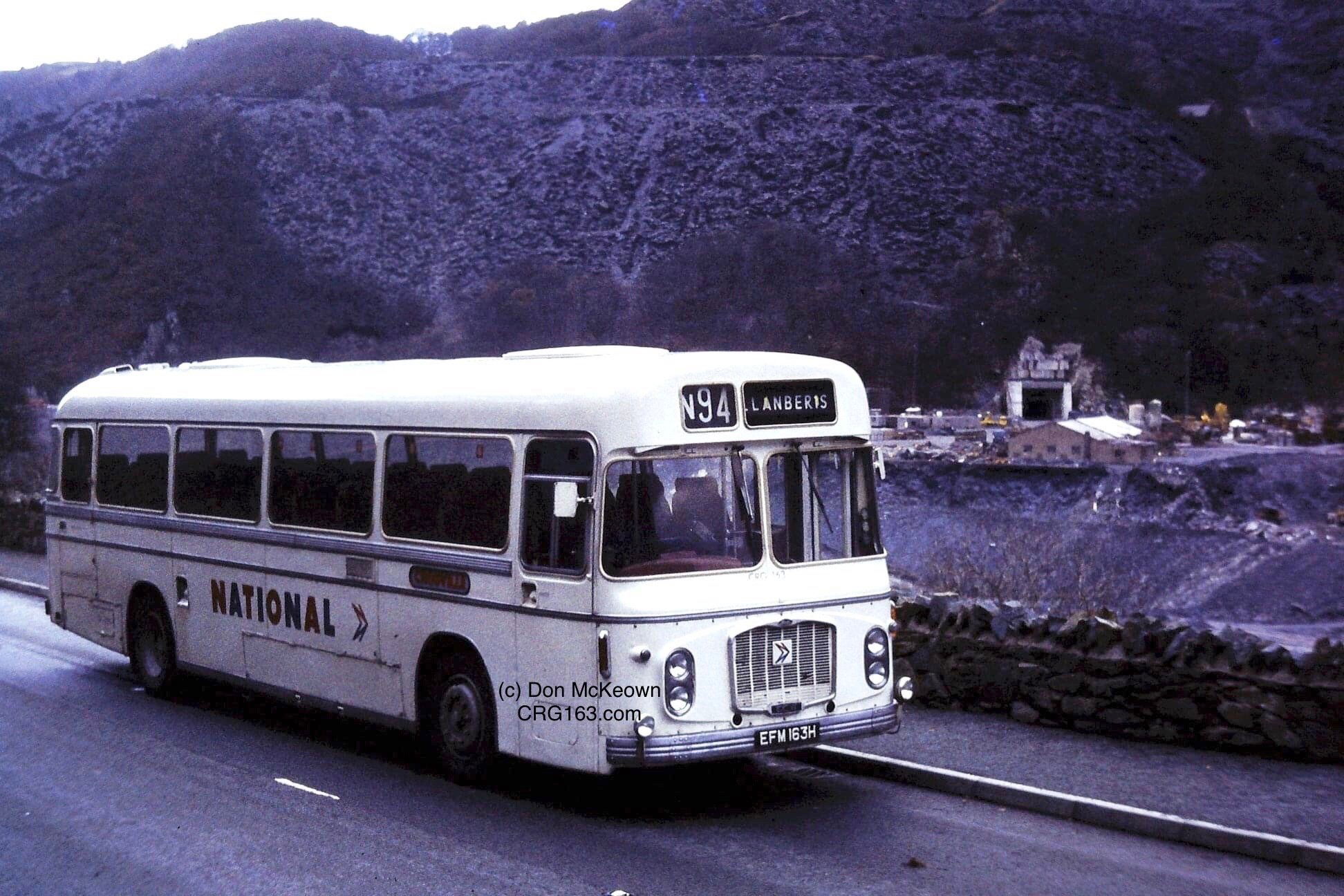 CRG163 with the Dinorwig pumped storage power station in the background. Photograph kindly provided by Don McKeown.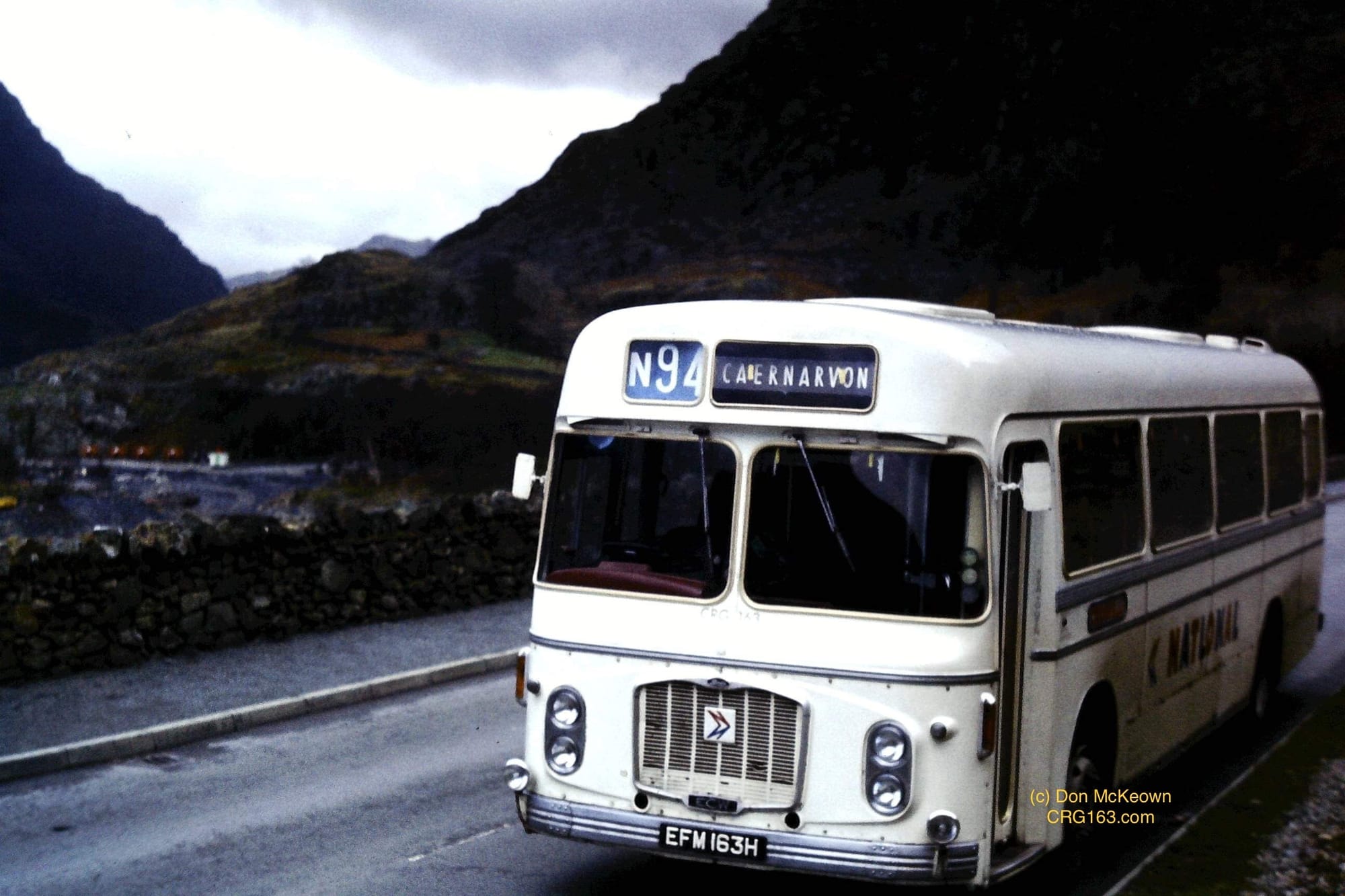 CRG163 returning to Caernarfon on service N94 between Nant Peris and Llanberis. The photograph was taken by Don McKeown when he used CRG163 on this particular day in service during the vehicle's down time at Caernarfon having operated in service from Liverpool (then based at Crosville's Edge Lane depot).
In later life, CRG 163 became ERG 163, and entered service at Amlwch Depot. I sometimes went for a ride on Anglesey on my rest days, but sadly never managed a ride on ERG 163, having to be content with a photo of the coach leaving Amlwch.

I left Crosville in 1986 and moved to Yorkshire, and have lived there ever since.

Several RE coaches entered preservation, and in 2015 Keith and I were in Kingsbridge for the annual running day. We planned to return to Totnes after the event on the feeder bus, but while we waited Steve Graham came along at the wheel of his CRG 106. I asked if we could have a lift to Totnes, and off we went…..for about half a mile. Steve then stopped, left the cab and ordered me to drive! This was a fabulous end to a great day!

CRG 163 entered preservation, and I occasionally saw it here and there. Richard has and is spending a great deal of time and money on CRG 163. I look forward to seeing it again.

Don McKeown, Crosville, retired