MY MEMORIES OF ERG 163 by John Young

I grew up in Birkenhead, living there until the age of 9, when we moved to Lincolnshire for three years. I will have no doubtencountered 163 as a CRG during my formative years as a young bus enthusiast, encouraged in this by my father.

The family returned to the north west in 1975, this time living in Stockport. Crosville was once again close by, with a depot in Macclesfield and a route to Stockport that passed the end of our road.

On leaving school in 1979, I joined the bus industry. I never worked for Crosville, although I did apply, being interviewed at Crane Wharf by John Parker. I often wonder what might have been.

With more money – and a camera – I started to explore further afield and often enjoyed days out in North Wales. I covered the entire operating area, but Anglesey was a firm favouriteand I visited regularly. In researching my travels for this piece, I was surprised how many times 163 featured. I have been helped massively in this by keeping a log of all my bus journeys ever since 1978.

The first time I travelled on ERG 163 was, in a strange sort of way, a bit of a disappointment. Bristol FS DFG 204 had had a stay of execution at Amlwch to operate the Anglesey Aluminium contract and I had written to AA to request permission for myself and a friend to travel on their contract bus 2 in order to sample the Lodekka. This was agreed to, and a date of Saturday 28 November 1981 was set. We travelled by train from Manchester to Bangor, first sampling sister vehicle ERG 161 on a local trip to Maesgeirchen before boarding SRG 123 on the N45 to Holyhead. We then used the N3 to reach Amlwch, which was ERG 274 as far as Mynydd Mechell, where we had to change to the far less salubrious SNL 570. On arrival at Amlwch, it became clear that the DFG was not going to be used, and ERG 163 was the chosen vehicle. Having got this far, we opted to travel on it anyway. On arrival at the plant, we were able to negotiate our way onto SRG 214 which was on Bangor contract bus 1 and this dropped us off by the rail station for our return train home. A copy of the letter is attached below.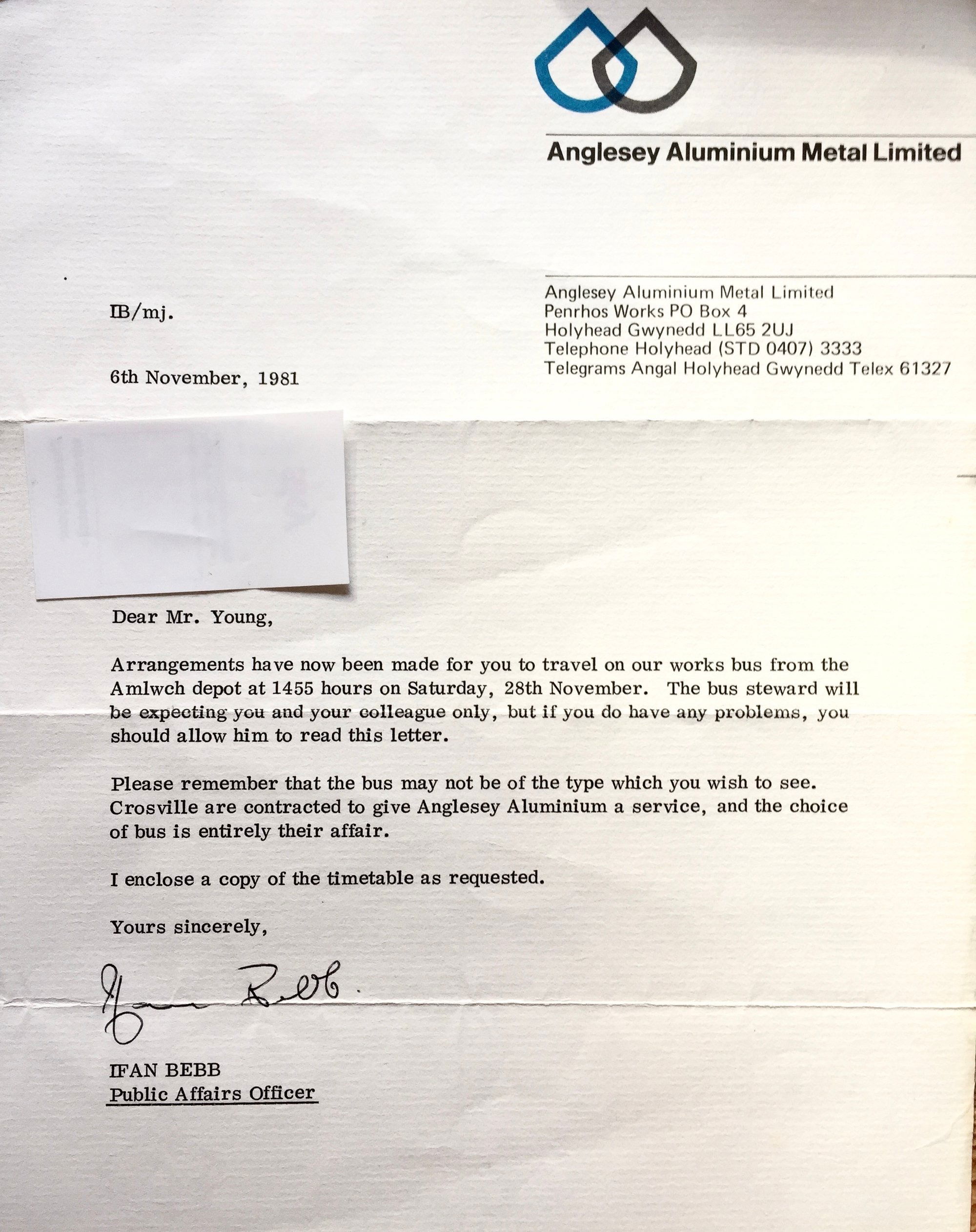 Another day out on Crosville was on 10 April 1982, when I enjoyed a short trip on 163 from Bangor to Menai Bridge on service N61. Other REs travelled on that day were SRGs 123, 126, 172, 176, 211 and 214.

1983 brought a further two opportunities to ride on 163. The first was on 8 January, from Bangor to Amlwch on the N61. Other RE rides were on SRG 123, 207 and 211. A change of scene on 3 June that year saw me able to ride on 163 on the N2 from Holyhead to Amlwch, as well as enjoying further RE rides on SRG 123, SRG 207 and ERG 272.

I also have fond memories of ERG 106 at Denbigh, also now preserved of course. I rode this on the M61 on New Year's Eve 1982 and 21 August 1984. I must have caught the bug, as I returned four days later to travel on it on the M76, another fantastic route.

Oswestry was the other location where rides on downgraded RE coaches were made. Thus on 22 October 1983 I sampled ERG 162 on a D62 to Overton and a D64 to Ellesmere, as well as ERG 111 on the D71 to Courthouse Lane. On 16 July 1984 I returned, travelling on ERG 111 on a D71 to Four Crosses and a D87 to Welshampton. Finally, it was back to ERG 162 on 12 September 1984 for a very pleasant trip out to Llanarmon DC on service D60.

A different type of journey saw me able to sample ERG 110 on the Town Lynx X1 from Northenden to Chester via Runcorn on 28 August 1981. This was the start of a day out and a rare example of the bus finding me rather than the other way round!

One thing that all these journeys and memories have in common is of smart, professional staff who were without exception helpful towards a young bus enthusiast, who often asked for photo stops en route. This was a different age when there was less of a rush, less traffic and people seemed to more likely to help each other. It's interesting the memories that come flooding back – the elderly driver at MaesG on 161 with his roll-up at the terminus on a miserable November morning, for example. The wonderfully comfortable seats, smooth suspension and attractive scenery on interesting rural routes made for some great days out which, 40 years on, will never be forgotten.

Long live 163.

John Young, Commercial Director, Stagecoach Yorkshire