Mike Grant - A Day Out for BICC Employees
I've always considered myself fortunate to have been trained by Crosville Motor Services. On graduating from university I looked for a career in the transport industry and eventually had to decide between two offers of work – with East Kent or with Crosville. CMS won because of the range of activity and breadth of territory it spanned. It proved to be a good choice as I found myself joining a firm I would grow to admire.
In 1969 I was taken on as a traffic trainee on a two-year course being primarily allocated to Merseyside Division under Bert Boys. I had a schedule setting out in detail how many weeks I would spend on each of the firm's activities and a classic blue CMS ozalid sheet from Andrew Allison, the Chief Traffic Assistant, offering advice such as " .... be prepared to start early or stay late when necessary. A bicycle is useful in this respect."
I followed the schedule for 15 weeks and then realised that I could expect to stray from its detail frequently. The benefit to CMS of a trainee was that once a degree of proficiency had been demonstrated they could be expected to be used to cover any unforeseen absences or shortages and indeed would learn much from taking responsibility for tasks rather than just be watching at someone else's side.
Various emergencies sent me to Denbigh to stand in for the Depot Superintendent but where I soon learnt that Edna Pierce, the Chief Clerk had everything under control anyway; to Dolgellau to complete the wages sheets and to Johnstown to cover for the sickness of the Depot Superintendent, Idris Goodwin and see the swop over to "the decimals" which worried many. Much of my time was spent in Liverpool – too often on preparing wage sheets – no computers in those days and balancing a set of spreadsheets could be an exacting task. Bob Hind was my predecessor on the training course and he had been working at Edge Lane with Snowy Allen during the sickness of George Owens who since 1949 had overseen the express and private hire work from the depot. Bob was getting anxious to get back to his course schedule so the trainee was able to train me to do the support work which Snowy needed and I took over from Bob.
It was an important step for me as I soon realised that my heart lay more with coaching than with the bus side of the industry. After some time working in the Divisional Office, ultimately as Assistant Divisional Manager, I moved in 1975 to join the newly formed National Travel (Midlands) in Birmingham. That paved the way for a career with National Express.
Seeing the suggestion that CRSSA members could contribute details of their time with Crosville I was at first put off by the idea of producing a resume of my career interspersed with anecdotes and achievements so I wondered if there was any single occasion which I felt typified the role of the Company and demonstrated its excellence. I think there most certainly was – and for me it was the bi-annual BICC works outing which I witnessed in 1970.
British Insulated Callender's Cables (BICC) were a significant supplier of equipment to the electricity industry. They had factories throughout the UK and overseas as well but their Prescot works and a small number of satellite locations were sizeable. This was the age of a more paternalistic industry than now and aside from owning playing fields and supporting a brass band, the company chose to provide its staff every two years with an outing to Blackpool at the firm's expense. Works would close early on a Friday at lunchtime and employees would be given the chance to travel to Blackpool for a four course dinner and evening's entertainment.
How would you get 2000 people from around Prescot to Blackpool? – contact Crosville of course!
Much has been written about the organisation undertaken by Crosville for the Caernarfon investiture of the Prince of Wales and there are some references to the bulk private hires which ran for Summers' Steelworks at Shotton but I'm unaware of the full story of the BICC trip being told. Crosville were good at organising such transport spectacles and my memories of the event will hopefully demonstrate how the company pulled together in various ways to meet the customer's requirements. Few others could have managed it.
There were historic links through the Crosland Taylors who had founded the BICC Helsby factory but the job was essentially just another private hire for Liverpool depot. Les Brereton, Depot Superintendent was involved in the early discussions with the customer and liaised with a manager on the BICC side. 46 coaches were needed -23 CRG and 23 CMG offering 1978 seats. A CRG was also deployed to make the round trip as an empty spare available if required for breakdown cover.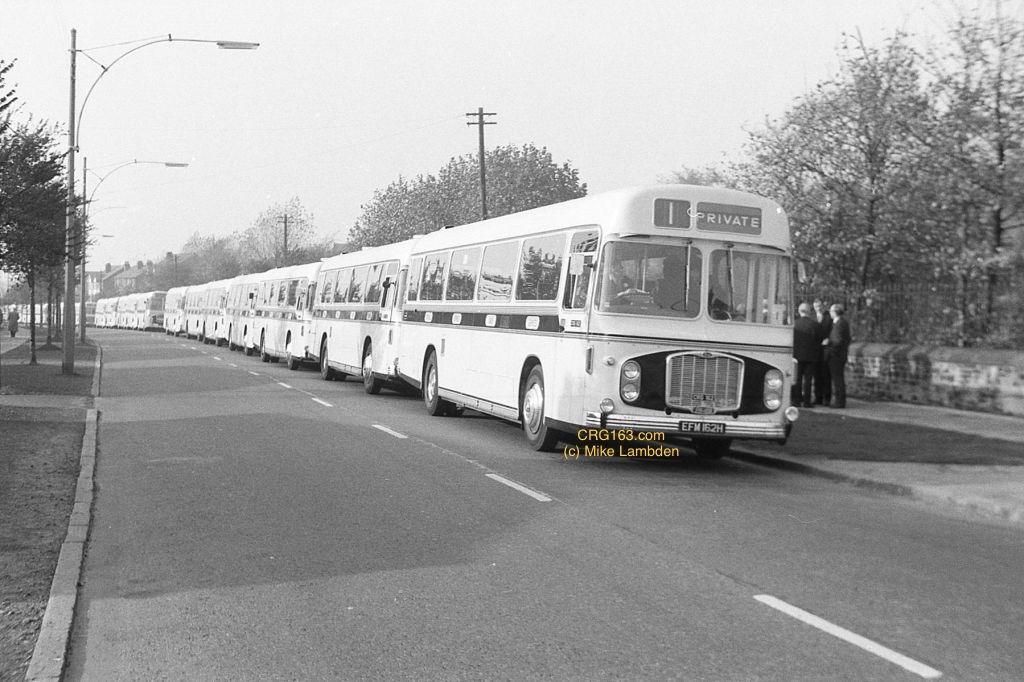 The biennial BICC staff outing for which Crosville supplied the coaches for many years was a major logistical exercise which was nevertheless very prestigious for the company. The view shows a selection of immaculately turned out coaches lined up on Manchester Road, Prescort, before moving off to various locations to commence their pick-ups. 9 CRG's were provided from Liverpool Edge Lane depot. The exact vehicle details are unknown now but it is not impossible that CRG163 would have been amongst them.
Other depots helped. Some vehicle loans were set up with the North Wales depots by exchanging coaches working on the scheduled express routes to bring newer CMG's into Liverpool temporarily. All duplication on the London routes was placed with other depots over that weekend.
Vehicles for the hire were operated by
Chester: 1 CRG; 4 CMG
Crewe: 3 CRG; 3 CMG
Heswall: 1 CRG
Liverpool: 9 CRG; 5 CMG
Rock Ferry: 4 CRG; 3 CMG & 1 CRG spare
Runcorn: 1 CRG
Warrington: 1 CRG; 2 CMG
West Kirby: 2 CRG; 1 CMG
Wrexham: 1 CRG; 5 CMG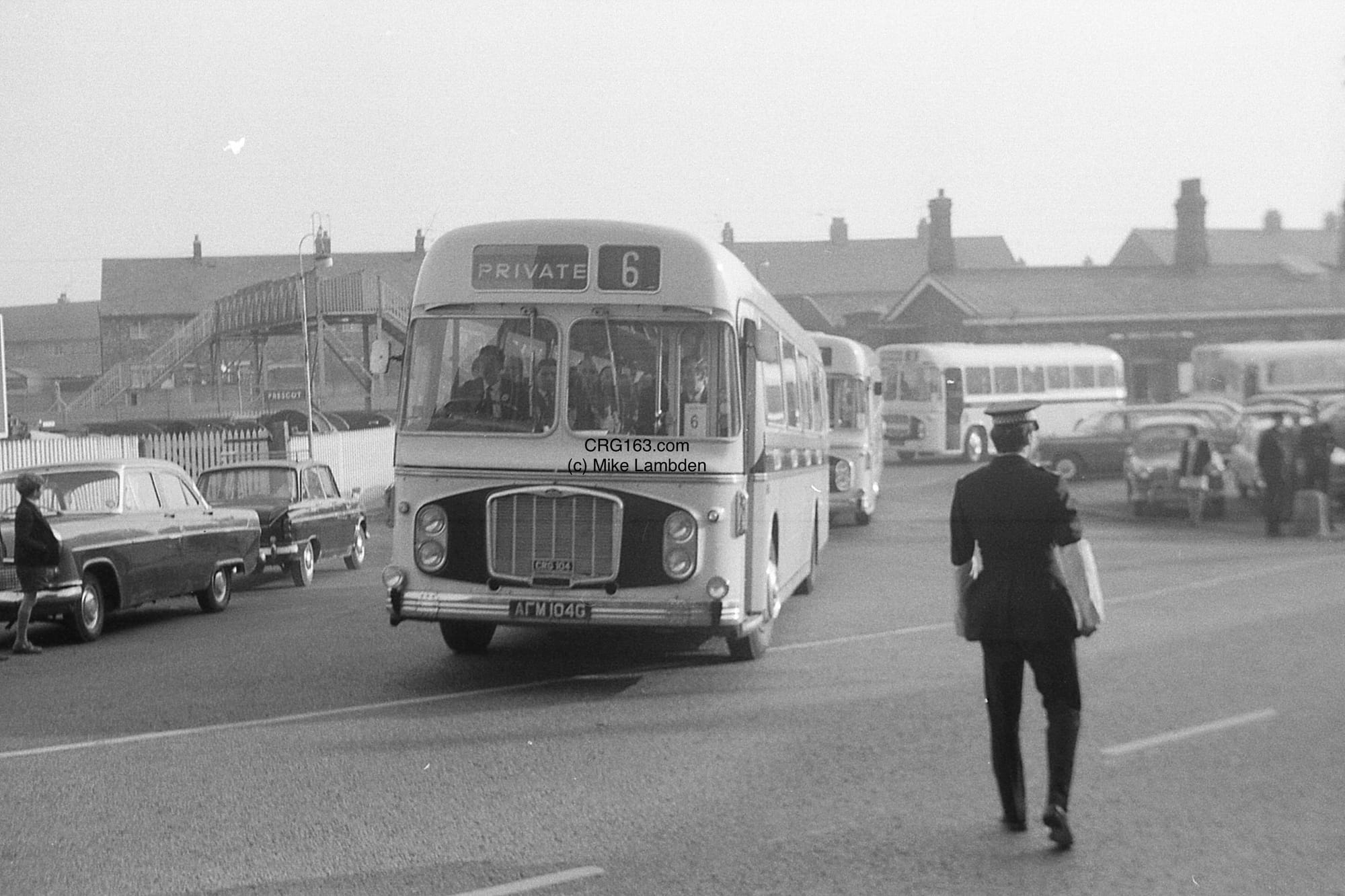 Coach number 6 leaves Prescot station at the start of the journey to Blackpool, with the local constabulary on hand to control traffic.
The contributing depots knew the importance of the prestigious work and ensured a good turnout. Ricky Winter tells me that at Heswall the Foreman Cleaner, Tom Pickering, took a personal pride in ensuring that vehicles were 'A' cleaned, polished and fitted with wheel discs to look immaculate when they set off.
BICC staff would be given their vehicle number so that they knew which coach to board – both for the outward and return trips – and would be able to locate it. Each vehicle carried this number for passenger recognition and an important aspect was that coaches ran in strict numerical convoy order. As I recall, for 1970 the majority of the CMG's carried the unique Crosville style front end (CMG 510 and later) adding to the image of uniformity with the CRG's.
BICC were spread over a number of sites and the main factory covered a sizeable area so vehicles had to be planned to pick up at a number of distinct locations at:
Bridge Road, Prescot – 5 coaches
Prescot Station – 7 coaches
Station Road, Prescot – 8 coaches
BICC Computer Building – 4 coaches
Rye Hey – 6 coaches
Hall Lane – 6 coaches
BICC Huyton Quarry – 3 coaches
BICC Melling Factory – 2 coaches
BICC Parr – 3 coaches
BICC Kirkby – 2 coaches
Detailed planning and driver instruction was essential. Mobile phones hadn't been invented! Convoy order reduced the possibilities of drivers going astray but vehicles had to be marshalled before setting off for the pickups. Wherever possible vehicles from depots away from Merseyside would have the reassurance of an Edge Lane driver in their group. Those from the south and west reported to Rock Ferry at 13:30 where they were organised into order and set off for Liverpool at 14:15. Here they met up with most of the other vehicles for despatch to Prescot and the pick-up locations. Coaches from Runcorn and Warrington would be used to cover the passengers at Melling, Kirkby, Widnes and Parr and would rendezvous with the main convoy at Windle Hill at a layby on the East Lancs Road. Here they slotted into their place in the vehicle sequence.
Looking back, it's clear that parking and traffic congestion problems were of far less significance than now. The police were kept informed of the trip but had little to do to ensure the pick-ups ran smoothly. Mike Lambden's photo of vehicles at Manchester Road, Prescot demonstrates that parked cars and yellow lines weren't that common then. 35 vehicles assembled here to the north west of Prescot centre before moving on to the individual stops around the main factory. Mike has also provided the snap of coach 6 heading the group leaving Prescot Station forecourt. Nothing obvious remains of the factory buildings now. It had been Prescot's biggest employer at the time but now only survives elsewhere as the forerunner of the Balfour Beatty conglomerate. The naming of the Prescot Cables Retail Park is a last reminder for shoppers.
The convoy paused at the Blackpool boundary just before Little Marton Windmill. It was given a police escort into the centre and their help was also provided in clearing the parking stands in readiness for the departing vehicles.
Passengers would be first taken to one of three dinner locations. The bulk ate at the Winter Gardens in Blackpool at 18:45 but the Market Street Lobster Pot (16 vehicles) and Casino (13 vehicles) were also used. At 20:00 those at the South Shore Casino had a coach transfer to the Winter Gardens after their meal whilst Lobster Pot diners were able to make their own way.
Entertainment was provided for the evening from 20:15. There was dancing to the Empress Ballroom Orchestra and a separate cabaret show was on offer. I remember watching comedy double act Jimmy Jewel and Ben Warriss. Bars were open until midnight. The proceedings closed at 01:00 with "Auld Lang Syne" and the National Anthem – then back to the right coach for the journey home.
All went to plan in 1970 – no breakdowns and the spare vehicle wasn't needed. That was good because there was one planning hiccup. Having dutifully slotted in to follow behind at number 47 all the way to Blackpool, it was one of the first to set off for home when the vehicles were released – a mistake to be addressed in future plans.
I didn't have a camera but have kept one picture in my mind. Remember the M55 hadn' t been built and the convoy would leave the M6 at Jct 31 (Tickled Trout) to take to the A roads. This is where the motorway curves downhill to cross the River Ribble. I recall looking back having just overtaken the convoy in a car to see the row of only cream and black Crosville coaches filling the slow lane of the motorway and stretching back as far as my eye could see.
I felt proud to be part of a company that could organise that.
Mike Grant, Career with Crosville: Traffic Trainee 1969-71; Assistant to and then Assistant Divisional Manager, Merseyside, 1971-74. Left 1974 to become Licensing Officer for National Travel (Midlands) Ltd
The article featured above was one of many articles included in the 'Crosville Memories' book, produced and published by the Crosville Retired Salaried Staff Association (CRSSA) in recent years, marking the association's 50th year anniversary in 2015.
It is therefore with grateful thanks that the CRSSA have agreed that this article can be reproduced on this website - Richard Jones.