Mike Lambden remembers CRG163 and other CRG's of the time

At the time that I was appointed Assistant District Traffic Superintendent at Liverpool Edge Lane CRG163 was one of my newest coaches and would have been operating all the main London services with only occasional forays onto other work. It stayed that way until the CRLs arrived in 1972. I cannot recall if I drove 163 during this time but probably did even if it was only to take the cash to the bank which we usually did with a CRG.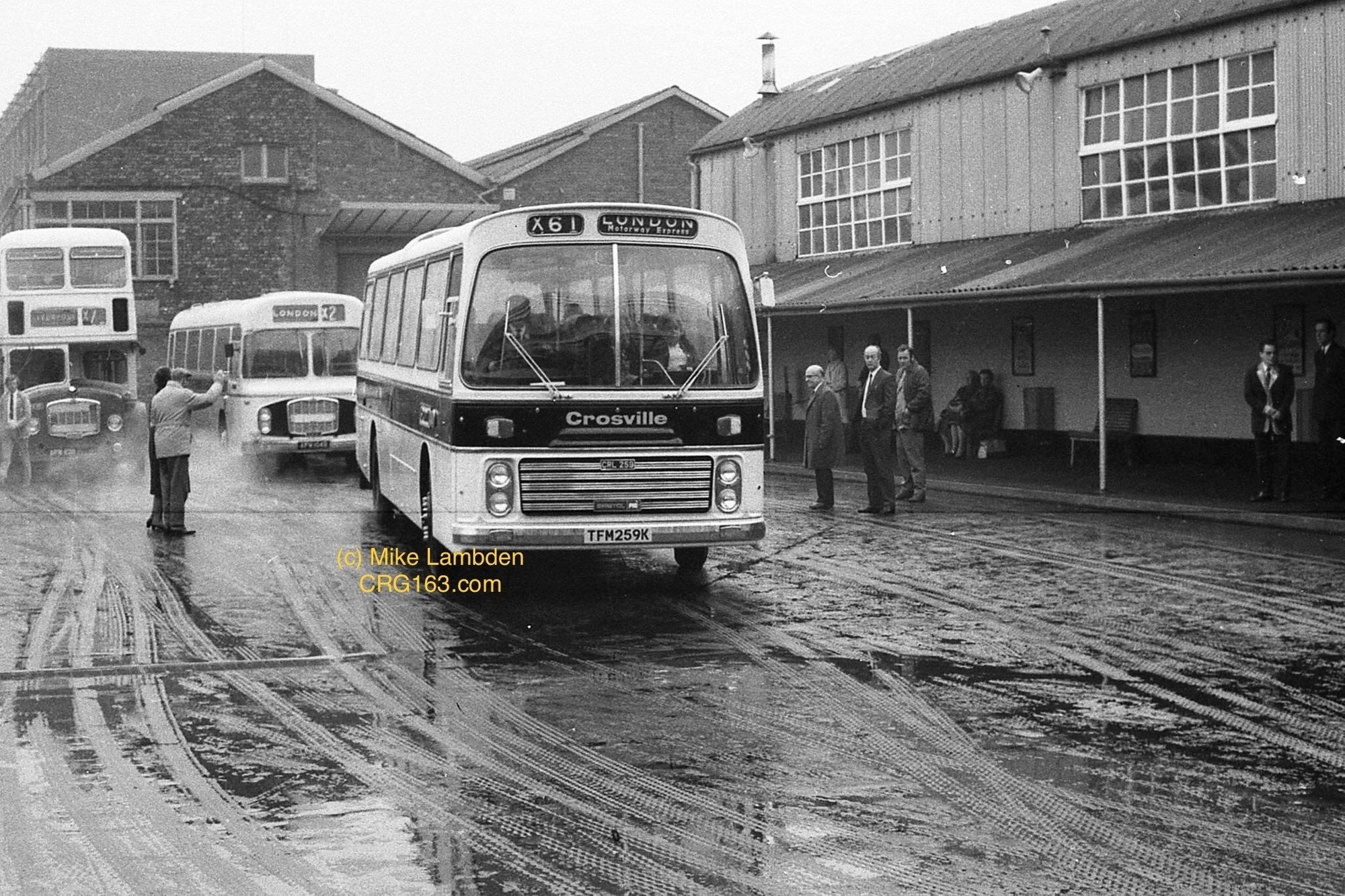 An image that 'brims atmosphere' as Mike Lambden comments. The image is of CRL259 at Liverpool Edge Lane, London bound on service X61 with a CRG behind. Mike believes the image to be from 1972 and is possibly the first departure on this service operated by a CRL.

Mike comment that the driver is likely to be Hughie Whitby a long time London driver at Crosville. To the right of the coach is Snowie Allen who was the Private Hire Officer at Liverpool and looked after the coach services. He normally had a Woodbine going. Second right from Snowie Allen is a driver called Peter Brookes who later become a Crosville London driver.

Just visible to the right is Brian Ford the Union Secretary at Crosville's Edge Lane depot, Liverpool.


My first experience of travelling on a Crosville CRG was soon after I had started with Crosville in 1966 when I went to London on the Friday only teatime service. I remember that the coach was CRG578 and the driver was Hugh Whitby and that it was lovely and warm with the Webasto heating working full belt. There were a number of occasions where the coach seemed to be travelling much faster but with little engine sound – that was when I learnt about 'silent sixth'. When we got the first semi automatic CRGs soon afterwards all the drivers had to be warned not to knock it out of gear going downhill as this would cause the gearbox to seize due to lack of oil flo

There was one Friday evening, either in 1970 or 1971, where we had a big overload on the 1745hrs X4 service to Caernarfon. As we had spare CRGs in the depot I did a dupe to Bangor. It was one of the 26 batch and I think that it may have been CRG26. Having climbed up from Queensferry I was building up speed as we got nearer to Northop when I suddenly saw the queue for the Northop lights ahead of me. That was when I learnt that the brakes were not great on CRGs when stopping from speed as I was standing up in the cab pressing the brakes but stopped safely and it made more circumspect for the rest of the journey. Whilst I was unloading passengers at Penmaenmawr one of the passengers said to me ' thank you driver for a smooth ride and I wasn't scared once'. It made wonder what his other journeys had been like in the past! When I got to Bangor I turned straight round and headed back to Liverpool. I thought the coach rather sluggish but managed to get 60 out of it passing Aber. I stopped to have a rest at Penmaenhead and that was when I realised that I had driven it all the way from Bangor with the handbrake on! It went better after that and the rest of the journey home was uneventful. I should point out too that there were no driver's hours records kept in those days although there were, of course, regulations. Best not to say too much about compliance.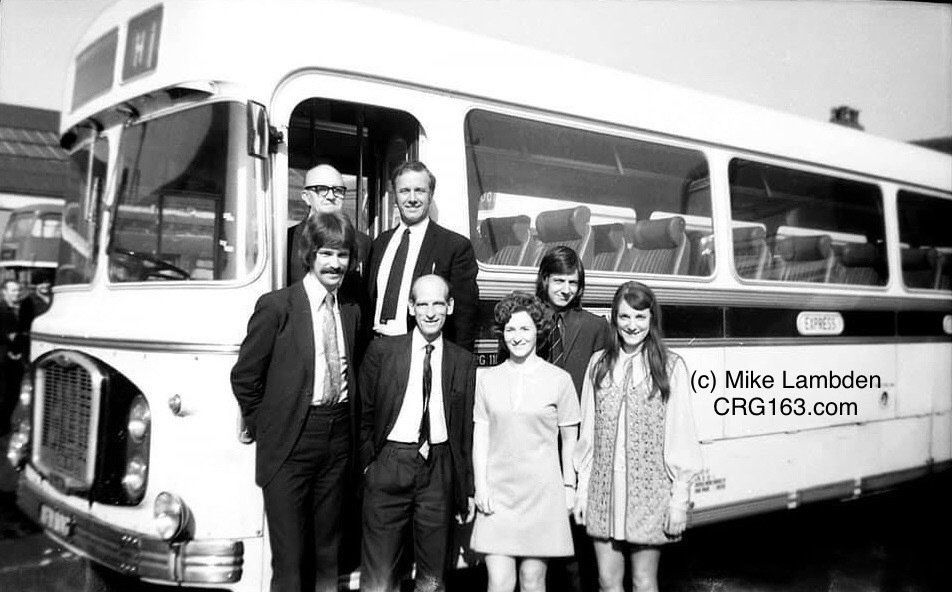 Photo kindly provided by Mike Lambden with many thanks. A CRG acts as a wonderful background in the lovely coaching cream and black livery. Mike recalls some of the names in the photograph from left to right: Mike Lambden (himself), Les Brereton, John Valente, Ag Thompson (Edge Lane Chief Clerk), Pat Taylor and Pam Carmichael.

Mike Lambden - ex Crosville and National Express, retired