Mike Lambden remembers working in the UK Express Coach Sector
Mike Lambden – Crosville, National Bus Company and National Express 1966 to 2012.
Pen portrait - Mike Lambden at his desk, Crosville, Ellesmere Port depot.
Sunday 5 October 1980 was for me the day in which express coach operation in the UK changed for ever. Some may say that this is the day before the Transport Act 1980 was enacted but in National Express we 'cheated' and used the old legislation to make dramatic changes before the day. I will write more about this in a later edition. However, before this day I already had some 14 years' experience of express coach operation.
I started my career as a Traffic Trainee with Crosville Motor Services and was sent to their Liverpool Edge Lane depot to start my training. This was the heart of the Crosville express service operation and we ran the Liverpool to London services and to North Wales and Cardiff. To illustrate the scale of the operation during the winter there were three journeys a day to London – one via the motorways, a daytime service using only A roads which took around 11 hours and an overnight service. To North Wales we had two journeys a day to Caernarfon and one to Llandudno. Traffic levels were generally small during the winter.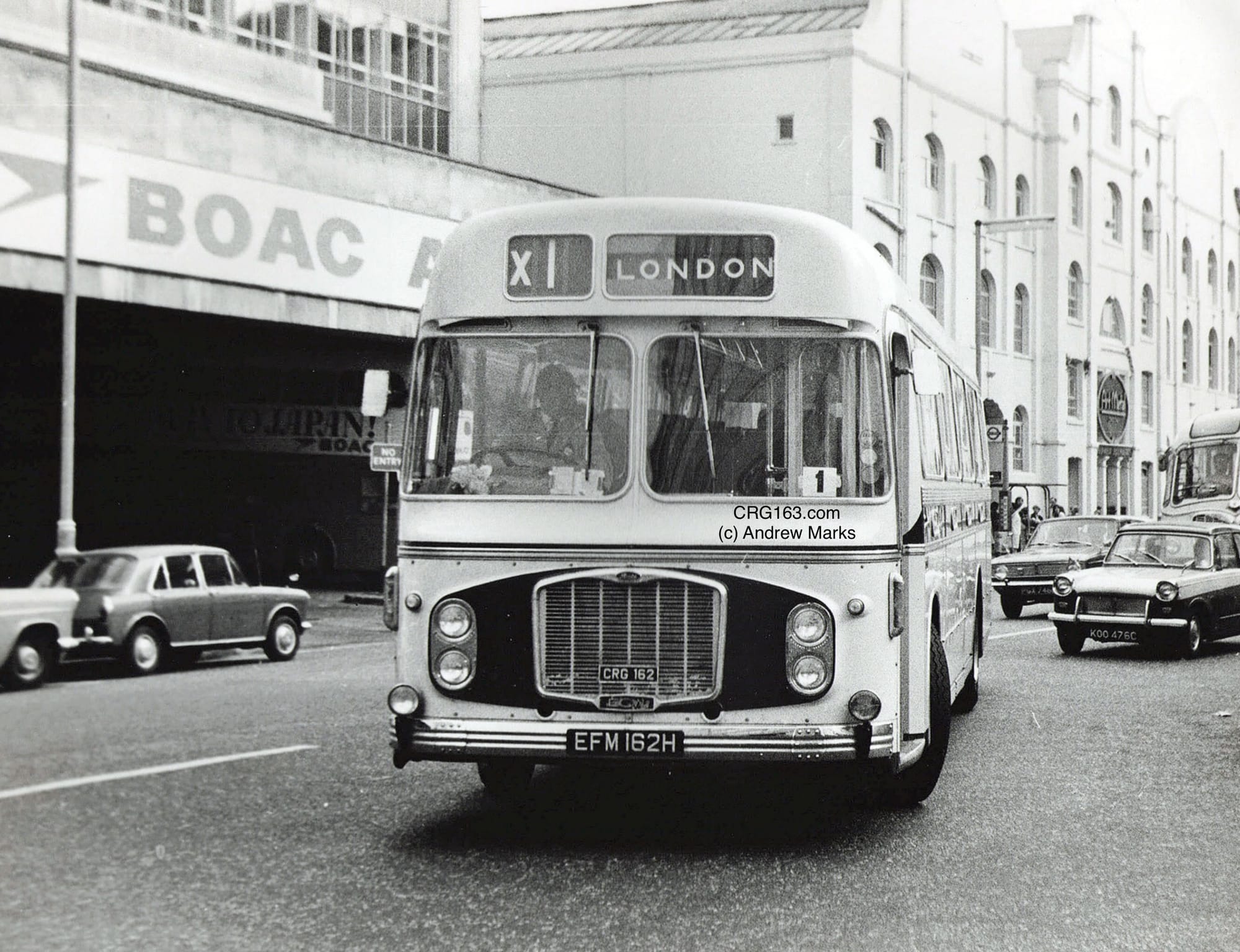 Photo: CRG162 at Victoria Coach Station, London in 1970 having operated the X1 service from Liverpool, kindly allowed for reproduction by Mr Andrew Mark with thanks. Mike Lambden comments that he thinks that this is Mr Bob Parry at the wheel from Crosville's Liverpool Edge Lane depot.
The service levels were what we were allowed to operate by the regulations but also pretty much matched demand for the majority of the year. Mind you, we were not free to set our own fares as we had to apply to the Traffic Commissioners for permission to change them and, whilst in theory anyone could object, it was normally British Railways.
In reality, my experience of express coaches started as a babe in arms as I travelled with my parents by overnight coach from London to Liverpool but this was not continued, so I was told, after I was ill all over my father's demob suit which was the only one that he owned at that time. Later, my father became editor of Bus and Coach and I sometimes accompanied him on journeys he made and I particularly remember travelling overnight from London to Newcastle on one of United Automobile's new Bristol RE coaches.
Back to life in Crosville. At that time all seats were reserved using a manual system and we had a team of 'girls' (average age about 60!) who worked in the Liverpool chartroom which is where all the offices and agents phoned to make bookings. This worked well other than when things got really busy. Then people could not get through on the phone and reverted to just issuing tickets which later meant that some journeys were overbooked which would not be apparent until the services operated. However, we were wise to that and allowed spare capacity at peak times especially to North Wales.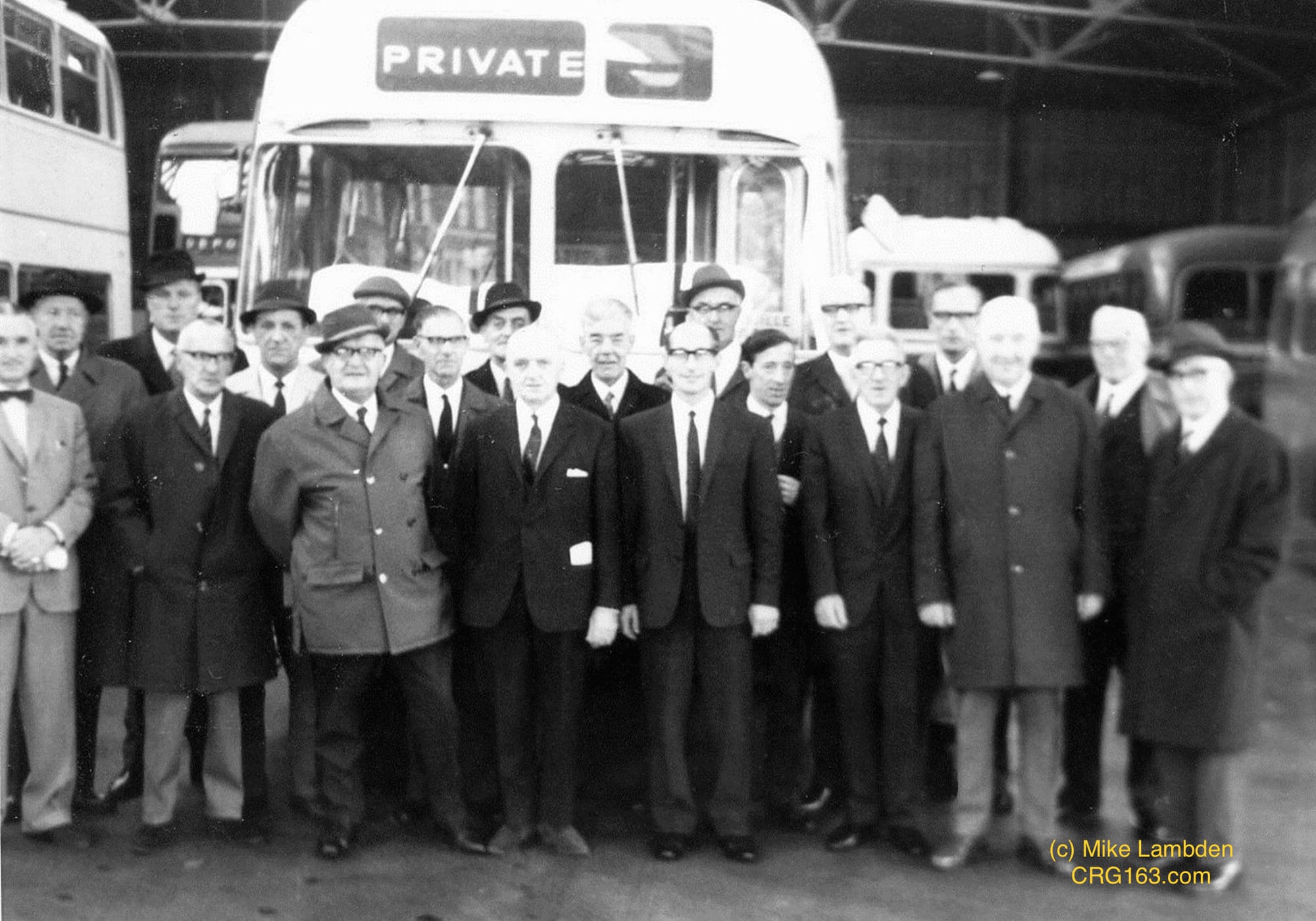 Photo: provided with thanks by Mike Lambden. Mike comments that he took this image back in 1970 when staff from Crosville's Liverpool Edge Lane depot were about to embark on a long service outing, all standing in front of a Crosville CRG. The people in the photograph are (L - R): Harry Parry (conductor on the North Wales services); Tommy Leech (garage driver and former express driver); Harry Wood (London driver); Harry Draper (London driver); ??; Bob Parry (London driver); Jack Cowap (London driver); Sid Green (driver); ??; Les Brereton (DTS Liverpool and ex London driver); ?? (engineering labourer?); Jimmy Corbett (Engineering chargehand); Alan Plews (ticket inspector); Billy Lawson (Engineering Supervisor); Dennis Revill (Garage Foreman); Bob Campbell (Depot Inspector); Hugh Whitby (London driver); Sam Thompson (conductor who worked the Capenhurst contract); Bert Drew (driver and Union Chairman); Syd Bird (London driver).

In the late 1960s and early 70s holiday patterns tended to be traditional and families did much the same every year so it was actually reasonably predictable what numbers would travel on peak days. For example, out of Liverpool, on a peak summer Saturday we would have circa 50 vehicles to Butlins Pwllheli, another 50 to points along the North Wales coast as far as Rhyl and another 20 to Towyn, Colwyn Bay and Llandudno. There could also be another dozen or so vehicles to the Bangor and Caernarfon area.
I use the word 'vehicle' deliberately as what operated was very mixed. For some routes it would be coaches from around Crosville depots or hired from private operators but on the shorter services along the coast anything went. Local double deck buses from a wide area of Crosville would be pressed into service to cope. The downside of this was not only the poor quality for passengers but, also, we were then short of buses and crews to be able to run local bus services. It was not always the wonderful world which people look back on with rose tinted glasses. Let's just say that passengers were very tolerant!
The holiday period which did not always fit the above pattern was Easter. It could be affected by how the school holidays fell but, also, people would leave it as late as possible to book as they waited to see what the weather would be like. Then, at the very last moment, they would book in droves or just turn up on Maundy Thursday evening or Good Friday morning. This made it a vast challenge getting the resource level correct. Therefore we tended to base allocations upon what happened in previous years but watching booking trends at the same time.
Most of the time we did get it right but occasionally it could go spectacularly wrong and either have far more passengers than seats allocated or a surplus of vehicles. If the former happened it would be then be a case of finding more buses which sometimes would require taking a crew off a local service with their bus. I also particularly recall one Friday evening where the 1745hrs to Caernarfon, which already had several vehicles on it, overloaded and I ended up taking a spare coach to Bangor after I had completed my day in the office.
One of the challenges with so many vehicles on some of the departures was loading them effectively. Naturally family groups liked to sit together but this would often lead to scattered seats being wasted. The technique at busy stops would be to say 'room for two' and have the driver primed to move off as soon as they boarded and before they discovered that one was upstairs and the other was downstairs!
With the advent of National Bus Company, the transition just seemed to happen at company depot level and we were not particularly aware of what was happening at national level. It was part way through 1973 that we took delivery of our first coaches in National livery and, even then, only five of the ten were so liveried with the other five in Crosville express colours.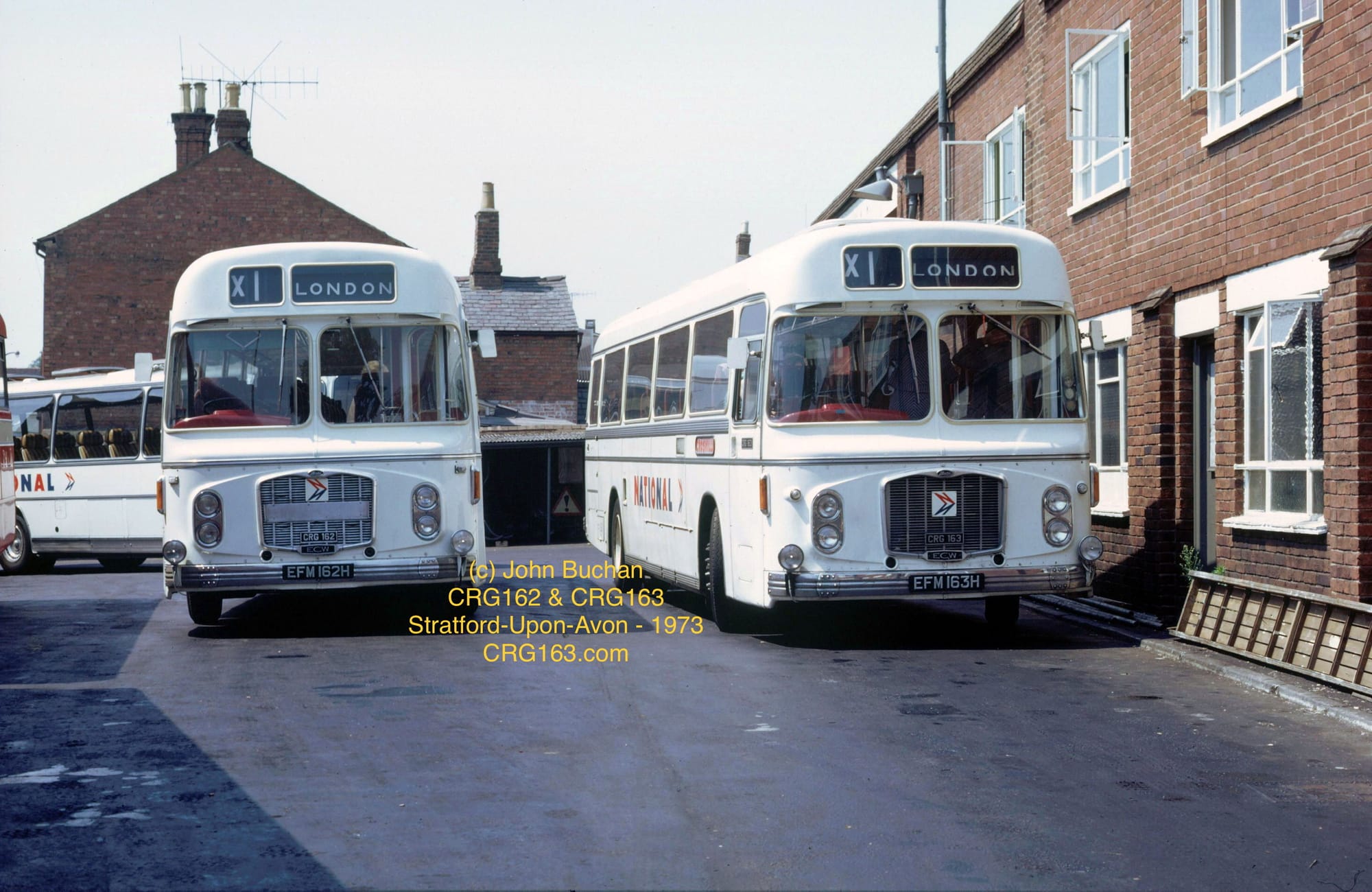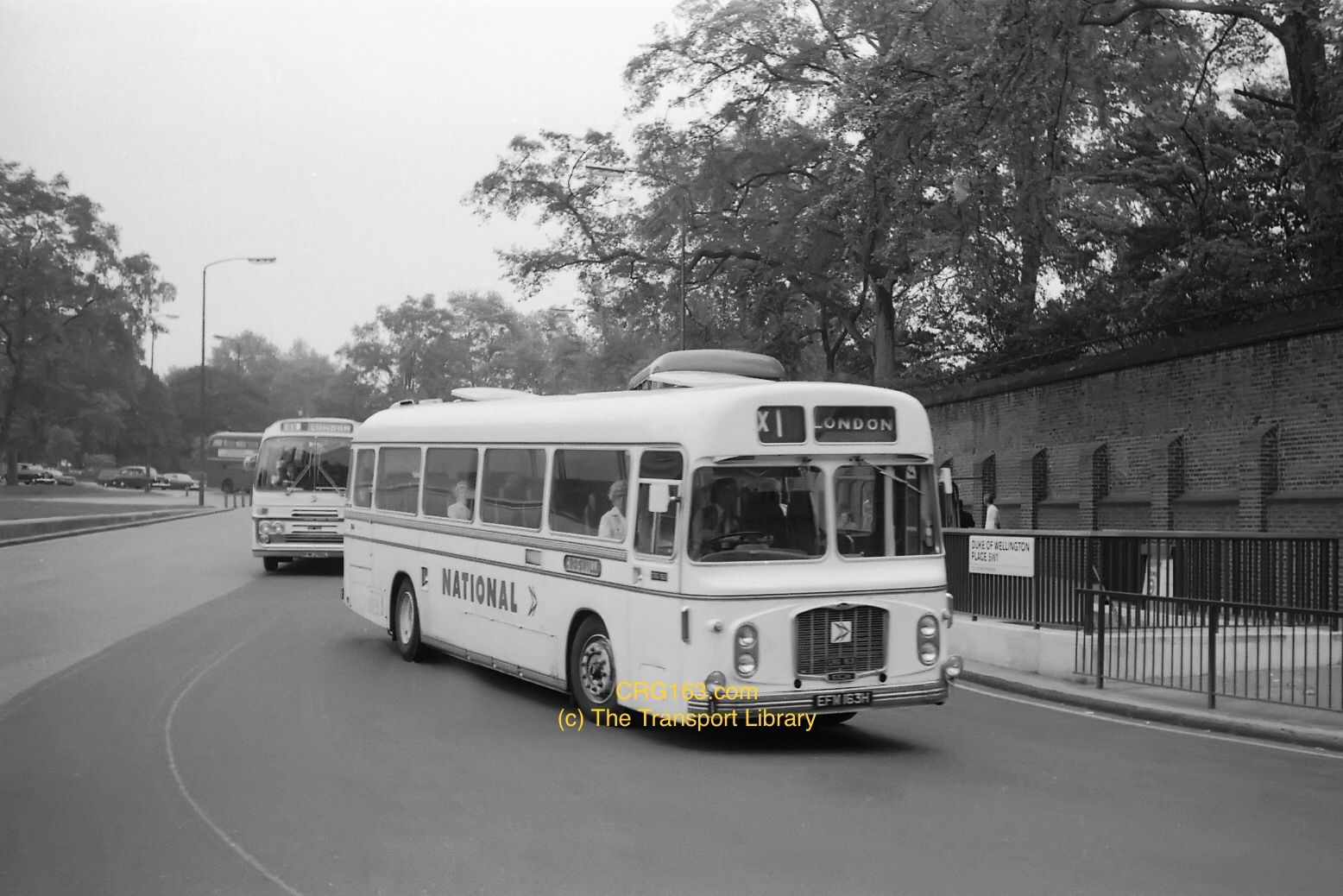 Photo: CRG163 at Hyde Park Corner, London having operated the X1 service from Liverpool, carrying the NATIONAL branding and all over white livery, circa 1974.

The 'NATIONAL' branding introduced on white coaches.
It was at this point that I moved to taking charge of the Crosville depot in Ellesmere Port for two years and my only involvement then with express services was providing an occasional duplicate coach, selling tickets in our office and observing express services in the bus station adjacent to our office.
However, in June 1975 I joined the fledging National Travel North West based in Llandudno with responsibility for all National branded coach operations in North Wales. In reality, this meant life was very busy during the summer months but very quiet during the winter as at that time so much business was highly seasonal. Our services were mainly to Liverpool during the winter with occasional ex Midland Red service via a slow route to Birmingham and London plus an ex Associated Motorways service to Cheltenham which was then the heart of the express coach network.
The summer had a wide range of services catering for the holiday market from all over the North West and Midlands with a few from further afield. My office was in Llandudno and we were responsible for the charting of the Liverpool services initially although we later took over others. Due to the heavy demand at weekends, the week would be spent liaising with other offices and hiring in enough vehicles to cope with the anticipated demand. These would come from both NBC companies and many local coach operators. In truth, we did not care too much about quality in our quest to find enough capacity.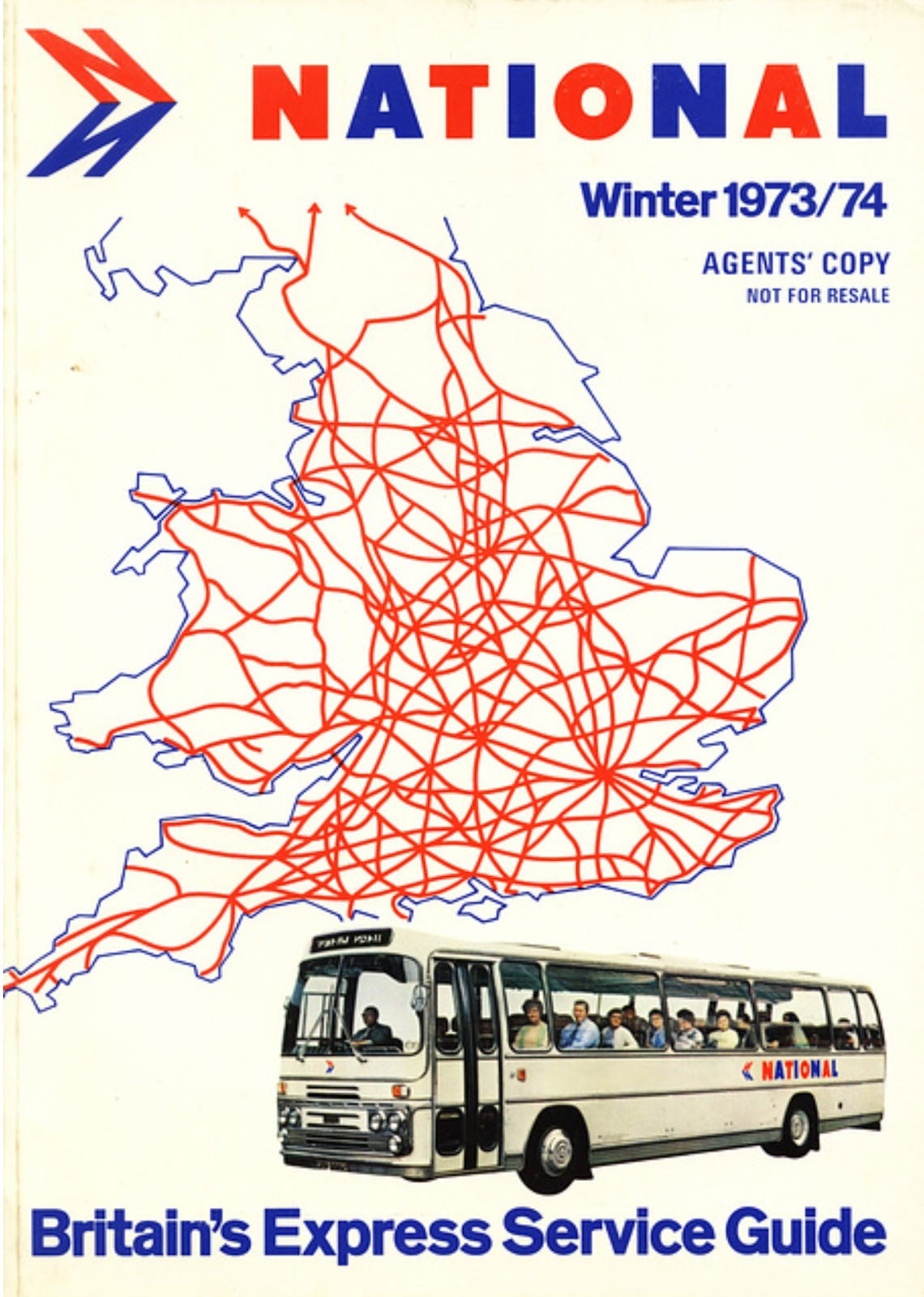 Summer Saturdays at that time were still the main day of travel but we quickly discovered that circumstances would affect how many people actually travelled compared to what was booked. If the weather was bad during the week, we found that people would board services earlier in the week to go home without changing their tickets and we would then have a lot of unused seats on Saturdays. Therefore, we started under providing seats on Saturdays and mainly got it right although every now and then would find that we ran out of seats at some of the last stops on the routes at places like Gronant and would have to phone around to get another vehicle to move people.
It needs to be remembered that at this time there was no on road communication with crews or passengers so sometimes it would be several hours before we heard that there was an issue. It was also a case that passengers seemed to have been remarkably tolerant of delays and would only contact us if they had been waiting a couple of hours, sometimes at remote places. Nowadays, with mobile phones there is instant contact with both passengers and crews. Vehicle tracking also enables checks on where coaches are in real time. Late summer Saturdays could be a tense time as we waited to ensure that everyone had been cleared from all over North Wales. On a few occasions we would get to about 1700hrs and think all was well when the phone would ring, and it would be someone saying something like 'I have been waiting in Betws-y-Coed since one and my coach has not turned up'. this would mean that we would have to persuade a local taxi operator to move them home on credit.
Not that much changed with services during the mid to late 70s although we were able to launch a new daily service to London from North Wales in 1976 which we named the London Welshman. At that time, we were only able to operate what we could get authority for from the Traffic Commissioners based on proving that there was a need and anyone could object to us having the service. The main objector was usually British Rail even though at this time we were both state owned. The new service proved very busy during the summer, but we reduced it to just weekends during the winter.
We also had a try at introducing services between North and South Wales, but we quickly found that there was insufficient regular demand to make it worthwhile.
I worked in North Wales from 1975 until 1979 but I gradually also took on responsibility for National Express operations in Cheshire and Merseyside. During those summers it was clear that the traditional summer markets were declining fast as a combination of the ending of Wakes weeks and the move to cheap foreign holidays in the sun took their toll.
The decline was not just affecting seasonal services but also the main all year-round trunk routes such as Liverpool and Manchester to London. There were days in the winter of 1979 when all the passengers for a day on Liverpool to London could easily have fitted on one coach and it did appear that the future of National Express network was in doubt. Various initiatives were tried but made little real impression on passenger numbers.
It was at this point that National Bus Company launched Coachmap following its use on local bus services as the NBC Market Analysis Project (MAP). Staff rode on all National Express routes for a number of weeks collecting data about the actual points of origin and destination of passengers rather than just the element they made by the coach service. The concept was that this data would all be analysed and would provide a range of services that better matched passenger requirements.
However, whilst was the Coachmap work was underway a new threat was approaching in the form of the 1980 Transport Act and the deregulation of coach services. I know little of what was found from the data as it was never enacted. What little was shared showed that it produced some very strange results as, given how few people were travelling anyway, it did not measure what non-users wanted.
1980 brought a whole new chapter in the provision of express coach services in Great Britain, as I indicated in my opening paragraph, and that is a story in itself.
Mike Lambden - ex Crosville and National Express, retired