Richard looks back at the people behind CRG/ERG163
I've owned CRG163 since the 9th of June, 2002, over years by now and have undertaken extensive research into the vehicle's history and the people who have had contact and involvement with the vehicle spanning in excess of fifty years. I have been very fortunate to have come across, met and become friends with fantastic people including retired Crosville staff and families outside those I already knew from my own connections with the company that have had a direct link with CRG/ERG163 over the years during it's service days with Crosville. I've made friends with wonderful people far and near during my research.

My aim from the outset when taking on the project of restoration and preservation of CRG163 has not only involved providing my family and I the pleasure of owning such a fine vehicle, but also the pleasure it has also given to others. I've been able to reunite the vehicle with former drivers such as (by now unfortunately) the late Bob 'Moelfre' Roberts from Crosville's Amlwch depot that drove ERG163 on the X10 express service between Cemaes and Liverpool in the early 1980's to Jack Cowap, Crosville's Liverpool Edge Lane depot, who drove CRG163 between Liverpool and London in the early 1970's on the X1 express service. Both were reacquainted with CRG/ERG163 in August 2004.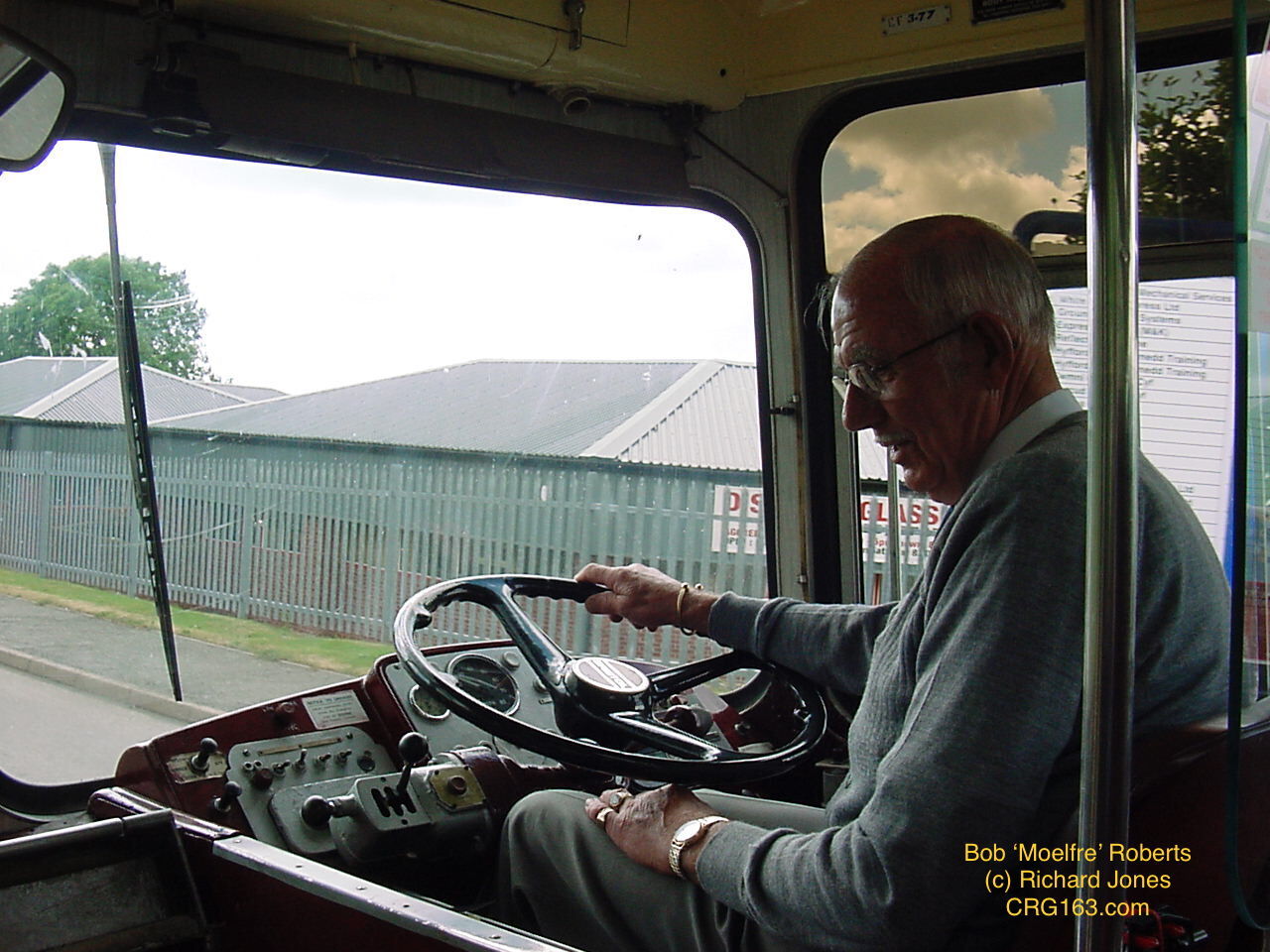 Bob 'Moelfre' Roberts behind the wheel of CRG163 once again, approximately 21 years on from his live service days with ERG163 and Crosville (August 2004).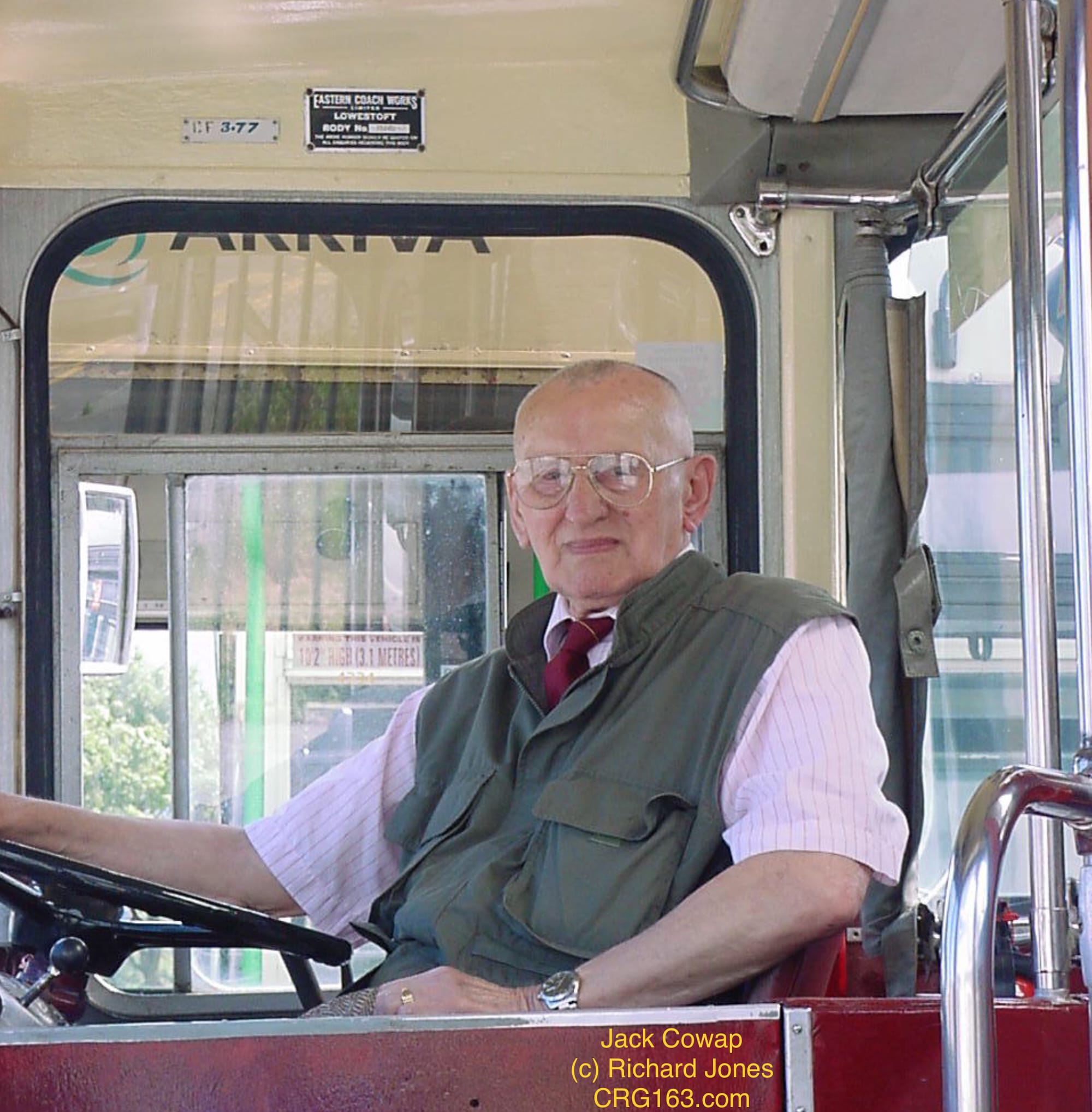 Jack Cowap behind the wheel of CRG163 once again, approximately 32 years on from his live service days with Crosville and CRG163 between Liverpool and London.

Mr Jack Cowap was reunited with CRG163 when the vehicle was used through a surprise appearance on a Crosville Enthusiasts Club (CEC) outing to North Wales. The arrangements were made with another good friend and CEC editor at the time, Mr Gwyn Taylor-Williams (pictured centre below) with Richard Hughes on the right of the photograph. Gwyn had retired from his education career but had travelled on Crosville buses from his youth growing up in Nasareth, near Penygroes and had followed the Crosville company ever since. CRG163 was waiting in hiding at the Conwy Industrial Estate as the tour arrived on former EOG210, then owned by P&O Lloyd, and then conveyed everyone to Bangor which included a visit to the former Crosville depot at Bangor. Bob Moelfre was with us on the day as well.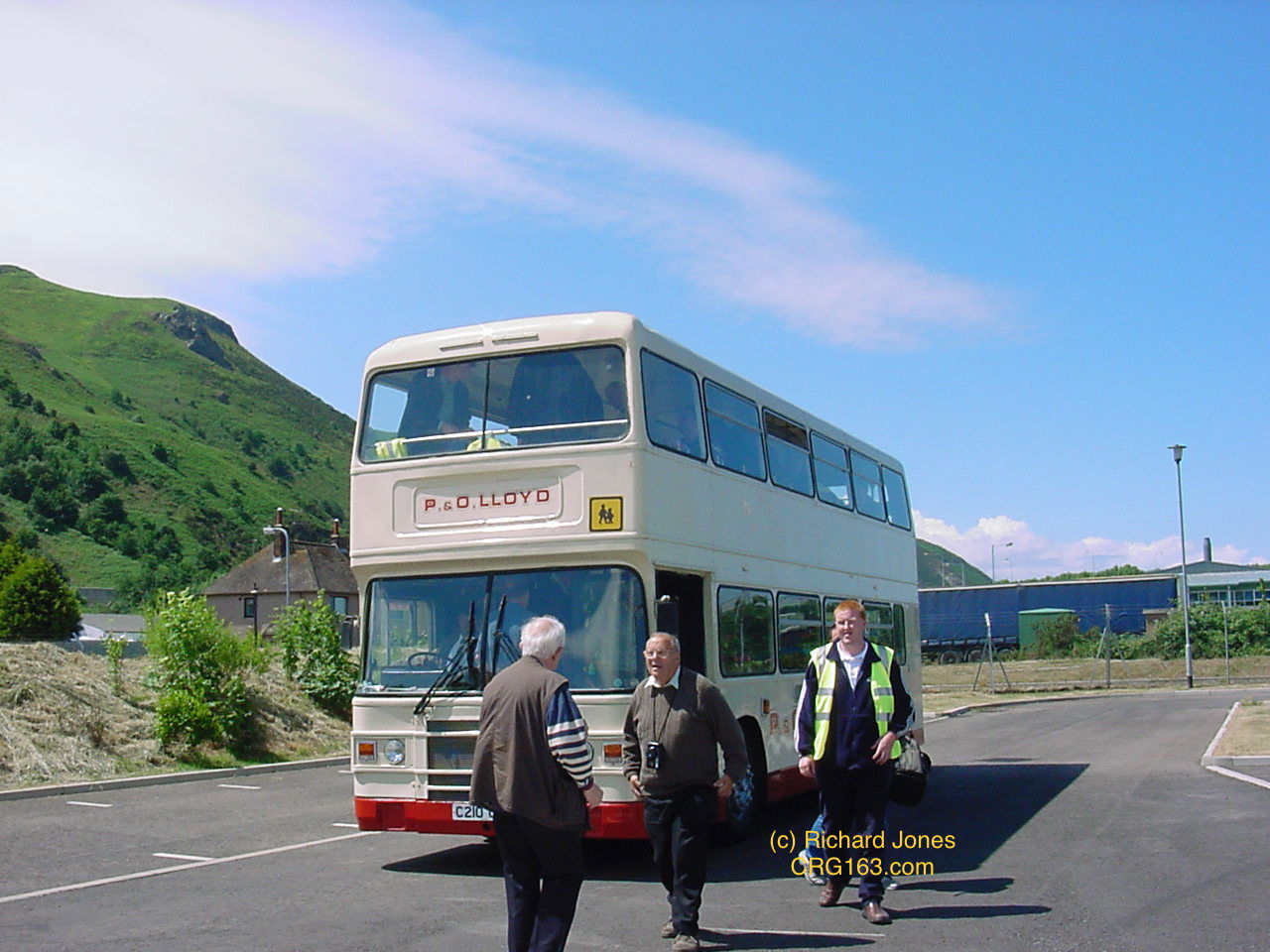 Gwyn Taylor-Williams, Richard Hughes and others transferring from former EOG210 to preserved CRG163 at the Conwy Industrial Estate. In memory of our good friend Gwyn.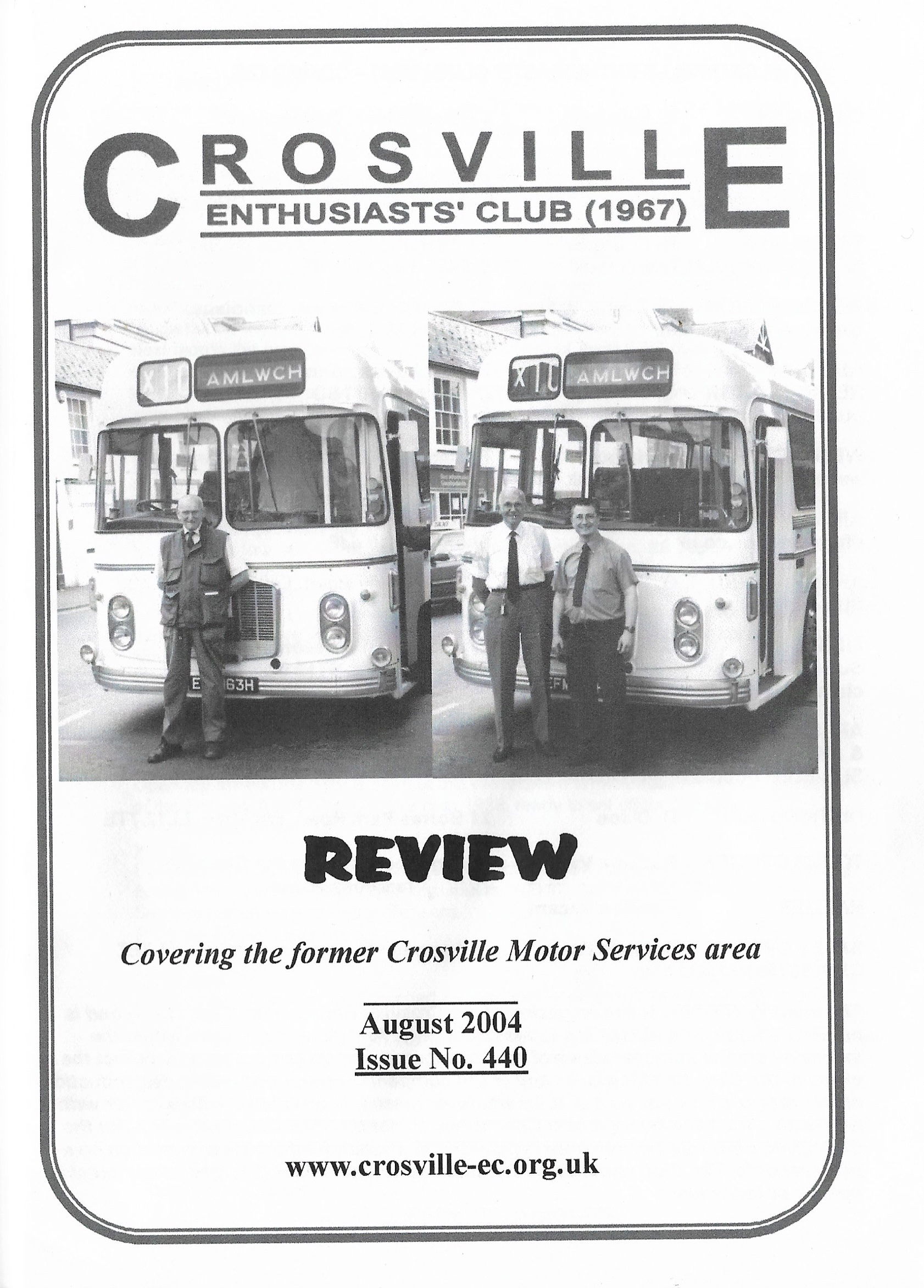 Mr Jack Cowap, Bob 'Moelfre' Roberts and myself in front of CRG163 at Bangor Clock bus station in August 2004 on the CEC North Wales trip. In memory of Mr Cowap and Bob 'Moelfre'.
The photograph below was taken in 2004 in Porthmadog of Mr Glyn Jones, Crosville's Divisional Engineering Manager for Crosville back in the day in Wales and myself in front of preserved CRG163.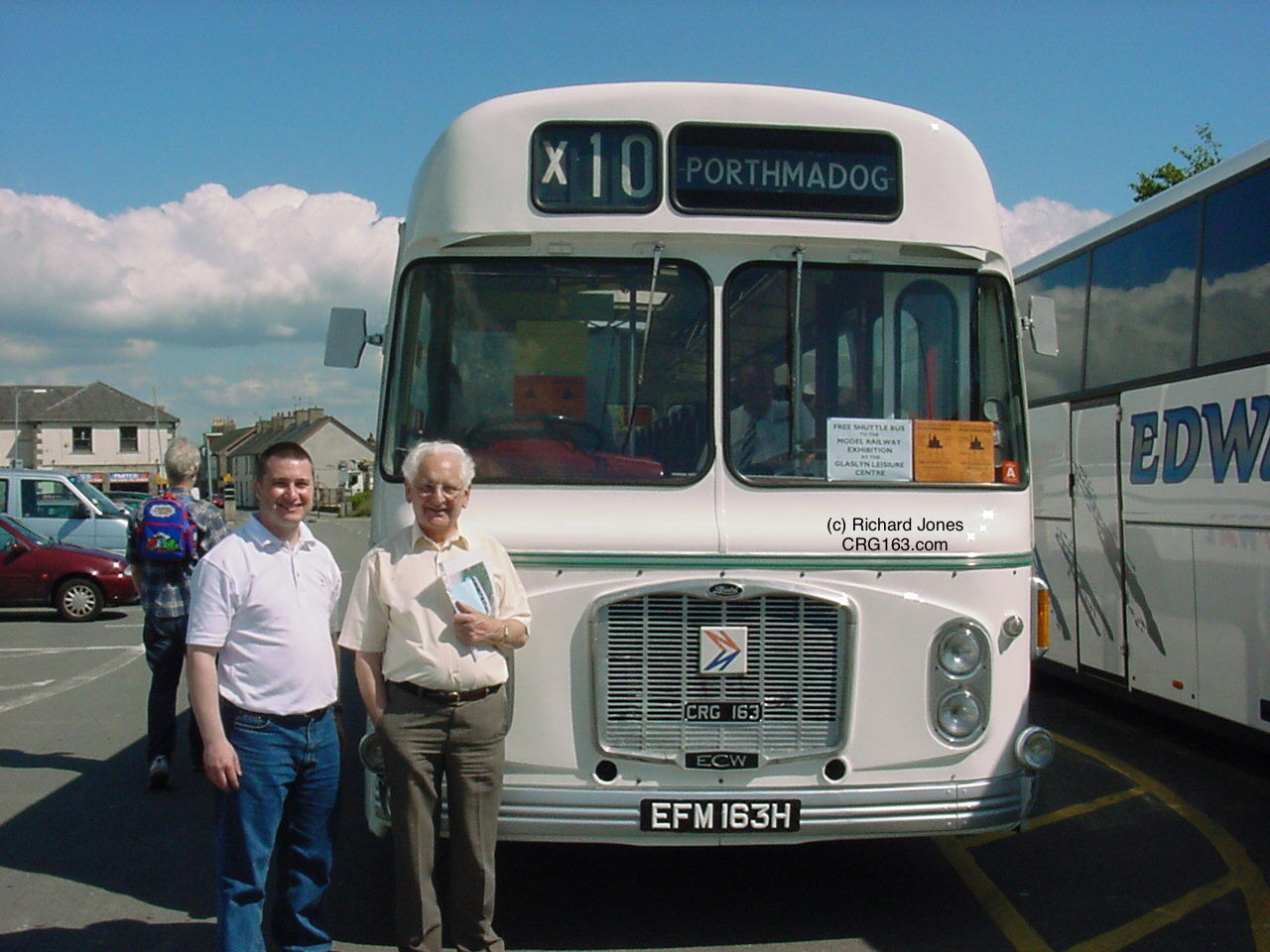 Mr Glyn Jones and myself in front of preserved CRG163 in Porthmadog
We cannot either forget the poignant day we had back in December 2008 with our good friend John Wyn Griffiths, or John 'Llanrug' as we knew him back in Crosville days. John had worked back in the day at Crosville's Caernarfon depot. Unfortunately by 2008 John was terminally ill. We therefore decided to take John, family and friends on a day out with preserved CRG163 around old Crosville routes local to Caernarfon depot back in the day, routes John would have driven back in the day when operating local services. John also drove long distance coach services in his time with Crosville's CRG class of coach. We had a fantastic day which also provided John with the opportunity tomhave a drive of CRG around Caernarfon's Cibyn Industrial Estate. Sadly we lost John weeks later.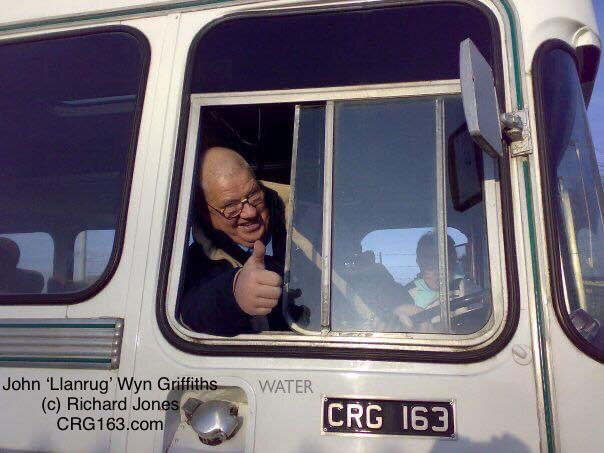 John Wyn Griffiths behind the wheel of preserved CRG163 at Caernarfon Cibyn Industrial Estate, 2008. In memory of John 'Llanrug'.

This website is not only dedicated to CRG163, but also the fantastic people connected to the vehicle over it's 50 odd year existence, and the human element that made the Crosville company what it was. Sadly some have passed away, but this website acts as a mark of respect as we remember them all. I've always said without valuable, professional and dedicated staff an organisation is nothing.
The following entries on this page are true recollections and memories from those within the Crosville family and those with an interest in the company having travelled on it's many services and with a connection to CRG/ERG163 and/or sister vehicles. I hope you enjoy reading the entries as much as I have enjoyed receiving them and putting together for the website.
I would like to thank everyone that have contributed to this page and wider website. If anyone wishes to contribute further, with recollections of CRG/ERG163 and/or Crosville please do get in touch by sending an e-mail to post@crg163.com.
You can also subscribe to this website by entering your e-mail address into the box below on the right and click the subscribe button.

This page will grow over time as more memories are added.

Thank you.

Richard