CRG163 is a Bristol RELH6G. What does this mean?
CRG163 is a rear engined vehicle with a Bristol Commercial Vehicle chassis to the long, coach high configuration.
Simply RELH6G means a Bristol
RE
to the
L
ong,
H
igh chassis configuration with a
6
cylinder
G
ardner engine - Bristol
RELH6G
.

Bristol Commercial Vehicles
The Bristol RE was a rear engined single deck bus or coach built by Bristol Commercial Vehicle between 1962 and 1982.
The Bristol RE is considered to be one of the most successful rear engined vehicles and has a huge following to today, and includes many examples preserved such as CRG163.
Bristol was wholly owned by the nationalised Transport Holding Company (THC) with the Bristol RE only supplied initially to subsidiaries of the the THC. Leyland purchased 25% of Bristol in 1965 which led to the Bristol product being made available to non state owned bus and coach operators. Municipal bus operators including the British Electric Traction Group (BET) were also customers.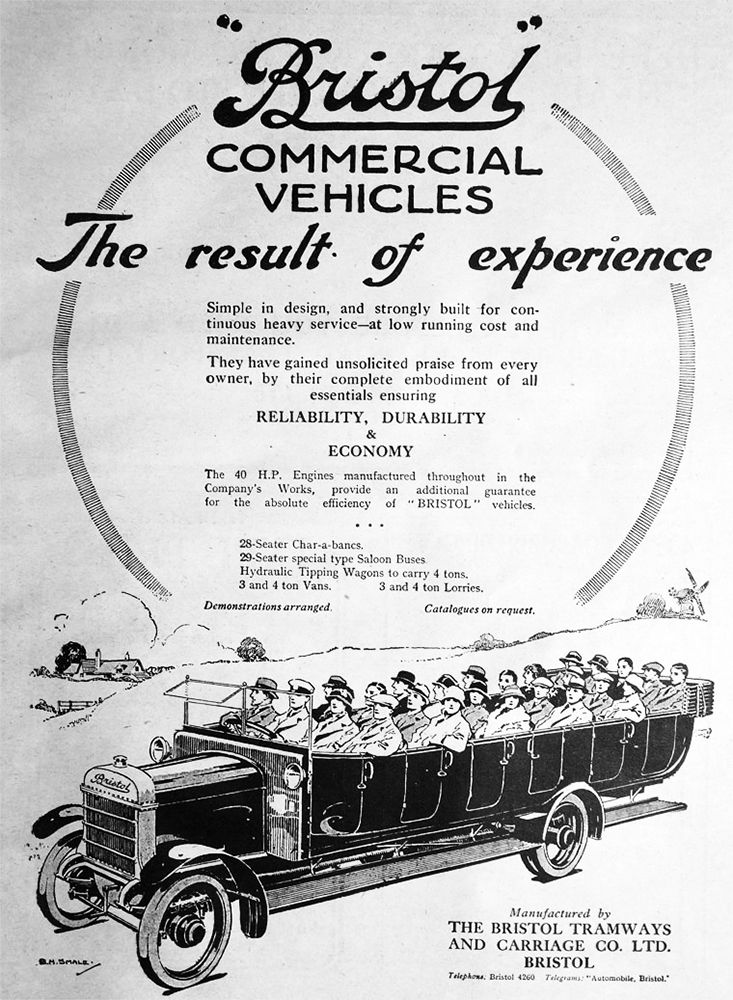 Sales to the National Bus Company (NBC) however began to dry up from 1972 as the Leyland National product was also available. The NBC had taken over the operations of the THC and BET.
Unfortunately the Bristol RE was only available for export to Christchurch, New Zeland as well as Ulsterbus and Citybus in Ireland from 1976.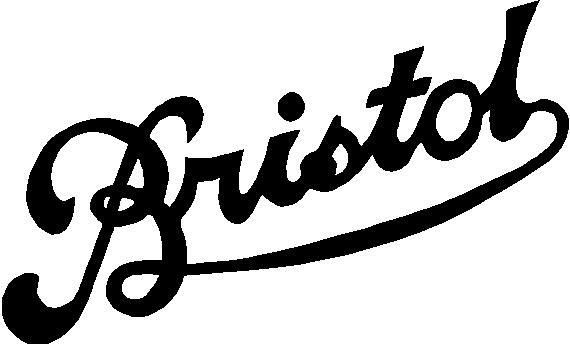 Sale statistics
The sale statistics for the Bristol RE was as follows:
4,629 Bristol RE's were built
3,242 of which were sold to NBC Subsidiaries
Bristol Omnibus Company was the biggest single customer at 439 orders
Crosville Motor Services at 288
Ulsterbus & Citybus in Ireland combined at 620
United Automobile Services at 470
West Yorkeshire Road Car Company at 259
148 were sold to members of the Scottish Bus Group
405 to British municipalities and PTE's
834 to other operators
Vehicle Body - Eastern Coach Works
The most common fitted body to any Bristol RE was Eastern Coach Works (ECW) of Lowestoft. Other manufacturers also built on the chassis such as Alexander; Duple; Plaxton.
Interestingly the Bristol RE was available in five variants from vehicle length to height (bus/coach).
Chassis variants
The variants available were as follows:
RELL - long vehicle length at 36 foot, low frame bus body fitted
RESL - short vehicle length, low frame bus body fitted
RELH - long vehicle length at 36 foot, high frame (coach or dual purpose body normally fitted). CRG163 would be the coach variant.
RESH - short vehicle length, high frame (coach or dual purpose body normally fitted)
REMH - long vehicle length at 12m, high frame coach body fitted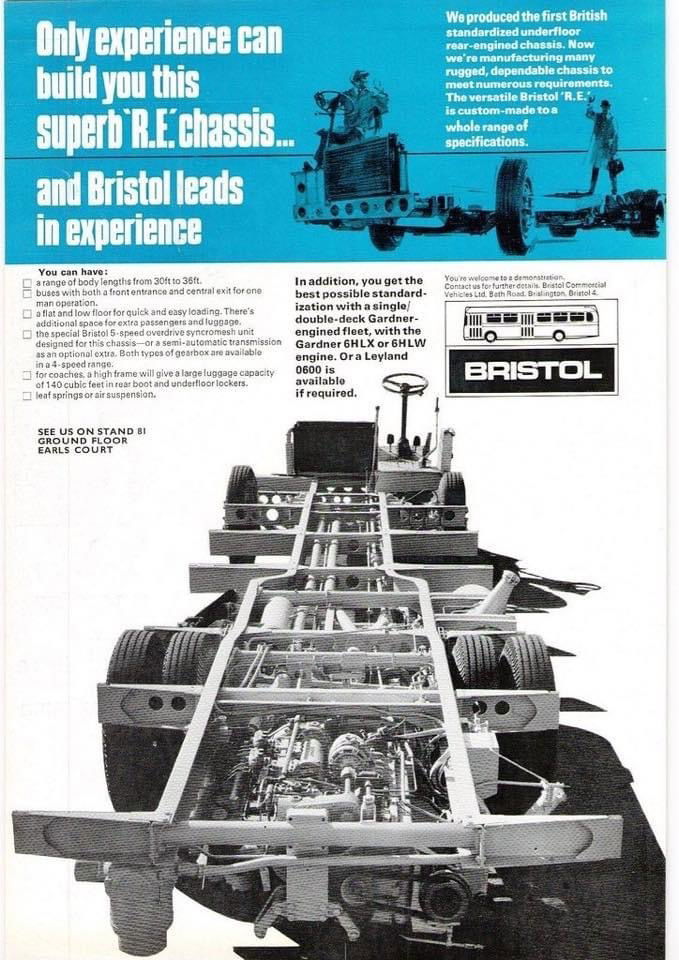 Engines
The Bristol RE would normally be fitted with a Gardner 6 cylinder engine or a six cylinder Leyland diesel engine, either a 0.600 or 0.680. As such the variant codes above would be suffixed by a code indicating the engine fitted such as RELH6G in the case of CRG163. The codes would be:
6G would refer to the Gardner 6 cylinder engine, for example the 6HLX in the case of CRG163. The engine would be a Gardner 6LX vertical engine, however in the Bristol RE the engine would be fitted horizontally denoted with a 'H' in 6
H
LX.
The Gardner 6HLX engine in CRG163 is 150 hp @ 1700 RPM and a Natural 6-cylinder diesel. It's cylinder capacity is 10,450 cc
6L would refer to the Leyland 6 cylinder engine, normally the 0.600 or 0.680.

L. Gardner and Sons Ltd was a British company specialising in the building of diesel engines. founded in Manchester in 1868. It started building engines around 1895 and used in many forms from stationary, marine, road in lorries and buses and rail. The firm ceased engine production in the mid 1990's.
The following images are from the Gardner service manual and provides images of the 6LX as it would appear in its horizontal (
H
LX) form in CRG163.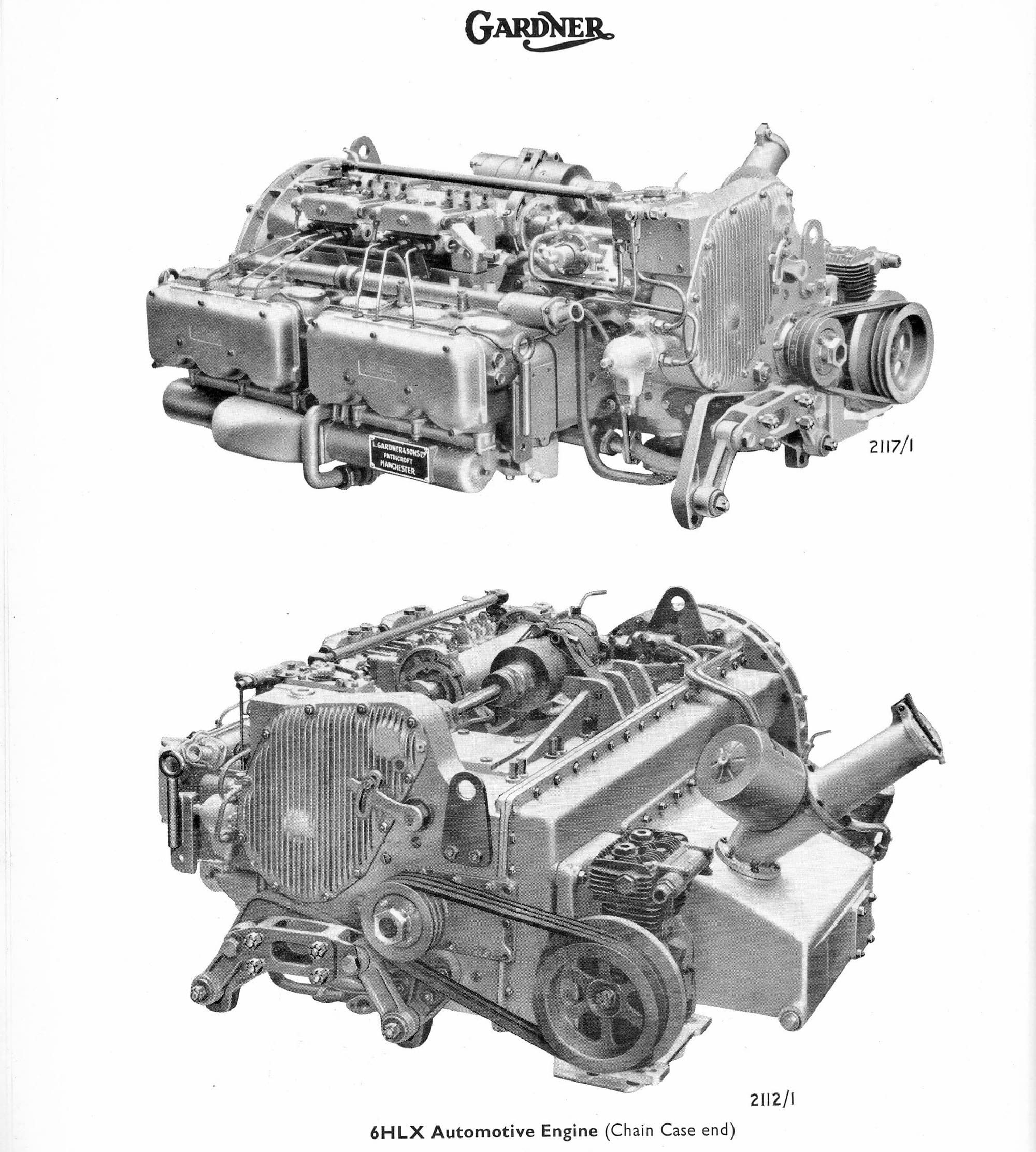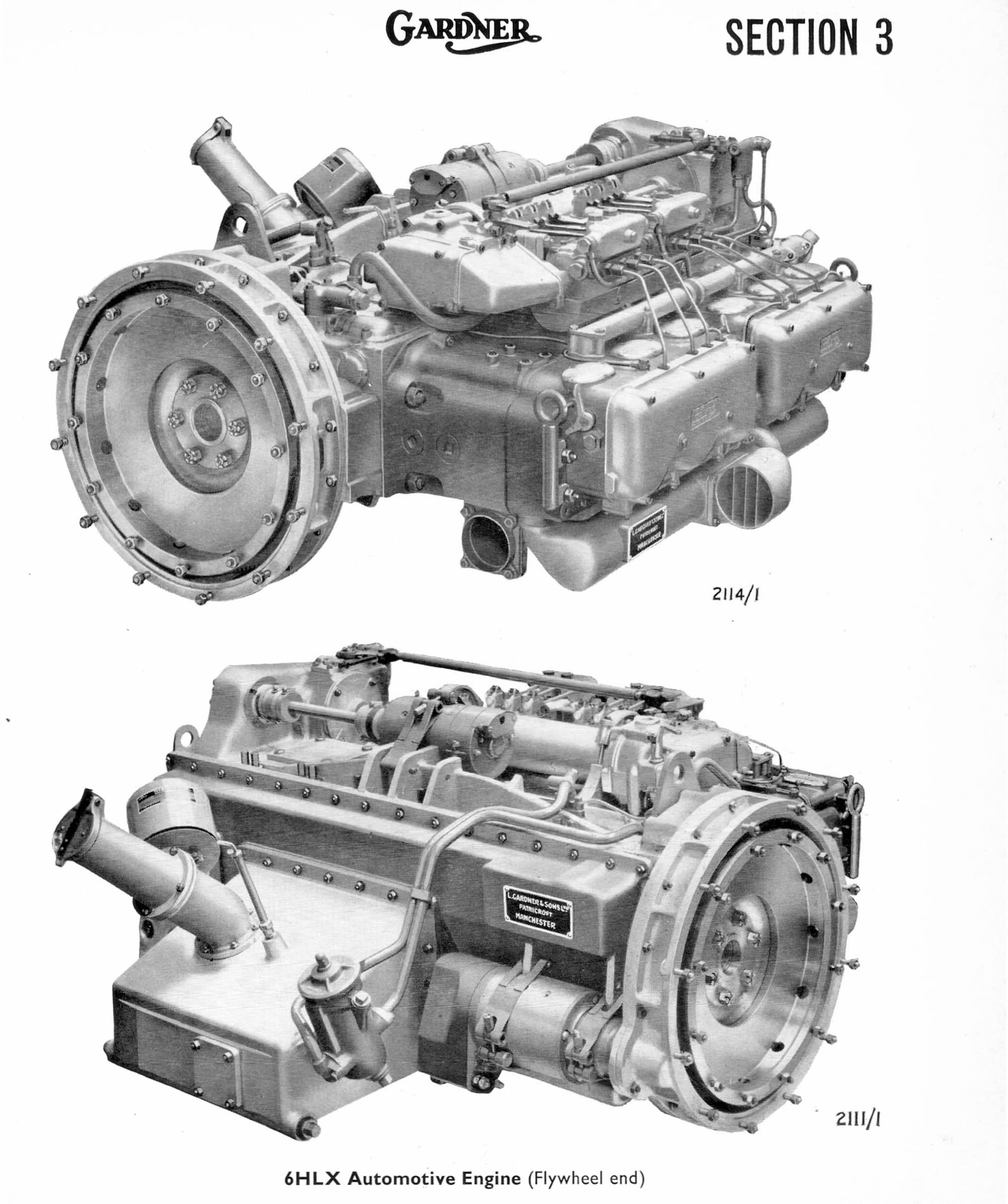 Bristol RE - Pre production models
Bristol Commercial Vehicles produced three prototype RE chassis in late 1962 and early 1963.
The three prototypes were based upon an RELL bus chassis; and two based upon the RELH chassis.
The RELL prototype was a 54 seater bus delivered to United in December 1962 in its Tilling red and cream livery. The chassis reference for this vehicle would be REX.001, vehicle registration 7431 HN.
REX.002 followed in April 1963 and would be the RELH, C47F seat high floor coach chassis. This vehicle would be registered 521 ABL, delivered to Thames Valley Traction's South Midland in the maroon and cream livery between Oxford and London. It would have the stepped wait rail (bright work) a feature carried from the Bristol MW.
A second pre production model/prototype of the Bristol RE RELH was given the number REX.003 built in July 1963. This would be a coach body built by ECW and used as a test bed by Bristol Commercial Vehicle (BCV) until February 1967 when brought up to service standard, fitted with a Gardner engine.
This laterally became West Yorkshire CRG1 and then 1014, registration OWT241E, entering service from Harrogate depot on 01/03/66, withdrawn on 30/09/78.
Most popular models
The most popular models sold were as follows:
RELL - 2,839
RELH - 976 with CRG163 being one of them
RESL - 698
REMH - 105
RESH - 11
The REML, a sixth model variant was advertised in 1968 but none were built. This would have been a 20 foot wheelbase of the REMH but with a low frame for a bus body.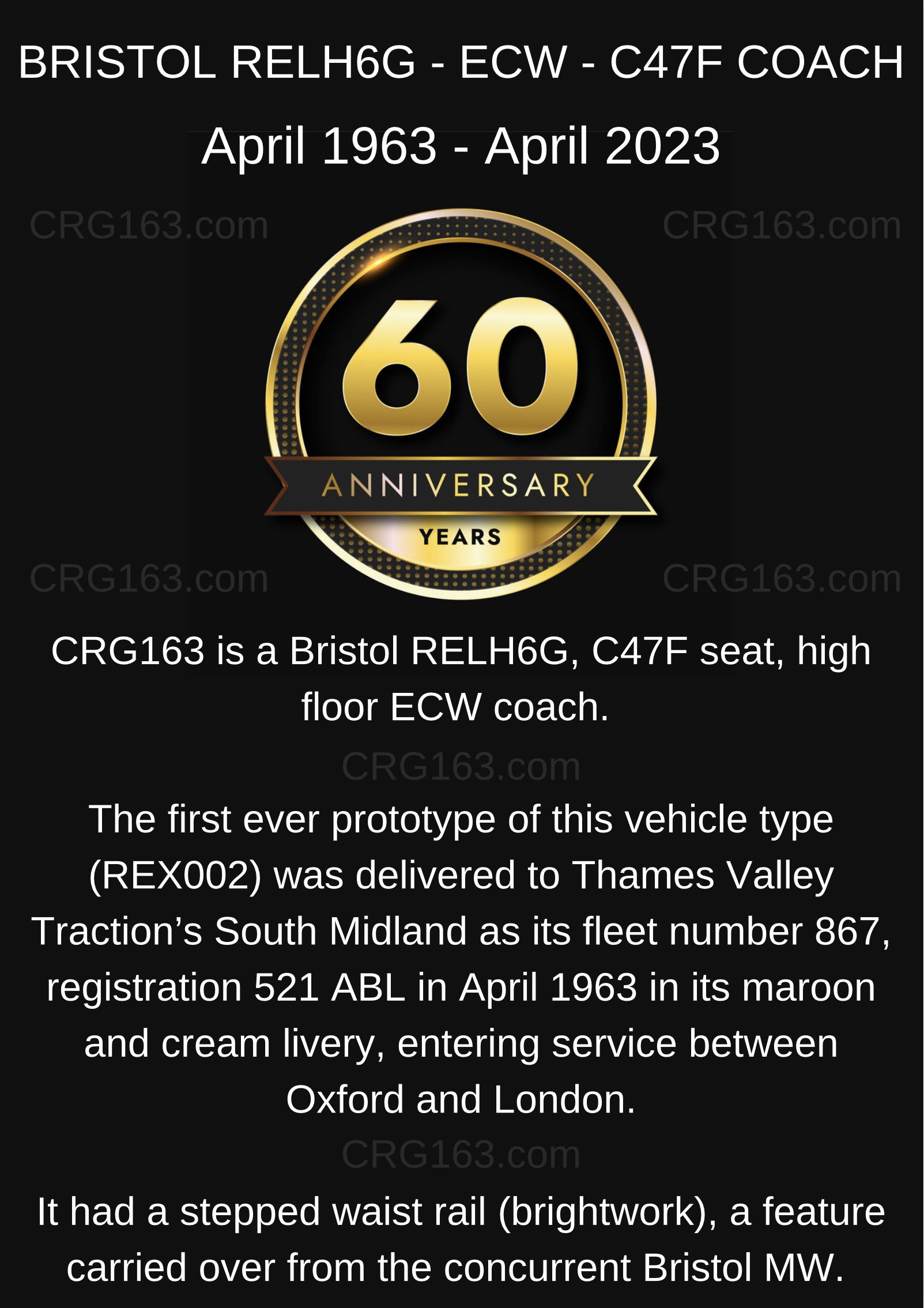 From 1972, the sales of Bristol RE's to the National Bus Company (NBC), which had taken over both THC and BET began to dry up. This was due to the introduction of the Leyland National. The Bristol RE remained in production from 1976, but only for the Northern Irish state owned bus companies Ulsterbus and Citybus and for the Christchurch Transport Board, New Zealand which continued until 1983.
Contact details
If you have any photos or related information about CRG163 or any information on the parts presently required then please e-mail me, Richard Jones at
post@crg163.com
. Many thanks in advance.
You can also subscribe to this website by entering your e-mail address into the white box below, bottom right and click the subscription button ⬇️