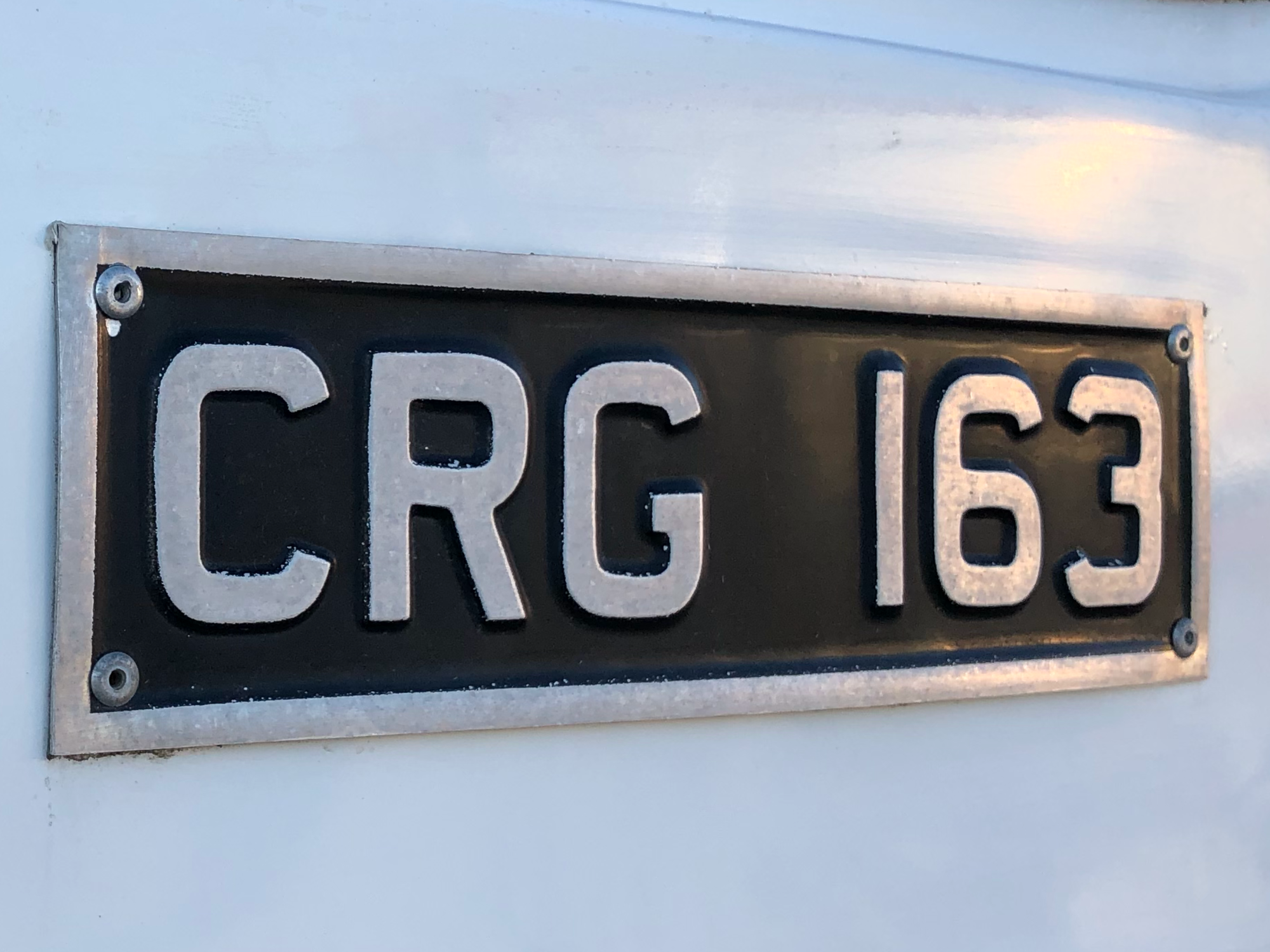 What is CRG163?
CRG163 is the original fleet number (
C
=
C
oach;
R
= Bristol
R
E;
G
=
G
ardner engine) that was once allocated to our now preserved vehicle when owned and operated by the Crosville Motor services bus company.
CRG163 is a Bristol RELH coach fitted with a Series 2, Mark 1, Eastern Coach Works (ECW) coach body (number 18140), vehicle registration EFM 163H.
The vehicle is fitted with the impressive Gardner 6HLX 10.45 litre engine with 47 forward facing coach passenger seats (C47F).
CRG163 was first registered on the 6th of March 1970 by the original Crosville Motor Services Limited bus company. It's headquarters was in Chester, operating bus services from it's bus depots across Cheshire, Merseyside north and mid Wales. Crosville operated local registered bus services, coach trips as well as long distance express coach services to London and other major UK destinations.
CRG163 operated on long distance coach services for the company across the UK before being downgraded in 1979 to a dual purpose vehicle, based in Amlwch north Wales, reclassified as per the company's alpha/numeric fleet classification system ERG163 (
E
= Dual purpose - coach/local bus services;
R
= Bristol RE;
G
= Gardner engine). For further details about the company's fleet classification system click
HERE
.
At this depot on the Isle of Anglesey ERG 163 would be driven by Bob Moelfre Roberts (as known locally); Dewi Roberts; Richard Lewis and others.
Following CRG163's withdrawal by Crosville on the 13th of April, 1984 it entered preservation initially with Gordon Bate and then from 2002 with Richard Jones. CRG163 undertook a rigorous restoration process with Richard between 2002 and 2004 with grateful support from his father, late mother and others before being unveiled in June 2004 in her restored NATIONAL white livery.

50 year anniversary
On 06 March, 2020 CRG163 celebrated its 50 year anniversary since the date of its first registration of 06 March 1970. It was therefore a special year for CRG163 and very apt as we enter the next chapter. Unfortunately any restoration progress was hindered by the pandemic emergency.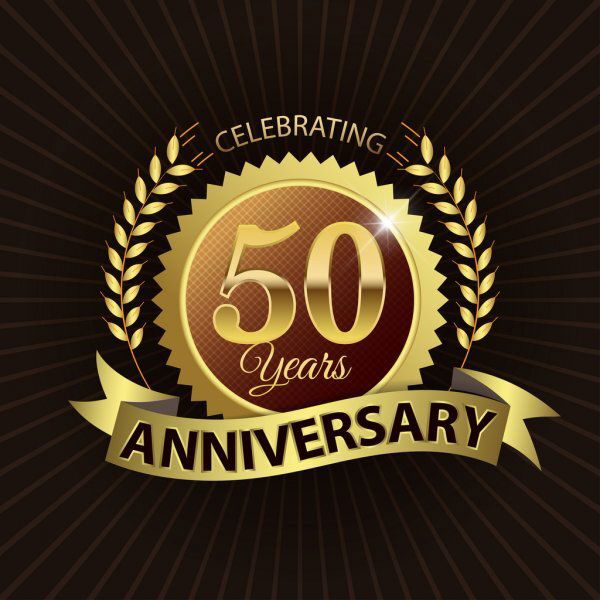 Covid19 impact
Unfortunately in March 2020 a worldwide emergency emerged in the form of the Covid19 pandemic which impacted on everything. In order to reduce transmission rates various UK and Wales lockdowns and guidance were introduced from March 2020 onwards. This unfortunately halted any restoration progress to CRG163.
CRG163 - next chapter
CRG163 is now in its next chapter. New photos and more will appear on this website as it continues to grow in charting CRG163's on-going journey.
CRG163 timeline summary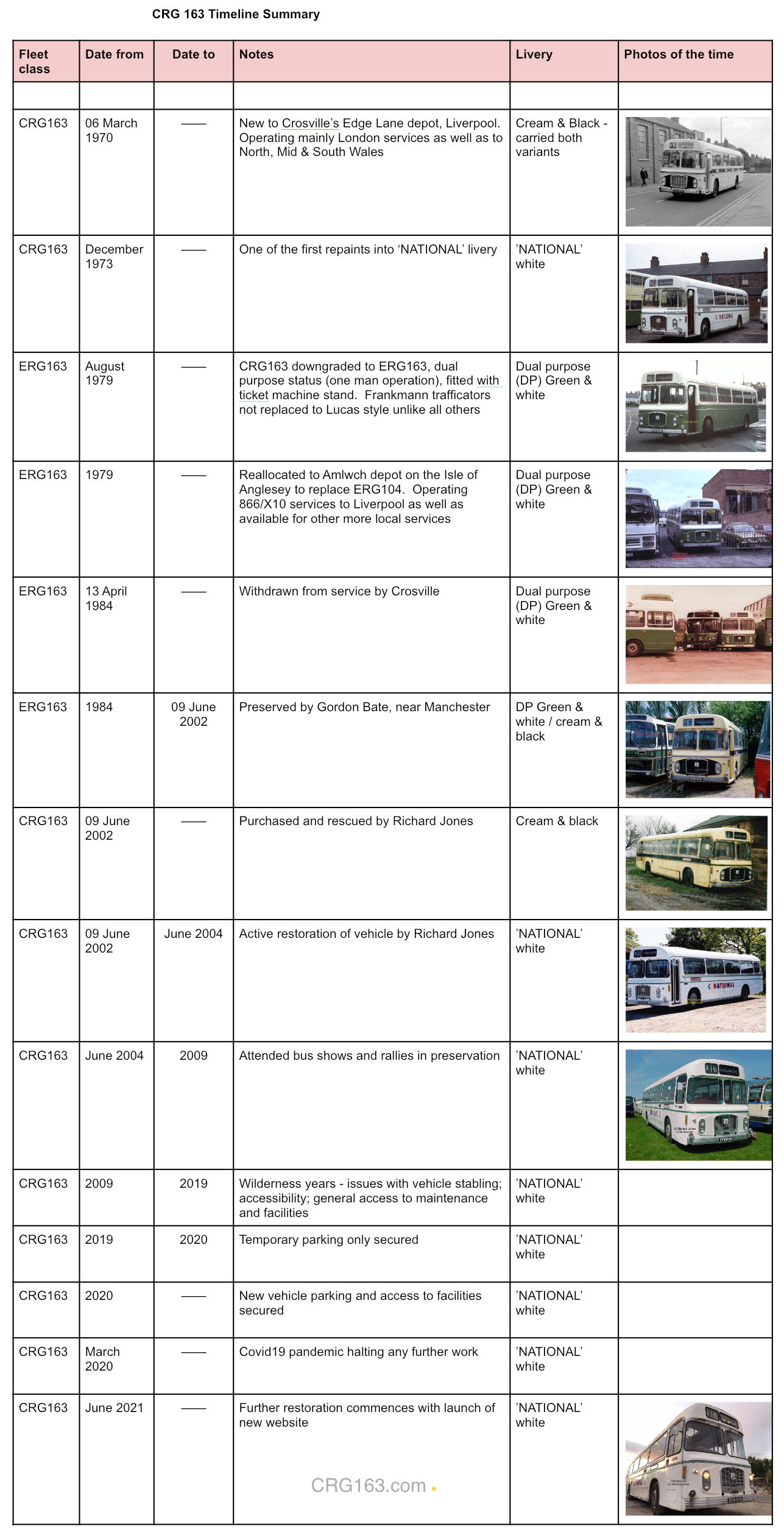 Contact details
If you have any photos or related information about CRG163 or any information on the parts presently required then please e-mail me, Richard Jones at
post@crg163.com
. Many thanks in advance.
Please note
There are some photos on this website where copyright is unknown. If these photos are yours then please let me know by e-mailing
post@crg163.com
so that they can either be removed immediately or copyrighted to your name accordingly. Thank you.
All photographs have been watermarked on this website and should not be reproduced elsewhere without prior consent. Unfortunately some private photos previously shared on line have been copied without permission and have subsequently appeared for sale by third parties on e-bay.
Photos
The black and white photo of CRG163 in her original cream and black livery is unknown unfortunately. If anyone knows rhw owner please provide so that credits can be provided.
The photo of ERG163 in it's green and white dual purpose livery departing from Amlwch is being reproduced with thanks to the photographer, our good friend Don McKeown.
The third photo is of CRG163 in her first phase of preservation with Richard Jones as restored in her 1970's NATIONAL livery.