CRG163 / ERG163 - In Service: 1970 - 1984
CRG163 was the fleet recognition reference given to ECW Bristol RELH6G coach, registration number EFM163H by its original owner Crosville Motor Services. Crosville had a large fleet of vehicles and needed quickly to identify a specific vehicle, hence their development of the alpha numeric fleet recognition system. More information about this is available on this website by clicking
HERE
.
CRG163 was first registered by Crosville on the 6th of March, 1970 and would be owned and operated by the company until its withdrawal in 1984.
During its operational life with Crosville the coach would be based from the company's Edge Lane depot in Liverpool, Merseyside between 1970 and 1979, before moving to Amlwch on the Isle of Anglesey and Bangor between 1979 and 1984. At Liverpool Edge Lane depot it would operate long distance prestigious coach services to London across the UK, including those that once operated under the 'NATIONAL' coach brand of the time between 1973 and 1979.
At Amlwch it would eventually be downgraded in 1979 to a semi coach for dual purpose use on local bus services and express coach services and repainted green and white. It would operate local bus services during the week and the longer distance X10 limited stop service under the company's Town Lynx network brand on Saturdays between Cemaes Bay and Liverpool. By this time the vehicle's fleet reference was reclassified to ERG163, reflecting it's now dual purpose use.
CRG163 would be driven by a number of drivers during its operational life including Jack Cowap, George Warren, John Embleton, Richard Lewis, Dewi Roberts, Robert (Bob) 'Moelfre' Roberts to name only a few.
Richard Lewis recalls ERG163 to be a very nice vehicle to drive whilst based at Crosville's Amlwch depot and warm due to its Webasto heating system. He also commented that everyone wanted to drive ERG163.
A more in-depth view of CRG163's 'in service' history is available on this website by clicking
HERE
.
Preservation (Gordon Bate) : 1984 - 2002
Following ERG163's withdrawal by Crosville in 1984 it was purchased by Gordon Bate who lived in the Manchester area with the view to preserve the vehicle.
Gordon Bate also purchased other similar Crosville vehicles on their withdrawal by the company. By 2002 Gordon Bate had fallen on harder times and was unable to continue the preservation of CRG163 which had ended up neglected on a farm in the Manchester area.
Preservation (Richard Lloyd Jones) : 2002 to present
On the 9th of June 2002, CRG163 was purchased by Richard Lloyd Jones and moved to North West Wales for active restoration and further preservation.
It took two years to undertake the work required around the vehicle's restoration which included sourcing new hubs (wheels) from the Scotch Corner; new tyres; new air ride suspension air bags; mechanical work throughout; all round new window and destination rubber gaskets; re-coating of steering wheel; rebuilt side lockers; internal repaint throughout; sanding down of body as preparation for painting; listing only some of the work undertaken.
The decision was taken to repaint CRG163 into its National white livery carried between 1972 and 1979. Whilst recognising very much the beauty of the cream and black coaching livery it was decided that CRG163 would represent another era of such majestic vehicles. Whilst the dual purpose green and white livery is something remembered this would only denote a downgraded CRG163 to ERG163. For all these reasons the National white livery was chosen.
On completion of the restoration work, CRG163 was first unveiled at the Llandudno Extravaganza in 2004 and became a star on the bus show preservation circuit across North Wales, Cheshire, Merseyside & Shropshire. In October of the same year CRG163 took part in the Wirral Bus & Tram Show which included an impromptu trip through the Mersey Tunnel to Liverpool Lime Steet. In itself this was returning CRG163 back to its initial home of Liverpool having operated there from Crosville's Edge Lane depot between 1970 and 1979, and our way of paying respect to the Crosville staff of Liverpool depot.
CRG163 also took part in the Crosville 100 road run celebrations from Rhyl to Llandudno. A video of this event has been captured on You Tube. Please click
HERE
to see this.
The vehicle also appeared on the front page of the Bus & Coach Preservation Magazine in July 2004 (Volume 7, Number 2) with a five page article within the magazine.
The vehicle was also subject to the first EFE 1:76 bus model of this vehicle type (Bristol RELH, ECW, MK1 coach) launched in September 2006. The model's appearance was based as in preservation from 2004 onwards as the window rubber gaskets were black with X10 Bangor shown on the model's destination boxes. When being restored between 2002 and 2004 original cream window rubber gaskets were not available hence black replacements ordered and installed.
More information about CRG163's preservation beyond Crosville can be found on this website by clicking
HERE
.
More details about CRG163 in EFE model form can be found on this website by clicking
HERE
.
The most important aspect of all - the human connection
Striving for the history of CRG163 also involves striving for the human connection, i.e. people who were associated with CRG163 / ERG163 when in service with Crosville.
During 2004 CRG163 was reunited with Jack Cowap who was 91 years old by then, when CRG163 made a surprise appearance on a Crosville Enthusiasts Club 1967 outing to North Wales. Jack Cowap once drove CRG163 in the 1970's on the prestigious Liverpool to London service. He is captured behind the wheel once again from the top left photograph below.
Bob 'Moelfre' Roberts was also reunited with CRG163 on the same day who came with me for a ride out to Conwy. Bob drove CRG163 as ERG163 from Amlwch depot. It is understood that ERG163 was Bob's vehicle which he would drive on the X10 Cemaes Bay to Liverpool service on Saturdays. This service was also driven by Richard Lewis, Dewi Roberts and others. On this very day, Bob drove CRG163 once again, many years after retirement with total skill and care around the Cibyn Industrial Estate in Caernarfon. It was such a magic moment without doubt captured through the photograph bottom left.
On a more poignant moment, John (Llanrug) Wyn Griffiths (pictured below right) also had the opportunity to drive preserved CRG163 around the same Cibyn Industrial Estate in Caernarfon. We arranged a day out with John, family, close friends and CRG163 one Sunday in early January 2009 to recreate some of the Crosville routes operated from Caernarfon depot back in the day which John would have driven as a Crosville driver. John was a friend to so many and distinguished driver from Crosville's Caernarfon depot having driven local and long distance National Express routes across the UK. Unfortunately by now John was unwell and our day out with CRG163 was an absolute tonic. Unfortunately John passed away two weeks later from when the photo of him was taken raising his thumb out of CRG163's cab window. This photo was later printed and framed and given to John's wife in his memory and a positive memory of our fantastic day together.
Not only do we strive to restore and preserve CRG163, but equally we strive to find people who have been connected with the vehicle in some way over the years. This includes descendants of family members who have been connected with CRG163 but who are sadly no longer with us. We continue to strive to find such important connections to the vehicle. If you drove CRG/ERG163 back in the day or have had a family member who did then please do get in touch via e-mail to
post@crg163.com
.
Crosville Retired Salaried Staff Outing - 2007
In 2007 I had the privilege of providing and driving CRG163 on the Crosville Retired Salaried Staff (CRSSA) summer outing. The CRSSA came into existence following a suggestion at a Crosville staff meeting, held at Crane Wharf, Chester, the company's head office on the 2nd of December 1965.
The CRSSA is a group that was formed back in 1964 (check) comprising of Crosville senior management. The group's activities would comprise of a summer outing to a place of interest and Christmas dinner at Chester. The group would also meet at other times of the year to catch up and socialise.
Whilst recognising that the Crosville name has disappeared from our streets sadly for nearly 30 years by now, the group continue to meet in the same way. Generally group membership eligibility is based on having (1) worked for Crosville/Crosville Wales; and (2) having reached management status within the bus industry. I have been a member of the group since approximately 2005.
In 2007 the summer outing involved a trip on the Llangollen Canal and the Llangollen Heritage Railway. Pick ups were made from Llandudno Junction across the North Wales coast to Chester before a drive to Trevor where everyone joined the Llangollen Canal for a trip across the Poncysyllte Aqueduct by canal boat . Following a trip on the canal CRG163 transported all passengers to Carrog Railway Station for a trip on the railway to Llangollen with CRG163 returning by road. A meal then followed at the Pheasant Hotel before returning to North West Wales via Chester and the North Wales Coast.
On the day my passengers were top flight Crosville senior management from back in the day, including Clive Myers; Ron Holding (Crosville chief engineer); George Garston; Glyn Jones; Pat Reeson; Graham Turner; Mike Grant; Paul Hill, David Pool and many others. What was also really nice was the fact that Dianne Lavinder was also with us, who's name is on CRG163's original and official Crosville paperwork and subsequent movements within the company.
It was a privilege indeed to be amongst these people on the day and otherwise.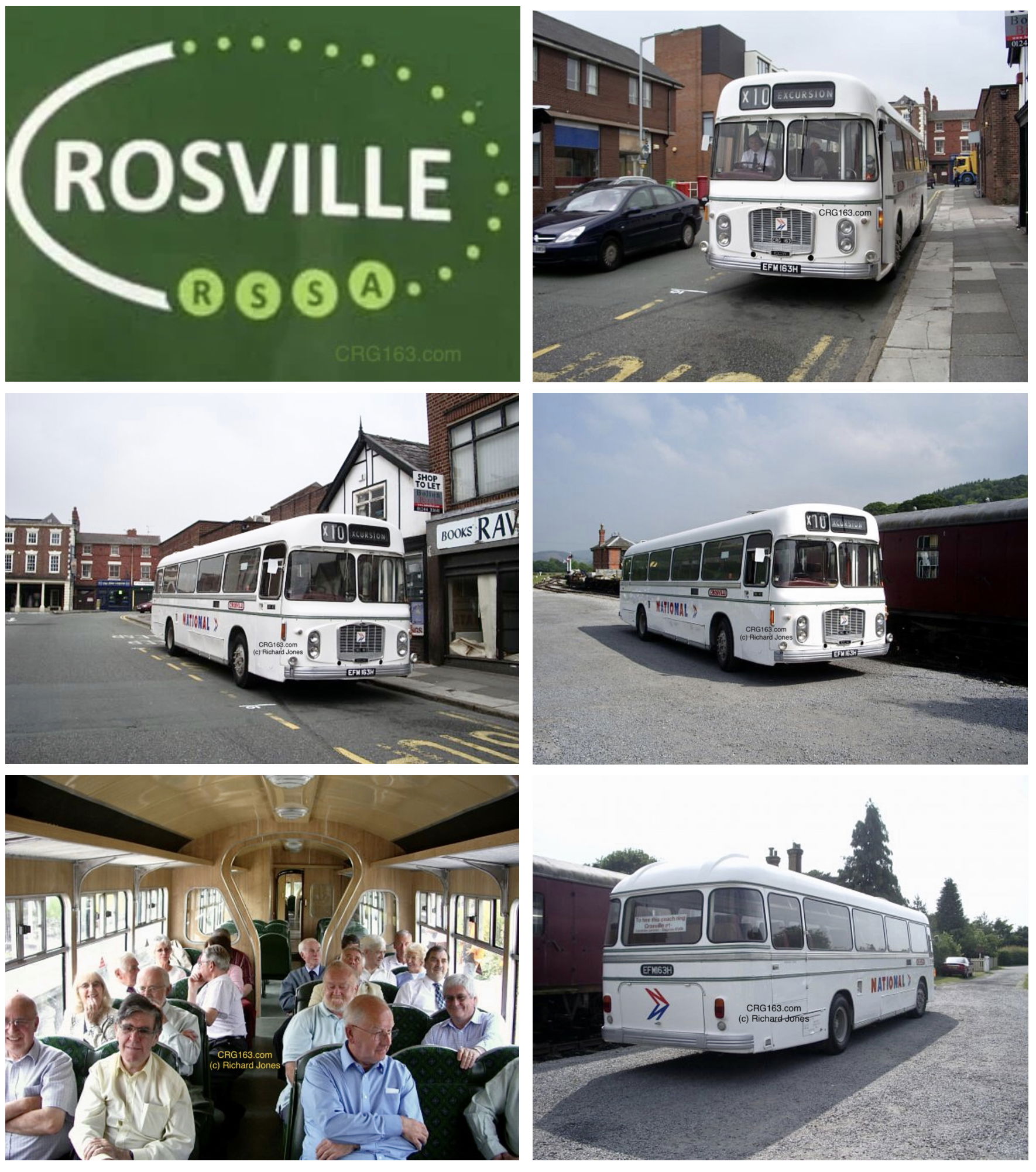 Returning home to Amlwch - 2006
During 2006 CRG163 returned to its former home of Amlwch where it was based from 1979 to 1984 out of respect for the staff that once worked there. By now the former site of Amlwch depot was occupied by a supermarket which was so often the case of former Crosville depot sites when sold following deregulation of the bus industry outside London from 26 October 1986 and subsequent privatisation.
Nonetheless CRG163 had returned home and displayed 'X10' on its destination display out of respect for Crosville's Amlwch depot and staff. CRG163 as ERG163 once operated the X10 service from Cemaes Bay to Liverpool on Saturdays in the early 1980's when based at Crosville's Amlwch depot.
Once again CRG163 can also be seen at Menai Bridge, a location it so often served as ERG163 when based at Crosville's Amlwch depot.
The photographs below are dedicated out of respect for the staff of Crosville's Amlwch depot which included Bob 'Moelfre' Roberts; Dewi Roberts; Richard Lewis and others; with the evening photos dedicated to our dear friend Dave Wilder.
Our intention is to return CRG163 again to Amlwch when our latest restoration has been completed out of respect for Bob 'Moelfre' Roberts; Richard Lewis; Dewi Roberts and all other staff that once worked at the depot.
Further restoration - 2020 onwards
However due to the throws of life the vehicle was mothballed from 2009 until 2019, compounded by parking and access issues (which can be problematic to such large preserved vehicles) until further restoration work could be undertaken.
Further work was planned to commence at the beginning of 2020 however Covid halted any possible progress.
Beyond Covid restoration work has again commenced but now involving two very special people to me, my two young sons who are 12 and 14 years of age (as at April 2023). CRG163 will be passed to them one day in the future.
To date new trafficators (side indicators); new front fog lights have been sourced with the trafficators fitted; all six wheels have been sandblasted, treated and painted; new tyres have been purchased and fitted all round; nearside lockers have been restored with new strengthened wooden frames to each locker and along the vehicle itself; replacement of some of the air pipes; removal and professional testing of the vehicle's alternator; continued road testing; a new electrical regulator; and the radiator has been removed and rebuilt as new.
To keep up with CRG163 news and developments you can click
HERE
. This link will take you to our 'News Page' on this website,
A new website for CRG163
A new purpose built website for the vehicle was launched during 2021 which charts the vehicle's 50 year odd history from operational to preservation as well as restoration developments, the website address being www.crg163.com. The website was initially commissioned and launched to source vehicle parts but has quickly grown.
To go to our website 'Home' screen please click
HERE
.
Further continued restoration
There are also a number of articles on the website that have been written by those that have either travelled on CRG163 during the vehicle's operational days or Crosville management involved in the vehicle's operational allocation.
Further restoration of the vehicle will include restoration of the offside lockers; fitting of the new front fog lights; internal painting; assessment of water and air pipes replacing those that will need replacing; general assessment and maintenance; and then exterior appearance -sanding and painting.
To keep up with CRG163 news and developments you can click
HERE
. This link will take you to our 'News Page' on this website.
To go to the Home page of CRG163;s website click
HERE
.
Contact details

If you have any photos or related information about CRG163 or any information on the parts presently required then please e-mail us at post@crg163.com . Many thanks in advance.


Please note

There are some photos on this website where copyright is unknown. If these photos are yours then please let me know by e-mailing post@crg163.com so that they can either be removed immediately or copyrighted to your name accordingly. Thank you.

All photographs have been watermarked on this website and should not be reproduced elsewhere without prior consent. Unfortunately some private photos previously shared on line have been copied without permission and have subsequently appeared for sale by third parties on e-bay.
You can also subscribe to this website by entering your e-mail address into the white box below, bottom right and click the subscription button ⬇️