Why is Bristol RELH, registration EFM163H referred to as CRG163 and ERG163?
This is all down to the vehicle recognition system that Crosville devised and introduced that would allow employees within the company to recognise a vehicle quickly by simply its allocated fleet number.
A summary of the company's fleet recognitions systems over the years is described below.
A summary of Crosville's fleet numbering system
Crosville had adopted four methods of vehicle recognition through fleet numbering over the years.
1910 - 1915
Method one around 1910 involved naming buses with such names as 'The Alma' and 'Busy Bee'.
1915 - 1934
Around 1915 method two was introduced and simply involved numbering vehicles such as '1'; '2' and so fourth between 1 and 1000. Crosville being superstitious never used the number '13' but used 'AC' instead.
1934 - 1958
Around 1934 an alpha-digit numeric system was introduced. Simply a letter was assigned to the type of vehicle such as 'C' for a Leyland Lion LT1. Some vehicles used two characters as the fleet grew followed by the assigned number. The number did not correspond to the registration of the vehicle.
1958 onwards
The fourth and final method the company adopted was the alpha-numeric system comprising of three letters denoting the vehicle type then between one and three numbers replicating the vehicle registration number. The numbers used were not always replicated.
In terms of CRG163 this was the fleet numbering system used.
Crosville had a significantly sized fleet of varying vehicle types in specification from engine type, make, model. They tended to be delivered new to the company in batches of the same type. The company adopted an unique alpha-neumeric fleet recognition system that would allow all company vehicles to be easily and quickly identified for the purpose of internal processes through its unique fleet number. No two vehicles would hold the same fleet number at any one time. This was especially useful for the Engineering and Traffic divisions of the company when dealing with internal maintenance regimes and traffic operational allocations.
Basically the principles of allocating an alpha-numeric system to new vehicles entering the Crosville fleet involved three letters (unless classed as auxiliary/supportive vehicles such as cars or engineering vehicles denoted by 'A') followed by the majority of times the corresponding numbers displayed on the vehicle's registration number plate. Not always though did the same registration number correspond especially if another vehicle in the fleet was allocated these numbers.
The three letters applied was specific and based upon vehicle characteristics on the following principles:
First assigned letter denoted the body type e.g.
C = Coach;
D = Double Decker (low height);
E = dual purpose/Express vehicle that would normally be fitted by semi coach seats but also fitted with a driver cab door and ticket machine and could also be used on local bus services as well as coach work;
H = Double Decker (high bridge);
M = Mini bus;
O = Open Top;
S = Single Decker;
Second assigned letter denoted the vehicle chassis type e.g.
L = Leyland Leopard / Bristol LH
N = Leyland National;
O = Leyland Olympian
R = Bristol RE;
V = Bristol VRT
Third assigned letter denoted the engine type e.g.
G = Gardner;
L = Leyland;
M = Mercedes
The numeric element of the fleet number would generally correspond with the numbers displayed on the vehicle registration, but not always the case as explained above.
The following are examples of how the company applied the alpha-numeric fleet numbering system to actual vehicles in the Crosville fleet: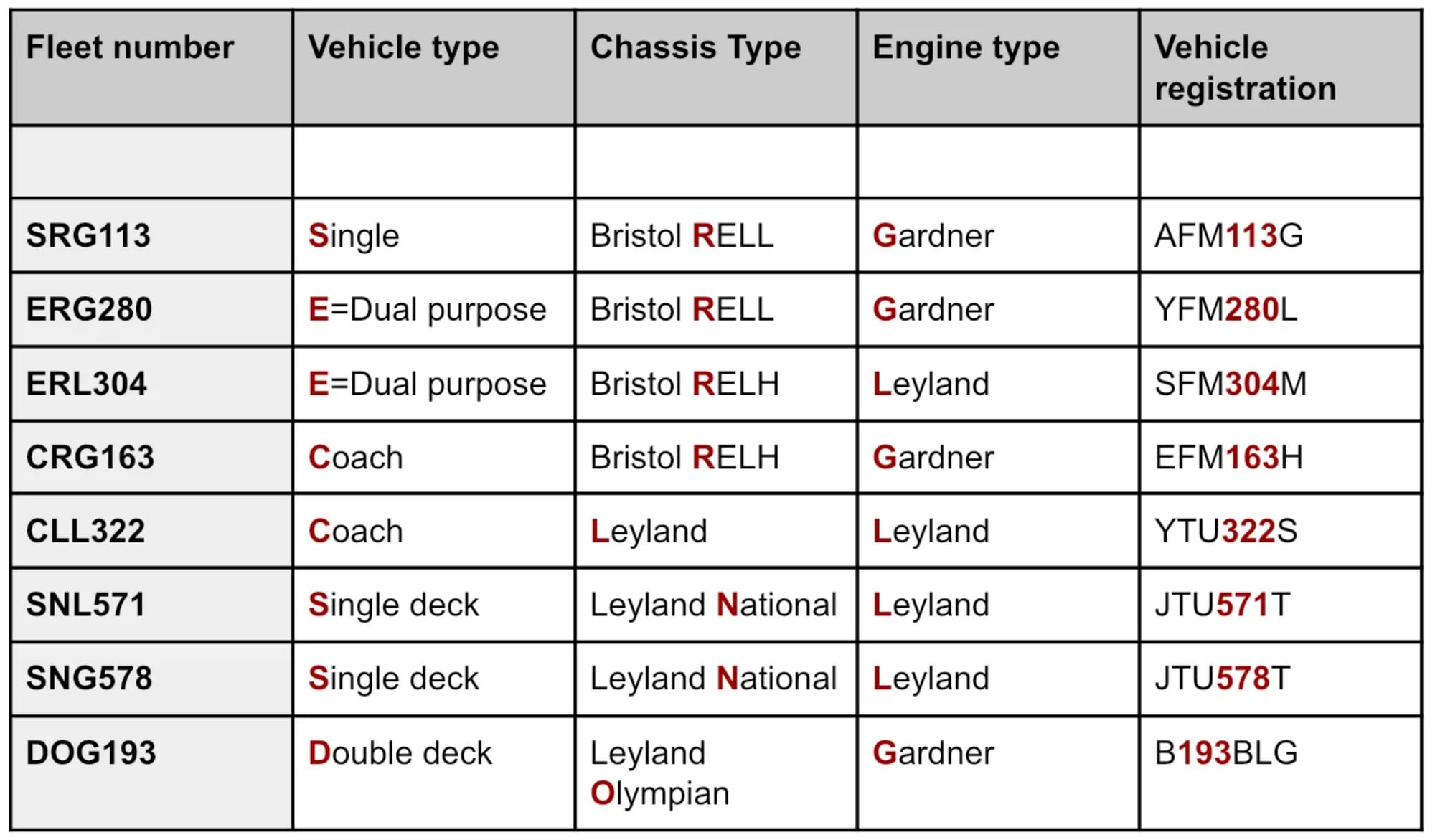 Dual purpose = multi use on local bus and express longer distance services. In respect of EFM 163H, the allocated fleet number was CRG163, simply equating to
C
= Coach;
R
= Bristol RE (rear engine);
G
= Gardner engine; followed by 163 from its registration of EFM163H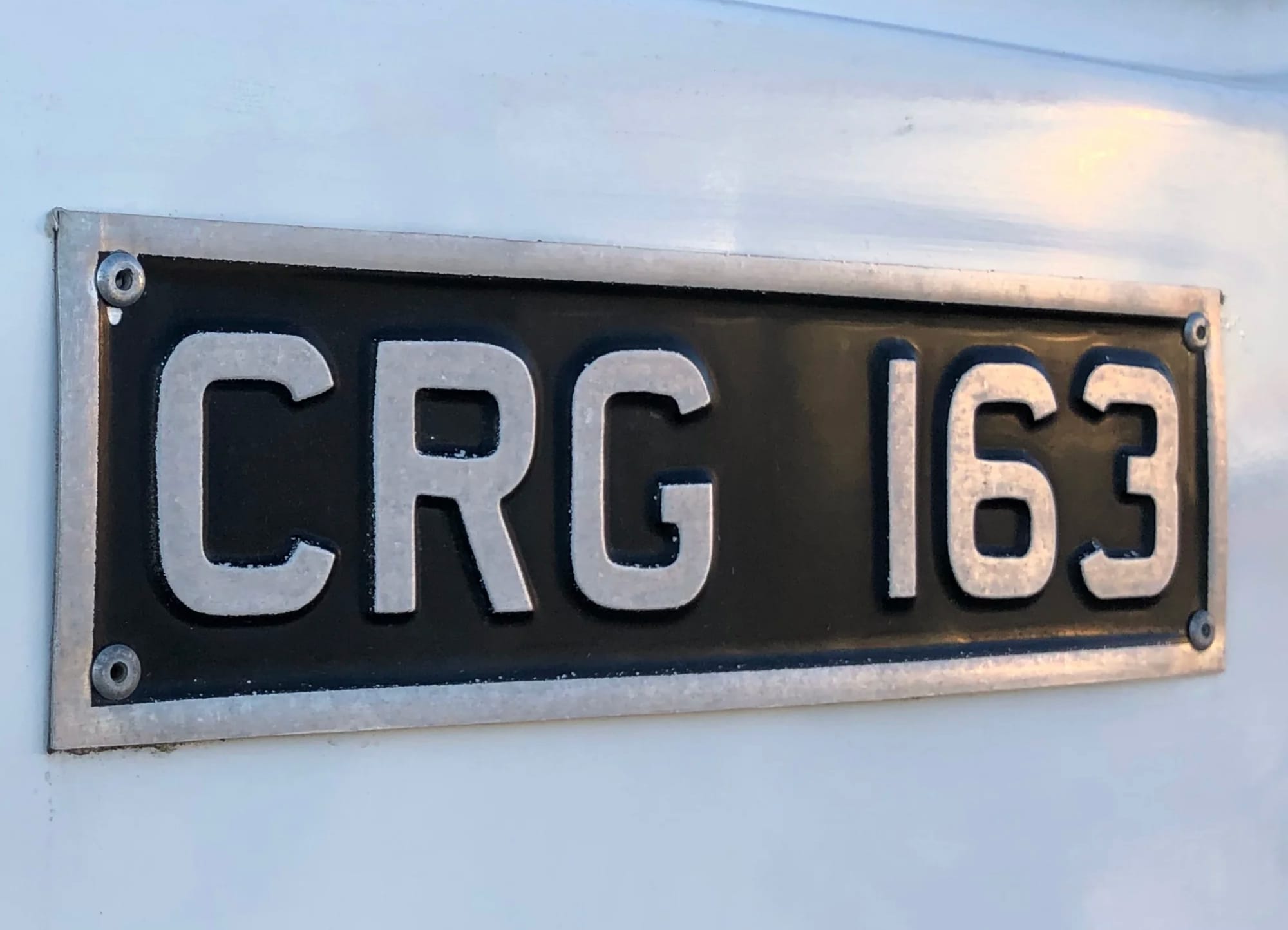 At that time all Crosville vehicles proudly carried metal fleet plates which were placed on the vehicle's front panel, normally on the grill if available as well as under the driver's offside cab window and below the nearside front passenger window externally as well as on the boot in some cases. Vehicles would also have a much smaller fleet plate inside the driver's cab area, normally above the driver's offside window.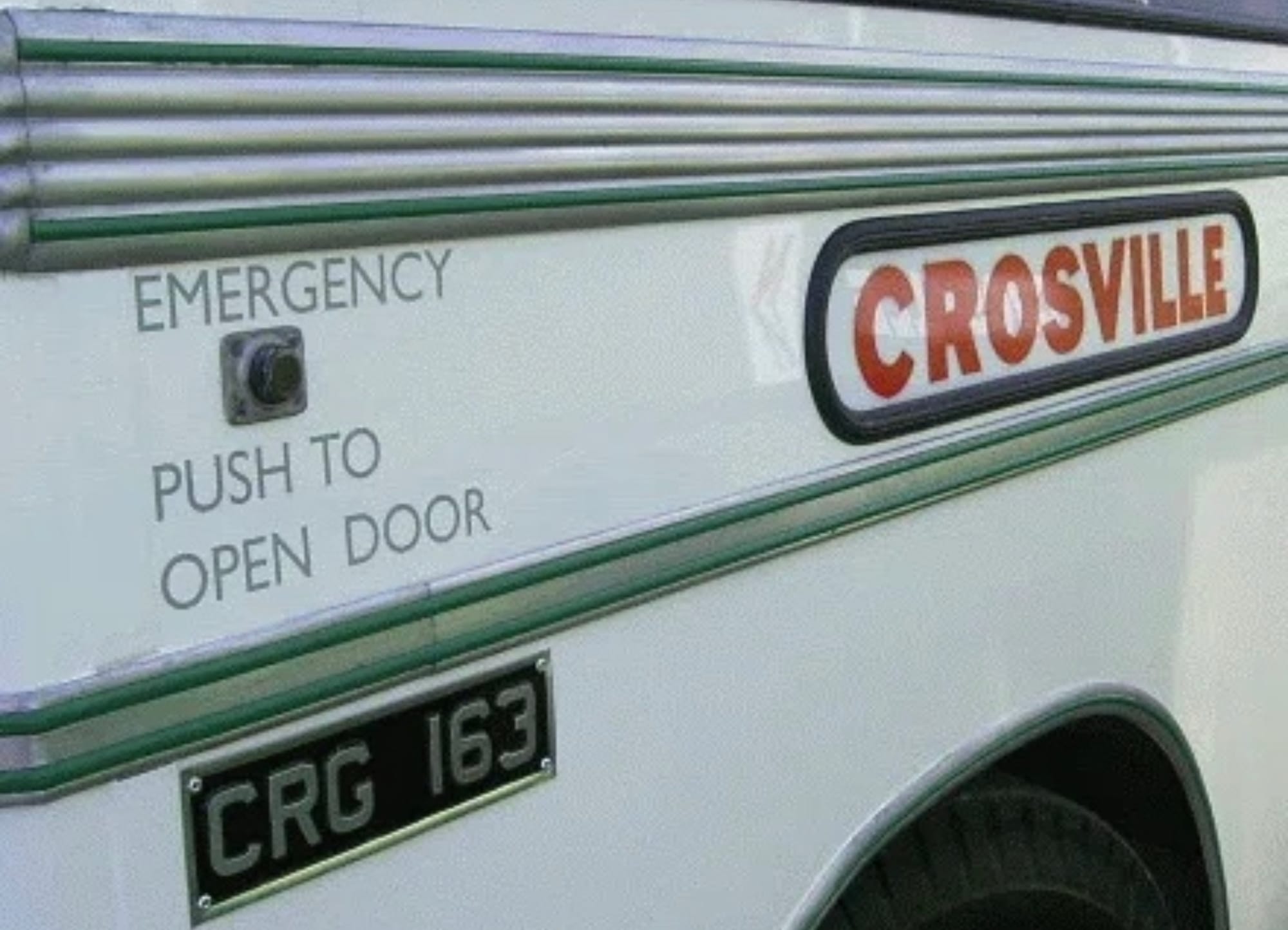 In relation to CRG163 this was the vehicle's first fleet designation in recognition of coaching duties. However in 1979 the vehicle was downgraded to dual purpose use, i.e. the vehicle would be used on any service which would include local bus service operation as well.
The '
E
' letter would replace the '
C
' letter in the vehicle's classification. Fleet numbers would be applied with stickers to National Bus Company specification of font and size and shade of grey.
Reclassification from CRG to ERG would also involve the fitment of a ticket machine and fixed holder as well as a change in livery to white (roof to below the passenger window line) and leaf green below this. This livery of white and green would always be associated with a dual purpose vehicle in Crosville's fleet.
Contact details
If you have any photos or related information about CRG163 or any information on the parts presently required then please e-mail me, Richard Jones at
post@crg163.com
. Many thanks in advance.
You can also subscribe to this website by entering your e-mail address into the white box below, bottom right and click the subscription button ⬇️.