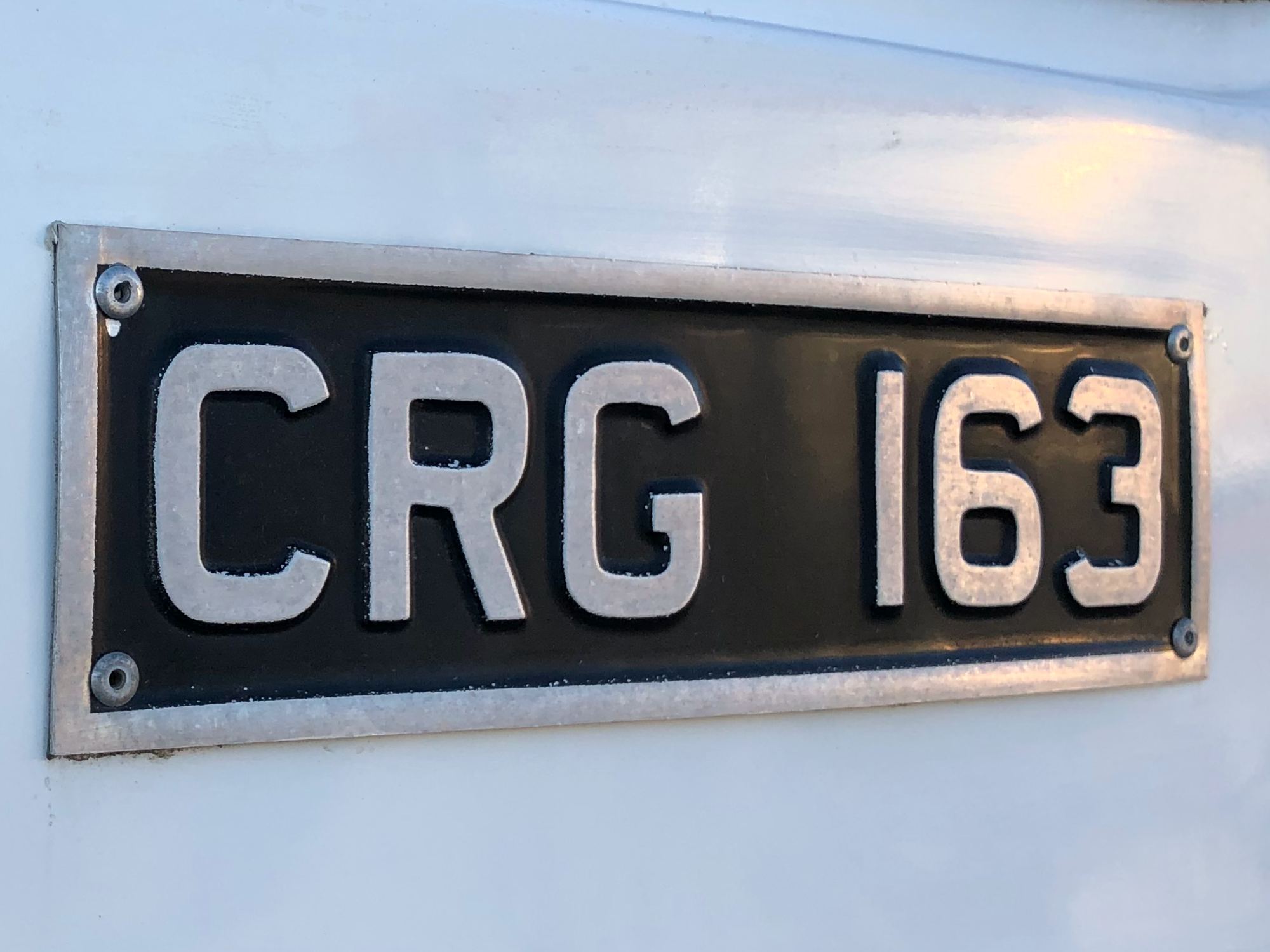 CRG163 in service history with Crosville Motor Services
CRG163 was first registered on the 6th of March 1970 and was delivered to Crosville Motor Services in a batch of four coaches; EFM160H to EFM164H. CRG163 (EFM163H) is the last known survivor from her batch.
Crosville's headquarters was in Chester, operating bus services from it's bus depots across Cheshire, Merseyside north and mid Wales. Crosville operated local registered bus services, coach trips as well as long distance express coach services to London and other major UK destinations.
Crosville cream and black coaching livery
When CRG163 entered service with Crosville she commenced operation on the prestigious X61 coach service between Liverpool and London, based at the company's Liverpool Edge Lane depot. The service reference was adopted as X61 as the route taken was along the M6 and M1 motorways. At this time CRG163 carried the cream and black coaching livery of the time with four side illuminated panels placed along both sides of the vehicle denoting 'Crosville - Coach - Liverpool - London.
CRG163 also operated the London X1 service in a variant of the cream and black livery which consisted of a simpler livery with only one side panel on display above the front wheel either side displaying the lower case 'Crosville' fleet name.
These coaches were truly magnificent, luxury coaches of their day and were also used by Crosville on it's coaching and private hire services.
Back in the day, CRG163 would operate the above services with sister coaches.
'NATIONAL' coach services - the all white 1970's livery
In 1972 CRG163 adopted the white livery of the National UK coach network with the brand image of N A T I O N A L displayed on both sides of the vehicle through a mix of red and blue lettering. During this period CRG163 continued to operate main line coach services across the UK and moved eventually to her new home of Crosville's Amlwch depot on the Isle of Anglesey, Wales.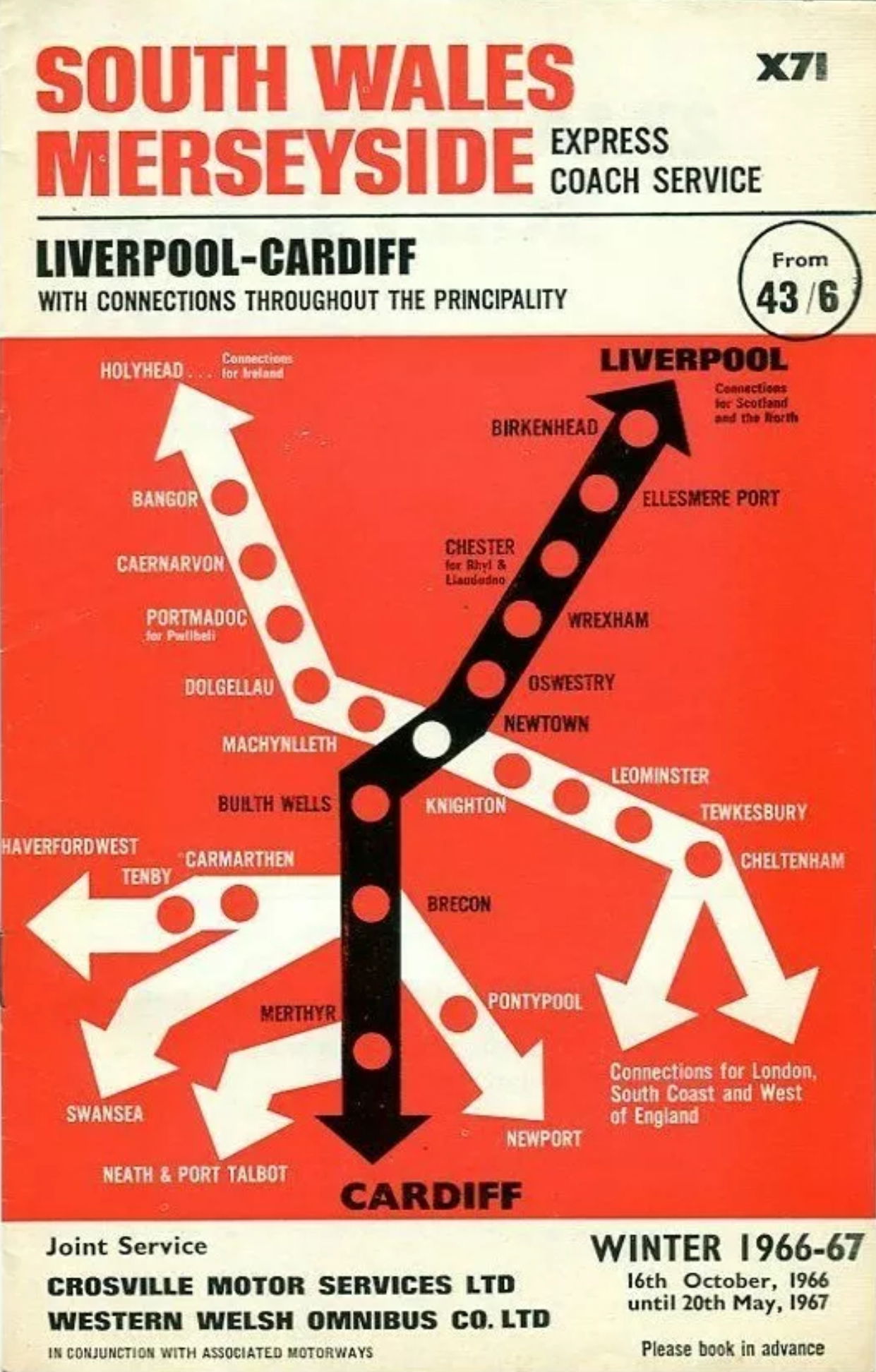 By this time CRG 163's proud grey and black embossed metal fleet plates had been removed and replaced by standard grey fleet stickers placed under the front windscreen.
CRG163 operated on long distance coach services for the company across the UK before being downgraded in 1979 to a dual purpose vehicle.
CRG163 downgraded to ERG163
In 1979 CRG163 was downgraded by the company to a dual purpose vehicle to be used on coach and local bus services alike adopting the dual purpose fleet classification number of ERG163 and the standard company dual purpose livery of white and green.
Based at Crosville's Amlwch north west Wales depot on the Isle of Anglesey and reclassified as ERG163 (
E
= Dual purpose - coach/local bus services;
R
= Bristol RE;
G
= Gardner engine) ERG 163 would be driven by Bob Moelfre (as known locally); Dewi Roberts; Richard Lewis and others.
By now the Crosville fleet panel above the front wheels would be painted green with the 'Crosville' fleet name applied by sticker on the roof line each side accompanied by the National Bus Company logo of the double 'N'. Once again her fleet number was displayed in grey sticker form with a driver ticket machine and cash tray added. Standard vehicles operating local bus services would normally adopt an all over 'leaf' green livery with a white centre relief band, however as ERG had coach seats this classification was given.
ERG163 as now classified would continue to operate on a host of long and shorter distance services based at Crosville's then Amlwch depot operating the Saturday X10 service between Cemaes Bay and Liverpool as well as more local services such as the N62 between Amlwch and Bangor.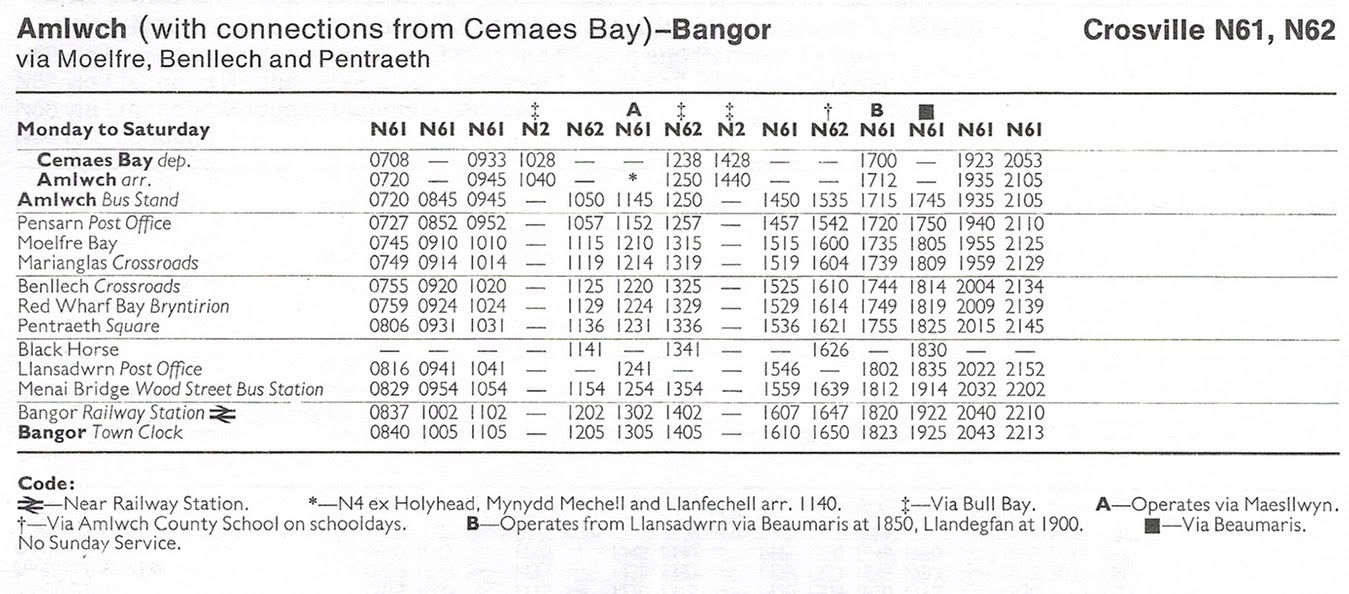 The X10 service would be driven by Bob Moelfre; Richard 'Richie' Lewis; Dewi Roberts and others based at the time at Crosville's Amlwch depot.
ERG163 Crosville Withdrawal
Eventually ERG163 succumbed to withdrawal from service in 1984. It's future was very much uncertain as it waited its fate on the Crosville disposal line at Chester.
Into preservation
Following CRG163's withdrawal by Crosville in the 1984 it entered preservation initially with Gordon Bate and then from 2002 with Richard Jones. CRG163 undertook a rigorous restoration process with Richard between 2002 and 2004 with grateful support from his father, late mother and others before being unveiled in June 2004 in her restored NATIONAL white livery.

More information and photographs of CRG163 in preservation are available on the page 'CRG163 INTO PRESERVATION' on this website. You can also click
HERE
.
Contact details
If you have any photos or related information about CRG163 or any information on the parts presently required then please e-mail me, Richard Jones at
post@crg163.com
. Many thanks in advance.