CRG163 in service history with Crosville Motor Services
CRG163 was first registered on the 6th of March 1970 and was delivered to Crosville Motor Services in a batch of four coaches; EFM160H to EFM164H. CRG163 (EFM163H) is the last survivor from her batch.
Crosville's headquarters was in Chester, operating bus services from it's bus depots across Cheshire, Merseyside north and mid Wales. Crosville operated local registered bus services, coach trips as well as long distance express coach services to London and other major UK destinations.
Even before CRG163 and sister vehicles entered service with the company their entry into the fleet was being communicated to staff through their in-house comoany employee magazine titled 'Crosville United' as can be seen from the scans below.
Crosville cream and black coaching livery
When CRG163 entered service with Crosville she commenced operation on the prestigious X61 coach service between Liverpool and London, based at the company's Liverpool Edge Lane depot. The service reference was adopted as X61 as the route taken was along the M6 and M1 motorways. At this time CRG163 carried the cream and black coaching livery of the time with four side illuminated panels placed along both sides of the vehicle denoting 'Crosville - Coach - Liverpool - London.
These coaches were truly magnificent, luxury coaches of their day and were also used by Crosville on it's front line coaching and private hire work.
CRG163 also operated the London X1 service in a variant of the cream and black livery which consisted of a simpler livery with only one side pane on display above the front wheel either side displaying the lower case 'Crosville' fleet name.
Chris Palmer, former Crosville staff recalls according to the usual reference source of the Crosville Enthusiast Club (CEC) 1967, CRG163 was the first CRG to be given the treatment of removing the four side lighting panes each side of the vehicle to be replaced by one longer pane each side above the front wheel arches. This included the application of the simpler cream and black livery as shown in the image below. It was reported in the November 1971 bulletin of the CEC, so would have been modified around October or early November of that year. It was stated that all of the CRGs were to undergo the modifications in due course. The lower case fleetname style was applied to the Seddon buses from new, the first examples being delivered in May 1971.
'NATIONAL' coach services - the all white 1970's livery
In 1972 CRG163 adopted the white livery of the National UK coach network with the brand image of N A T I O N A L displayed on both sides of the vehicle through a mix of red and blue lettering. During this period CRG163 continued to operate main line coach services across the UK.
Chris Palmer remembers the corporate livery being unveiled in July 1972 and the major focus was on getting all of the coaches used on National coach services into the white livery as quickly as possible. CRG163 may have been repainted in September of that year or even sooner because things were evolving fairly quickly at first.
Chris Palmer confirms from the 1973 CEC reviews that CRG163 is confirmed as being repainted into National white in December 1972, but receiving a 3" green Crosville fleet name above both front wheel arches. It appears that CRG161 and CRG164 were painted the same month but received the red Crosville fleet names. CRG494 was painted in January 1973 but also received the green fleet names. It appears that at the time consistency of fleey name colour application was not consistent. The small underlined fleet names were commonplace until towards the end of 1972 apparently.
Chris Palmer recalls that the first examples of National white coaches in 1972 had small grey lettering for the fleet name with a thick line underneath in the company's "house colour", i.e. green in the case of Crosville. In October of 1972 it was reported that the plan had changed and that 3" letters were to be used in the "house colour". Chris comments that the green fleet name certainly clashed with the red and blue of the National livery, so the idea was quickly dropped in favour of the more harmonious red. What is therefore seen here with CRG163 is a very rare and short-lived stage in the slightly chaotic but rapid evolution of the new white livery. The above and below image of CRG163 is proof that, for a while at least, that this was a serious consideration of the National Bus Company as it was intending to apply to their coaching fleet and that CRG163 was one of the few vehicles it was applied to!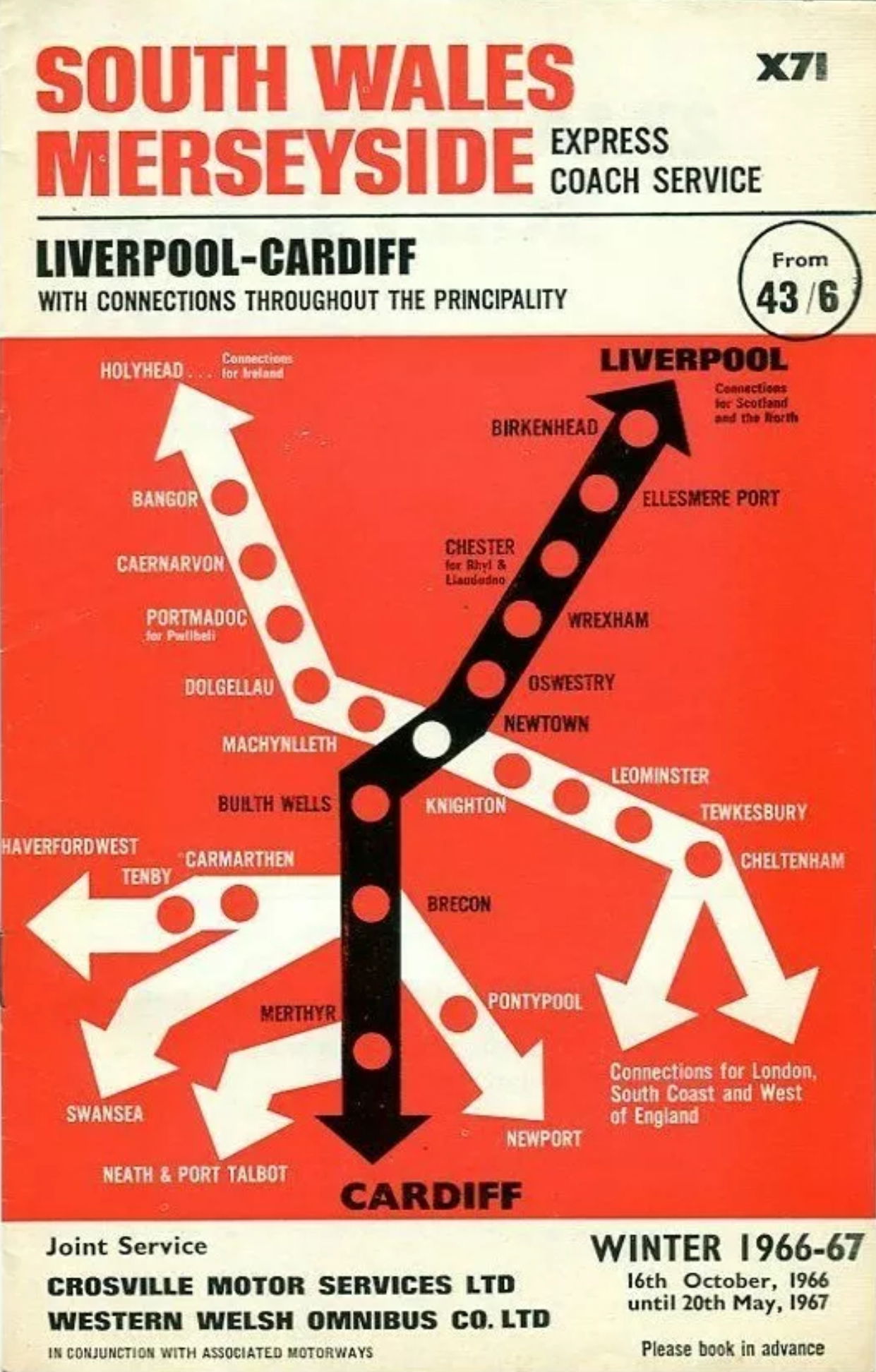 Chris Palmer comments that CRG163 may have had a further repaint in November 1974, being noted at Crosville's Sealand Road works (SRW) on the 3rd and 17th of that month. Chris recalls that two and a half years was probably about right for repainting a front line coach in white at that time with winter being ideal time to undertake. It appears that on the 26th of September it performed a H9 between Liverpool and Prescot. Also that day CRG526 was on H24 to Chester and 578 on H4 to Rainhill, evidently with some sort of vehicle shortage going on to have these coaches operating these services.
Chris Palmer recalls that CRG163 had a repaint again in March 1977 in National white and so would have lost its fleet plates no later than that.
Geoff Smith, also former Crosville staff recalls that Crosville removed fleet plates from coaches around the time of their 2nd repaint into NBC white.
Chris Palmer recalls that there was a tweak to the corporate livery in 1976. DVL292 (Bristol VRT6L double decker) was fitted with fleet plates and had the NBC logo in red and blue on a white square. That batch was the first to carry the logo in that form. Then it was applied to repainted buses from September onwards of the same year, possibly starting some time in August. From the same time, vehicles being repainted in National white had their fleet plates removed and grey transfers applied. Buses were allowed to keep their plates as were coaches in DP (dual purpose) or bus livery but subsequently new buses had fleet number transfers.
it is not known if there was a programme to remove fleet plates from white coaches sooner than the repaint programme allowed.
The image below depicts CRG163 following repaint and devoid of company fleet plates, now substituted by grey transfer stickers.
Chris Palmer recalls that the CEC reports explain that because of an "866 changeover" CRG163 spent every Saturday at Liverpool during summer of 1979 and was used on the weekly Saturday service 955 to Nottingham.
Mike Lambden (Crosville/National Express retired) comments that the old Crosville X6 used to do a changeover on a Friday evening at Bodelwyddan and again on a Sunday evening. That meant that a Liverpool coach was in Amlwch on Saturday and vice versa at Liverpool, with CRG163 forming a part of this operation. Mike continues that the Saturday Nottingham operation would probably have been a duplicate on the Liverpool to Clacton service.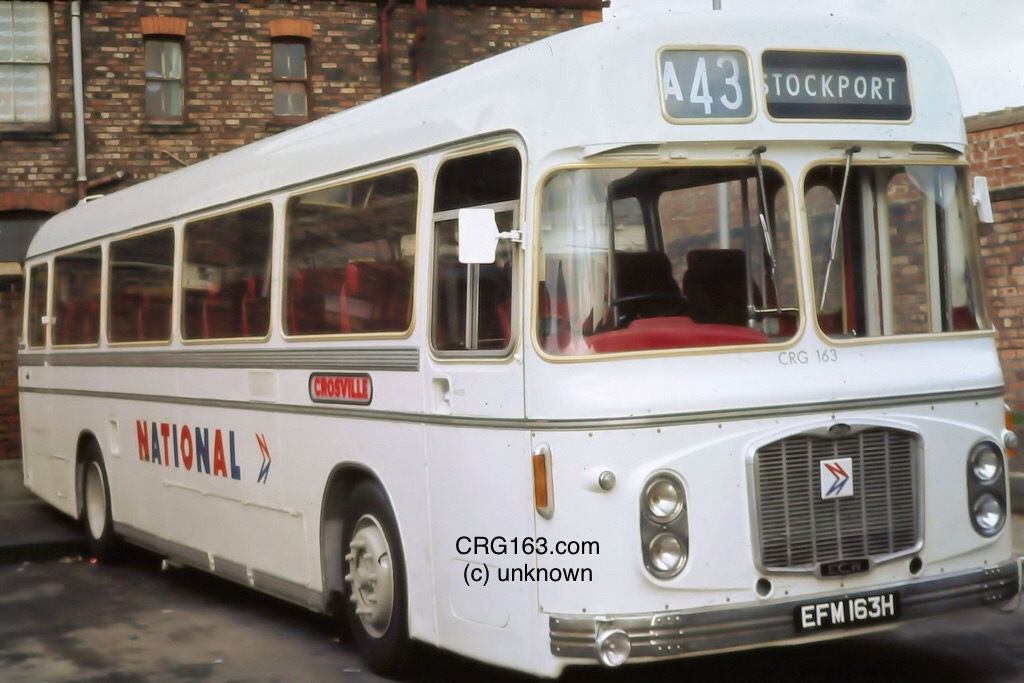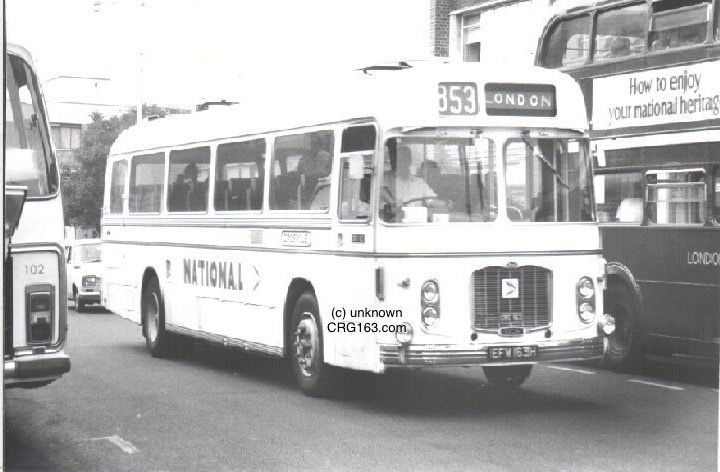 In April 1979, CRG163 was reallocated to Crosville's Amlwch depot on the Isle of Anglesey, North West Wales as Chris Palmer recalls from collated information by the Crosville Enthusiasts Club 1967, but with cash trays removed between the 14th and 21 of July 1979. Chris Palmer commented that CRG163 was used on National Express service 866 during the summer of that year and worked a Nottingham service from Liverpool on some Saturdays as part of its weekly diagram. In October it was noted at Liverpool depot parked, suspected as laying over between North Wales express services.
From the company's official fleet list of June 1979 (extract below) CRG160 and CRG161 had been downgraded to dual purpose status and reclassified as ERG's, with CRG162, CRG163, and CRG164 retaining the coaching CRG status.
Ralph Rowlands, long time employee of Crosville and once Pwllheli Depot Superintendent (DS) recalls that depot allocation sheets were collated and printed each month by a Mr Charles Williams, within the company's Engineering Records Department which was based at Crane Wharf.
CRG163 downgraded to ERG163
CRG163 had operated on long distance coach services for the Crosville company across the UK. Chris Palmer recalls that CRG163 was downgraded and reclassified to ERG163 and repainted in December 1979 into the company's dual purpose green and white livery. It appears to have been returned to Amlwch as ERG163 and briefly saw use out of Holyhead depot early in 1980 before settling down to a life on route N61 in 1980 from the company's Amlwch depot.
Based at Crosville's Amlwch north west Wales depot on the Isle of Anglesey and reclassified as ERG163 (
E
= Dual purpose - coach/local bus services;
R
= Bristol RE;
G
= Gardner engine) ERG 163 would be driven by Bob Moelfre (as known locally); Dewi Roberts; Richard Lewis and others.
By now the Crosville fleet panel above the front wheels would be painted green with the 'Crosville' fleet name applied by sticker on the roof line each side accompanied by the National Bus Company logo of the double 'N'. Once again her fleet number was displayed in grey sticker form with a driver ticket machine and cash tray added. Standard vehicles operating local bus services would normally adopt an all over 'leaf' green livery with a white centre relief band, however as ERG had coach seats this classification was given.
ERG163 as now classified would continue to operate on a host of long and shorter distance services based at Crosville's then Amlwch depot operating the Saturday X10 service between Cemaes Bay and Liverpool as well as more local services such as the N62 between Amlwch and Bangor.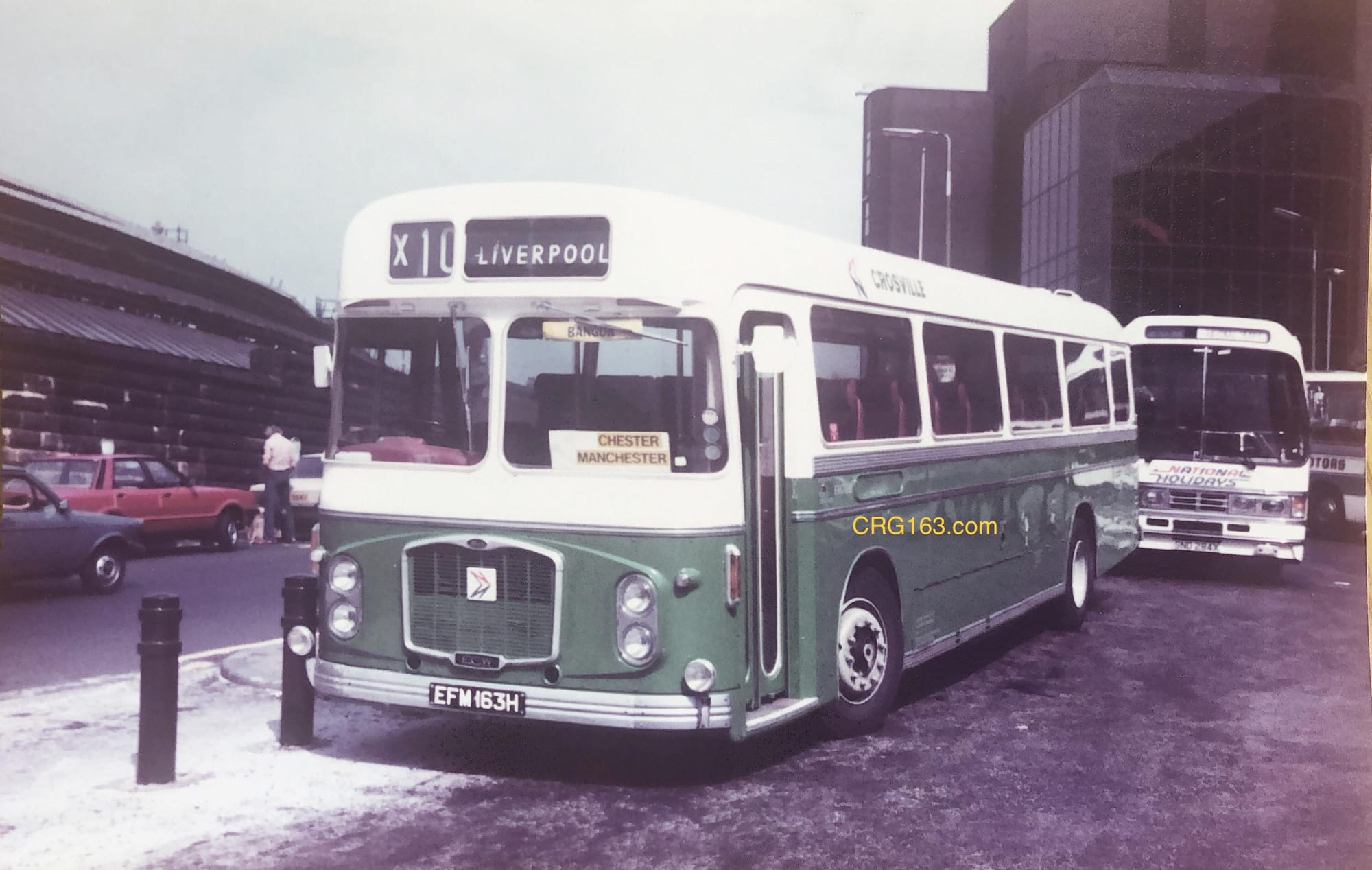 The X10 service would be driven by Bob Moelfre; Richard 'Richie' Lewis; Dewi Roberts and others based at the time at Crosville's Amlwch depot.
ERG163 Crosville Withdrawal
Eventually ERG163 succumbed to withdrawal from service in 1984. It's future was very much uncertain as it waited its fate on the Crosville disposal line at Chester. The following photographs are ERG163 reaching the end of the road …………. Or the end of the road with Crosville.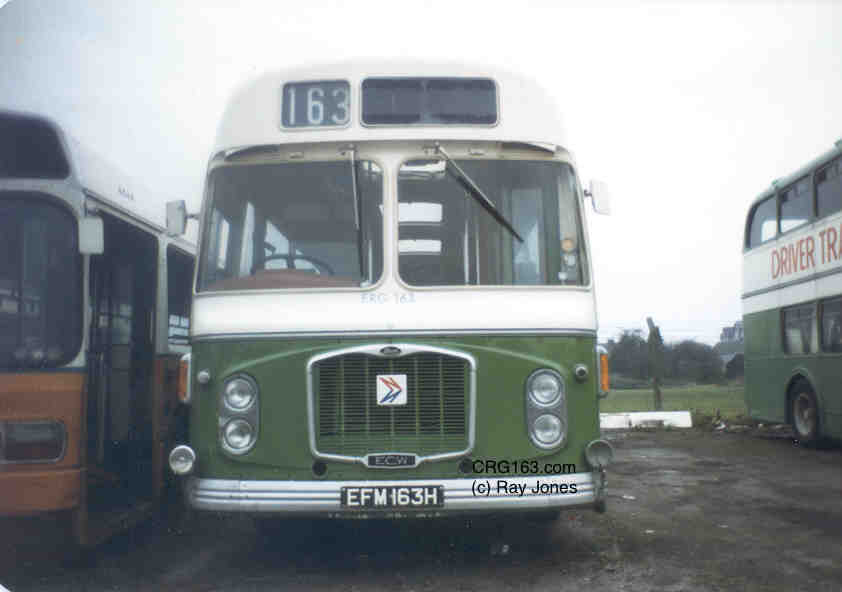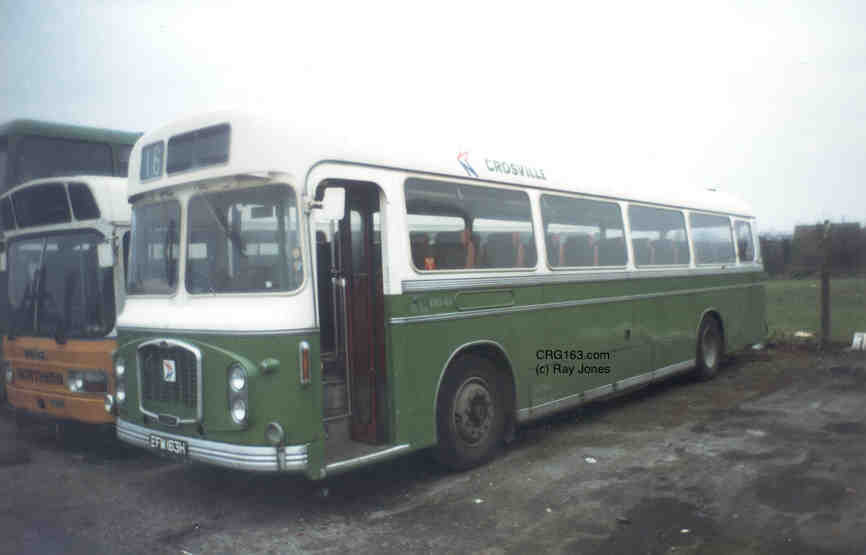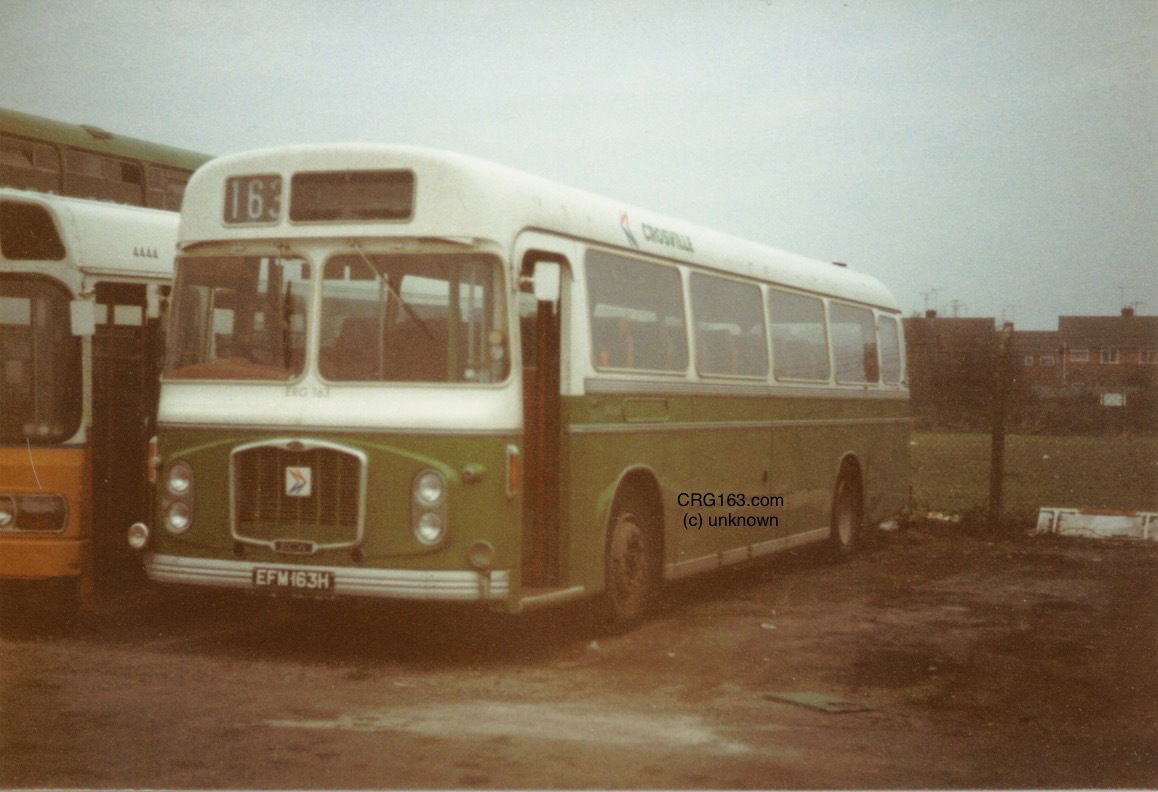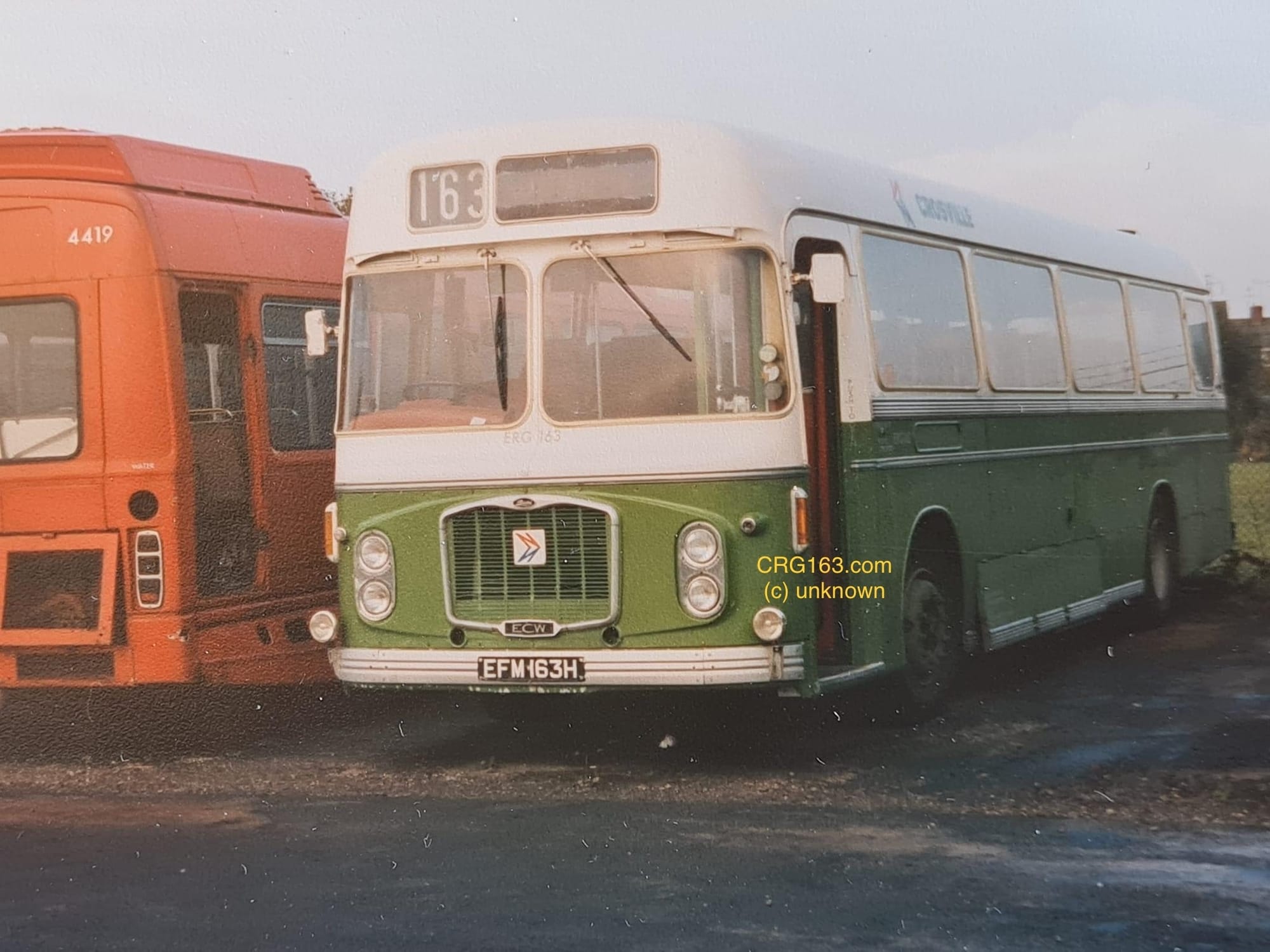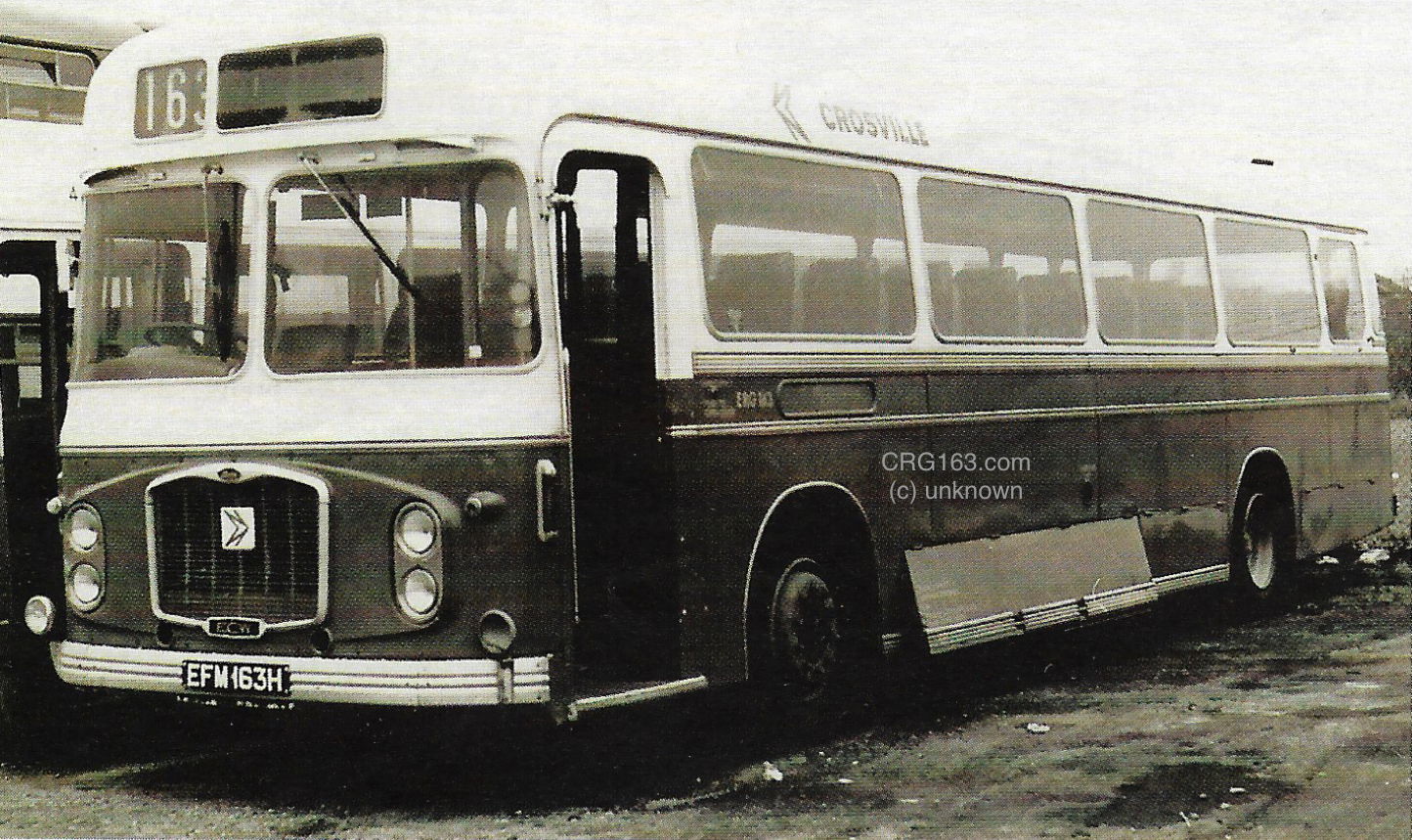 My grateful thanks to everyone who have provided information about CRG/ERG163's in service history with Crosville as detailed on this page of the website. Thank you.
Into preservation
Following CRG163's withdrawal by Crosville in the 1984 it entered preservation initially with Gordon Bate and then from 2002 with Richard Jones. CRG163 undertook a rigorous restoration process with Richard between 2002 and 2004 with grateful support from his father, late mother and others before being unveiled in June 2004 in her restored NATIONAL white livery.
More information and photographs of CRG163 in preservation are available on the page 'CRG163 INTO PRESERVATION' on this website. You can also click
HERE
.
Contact details
If you have any photos or related information about CRG163 or any information on the parts presently required then please e-mail
post@crg163.com
. Many thanks in advance.
You can also subscribe to this website by entering your e-mail address into the white box below, bottom right and click the subscription button ⬇️